Background
Selling online and Online Shopping in Nepal is a growing trend. However, due to the pandemic, there's a spike in companies wanting to do business online in Nepal. Since businesses are down, selling online can be a safe bet to get through the economic crisis. But, setting up an online store in such crisis can be challenging. And so, Daraz is introducing the Daraz Sahayatri Program.
What is Daraz Sahyatri Program?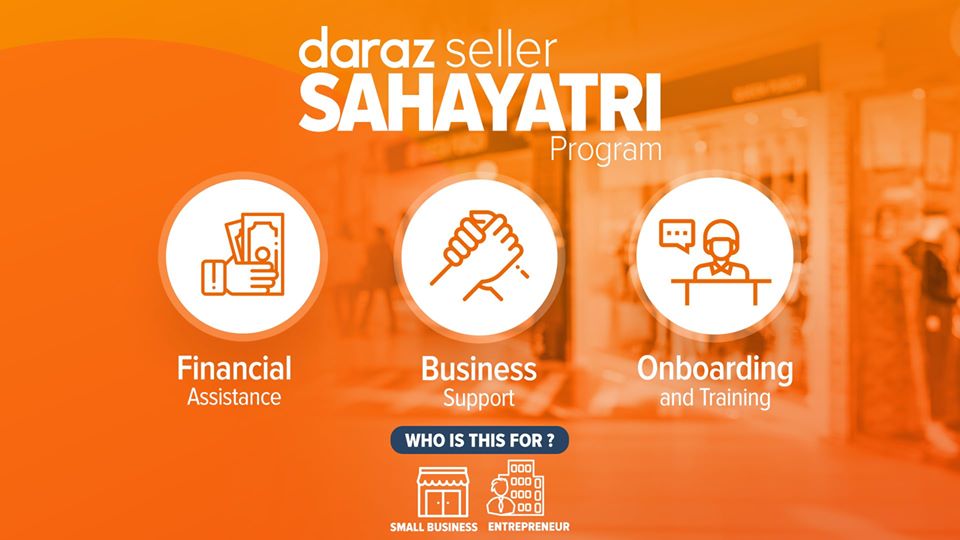 In order to further mitigate the impact of the pandemic, it is critical to reinvigorate the SME sector. Daraz has launched Daraz Seller Sahayatri Program to do just that. With this program, Daraz is inviting retailers & businesses across the country to sell online in Nepal on Daraz. It is evident that this will help SMEs diversify their revenue streams beyond traditional brick and mortar.
Benefits of Daraz Sahayatri Program
Under the program, Daraz Nepal has promised to charge 0% marketplace fees to SMEs for May and June of 2020. Furthermore, the total local support package includes subsidies of more than NPR 55 lakh. The company will also help in swift online store setup so that new businesses can start selling on Daraz asap. Moreover, sellers will also have access to analytical tools to enhance performance. Not only that, Daraz will also provide free-of-cost education and training on ecommerce operations through Daraz University. This is to help sellers optimize their online business to attract more customers. If you are wondering how to sell on Daraz, please check the link below.
Other support initiatives within the program include:
Weekly payouts to all Daraz sellers until 30th June 2020
Dedicated campaigns and visibility on the Daraz app for all SME sellers
Free access to analytical tools to improve performance
One-on-one support to help new sellers set up their online shops in Nepal
The best way to not only do online shopping but also to sell online in Nepal is through Daraz. Daraz has the most experience and logistics infrastructure to reach millions of customers across Nepal. Thus, in order to help SMEs sell online in Nepal Daraz is launching the Daraz Sahayatri Program.
How to become a Daraz Seller? Read to Find Out!
Daraz is confident that with Sahayatri program thousands of SMEs can get back on their feet. The surge in buying online can be leveraged to reaching millions of Daraz customers across Nepal.
If you or anyone you know wishes to sell online simply register on the platform's seller sign up page.
For more information, please click here: Sell on Daraz
Or contact the marketing department: 9801114969 / media@daraz.com.np