World Electric Vehicle Day is celebrated on the 9th of September every year. This special day marks the celebration of e-mobility and is a day set aside to educate people about the benefits of electronic vehicles. Drivers around the world are requested to recognize just how beneficial e-vehicles really are and how their actions could help lessen the environmental impact of fossil-based vehicles. But with that said, as the years go by, it is becoming more evident that people are becoming aware about the need to go electric. And as such, companies such as Tesla are becoming more and more popular.
Here in Nepal, the use of electric vehicle is slowly growing as evident by the growing number of electric vehicles in our roads. But long before any modern electric vehicle was ever introduced, we already had our very own electric mode of transportation – SAFA TEMPO. A small run of the mill vehicle that runs completely on electricity – more specifically through batteries. It was our past, it still is our present and it is clearly going to be our future. We can't deny how convenient yet useful SAFA TEMPO is.
And so, on the occasion of World Electric Vehicle Day, Daraz as a socially responsible company extended its support to a cause that is sure to bring about a positive change in our society.
DARAZ USES SAFA TEMPOS TO DELIVER GOODS!
Daraz in collaboration with BijuliPower used two Safa Tempos to deliver all the orders during World Electric Vehicle Day. BijuliPower is a company that provides Safa tempos on hire for private use. This initiative was undertaken as a sign to show Daraz's solidarity for the global movement of a greener environment.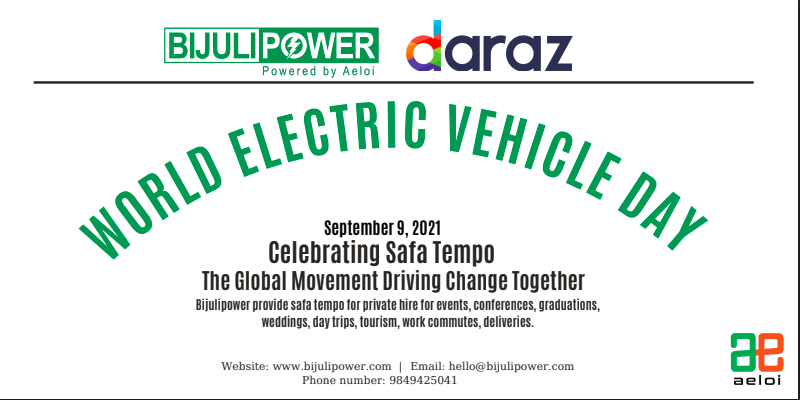 During the world electric vehicle day, Daraz used two Safa Tempos to deliver goods in two main areas within the valley. One Safa Tempo was used to deliver goods in all of Putalisadak area while the next one was used to deliver all throughout Lalitpur area.
A small action goes a long way in defining the future. It is our job as residents of planet earth to make sure that we do our best to protect it. Check out the vlog below to see how our DEX heroes delivered goods to our customers with Safa Tempos.
BLOG POST WRITTEN BY SHUBHAM PRASAI