Whether you're a seasoned crafter or just dipping your toes into the world of handmade accessories, we've got you covered. Today, we embark on an exciting journey, teaching you how to fashion some adorable earrings and trinkets right from the comfort of your own home.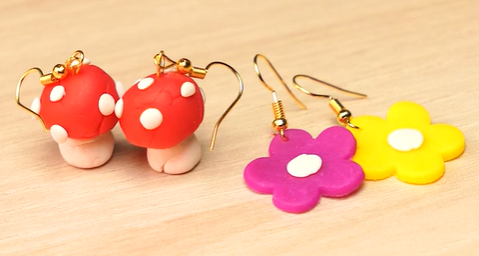 Crafting your own DIY clay earrings is a delightful and rewarding experience. All the products and tools you need for this fantastic adventure can be found right on Daraz, making this DIY project as convenient as it is enjoyable. Unleash your creativity and join us on this artistic journey!
What You'll Need:
Begin by rolling out your preferred clay colors to an even thickness of approximately 5mm. Next, unleash your creativity by using a cookie cutter of your choice to cut the clay into adorable shapes. Remember to create a small hole at the top of each shape to easily attach your earring hooks later. Allow the clay to dry and set.
In the meantime, here's how you can create cute mushroom shapes with no tools!
Start by rolling your clay into a smooth ball and gently form a dent in the sphere using your fingers. For the mushroom's stem, roll out a separate piece of white clay into a cylindrical shape and attach it to the dent in the mushroom head. To add a whimsical touch, roll tiny balls from the same white clay and carefully attach them to the mushroom's cap. Once again, let the clay dry and firm up.
Now that your beautiful creations have dried and become sturdy, it's time to complete the process. Simply attach the earring hooks to the holes you made earlier, and voilà! You've now transformed basic clay into unique and eye-catching DIY earrings, ready to be flaunted. So put your artistic flair to work and enjoy showcasing your one-of-a-kind earrings!
Watch the video below to see all the steps: