In the fast-changing world of technology, Xiaomi is always finding new ways to make things better. Say hello to the Xiaomi Pad 6, a device that can make your digital life even more fun. If you want something that's great for doodling at home or jotting down notes during meetings or classes, the Xiaomi Pad 6 is for you.
Let's talk about what makes this tablet stand out from the rest.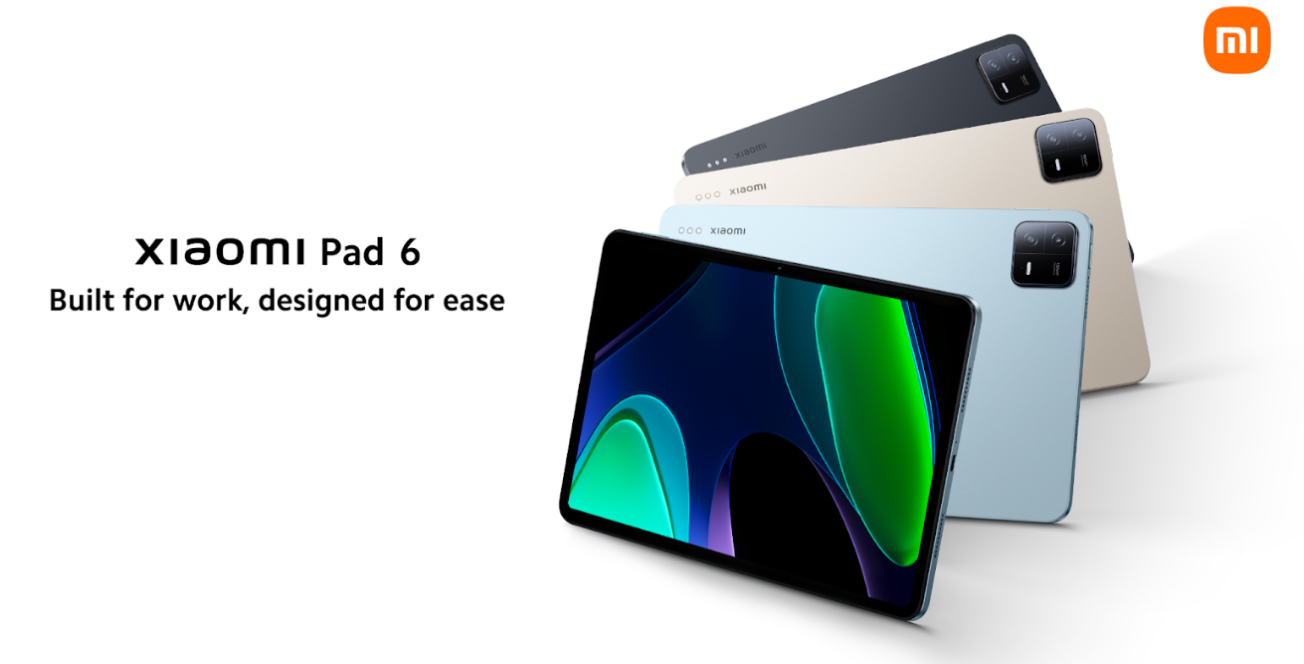 Display and Design
The Xiaomi Pad 6 has an expansive 11-inch screen featuring Billion Colour Display technology. This tablet ensures sharp, vibrant visuals that can immerse you in everything from streaming videos to web browsing. The tablet boasts a sleek and modern design with a slim profile of only 6.51mm and a weight of just 490g. The Pad 6 is not just a powerful device but also a stylish accessory that'll seamlessly integrate into your daily life.
With a brilliant 2.8K resolution on its 11-inch screen, the Xiaomi Pad 6 ensures a well-balanced aspect ratio of 16:10. It supports a 144Hz 7-stage AdaptiveSync refresh rate, delivering smooth navigation and enhancing gaming experiences with its fluid motion. With quad speakers and Dolby Atmos support, both audio and visual aspects are brought to life.
Performance
Beneath its exterior, the Xiaomi Pad 6 is powered by the Snapdragon® 870, a powerhouse that enables seamless multitasking, impressive performance, and endless creative potential. Paired with up to 8GB LPDDR5 RAM and 256GB UFS 3.1 storage, this tablet effortlessly tackles demanding tasks, making it a reliable companion for both work and play.
Furthermore, the Xiaomi Pad 6 ensures you remain powered throughout your day, whether you're on the go or unwinding. With an 8840mAh battery, this tablet delivers long-lasting performance, lasting up to 2.07 days on a single charge and up to 26+ days on standby. The addition of 33W fast charging ensures you're back to full power in just under 100 minutes.
Xiaomi Pad 6 Price In Nepal
Xiaomi Pad 6 is available in two variants: 6/128 GB and 8/256 GB. The prices of 6/128 GB and 8/256 GB are Rs. 39,999 and Rs. 43,999, respectively. Pre-book the Xiaomi Pad 6 from Daraz and get a pair of Redmi Sonic Bass Wireless Earphones worth Rs. 2,599 for absolutely free. Additionally, the first 100 customers to pre-book will get an extra Rs. 1,500 Daraz voucher. So, hurry up and pre-book now so you won't miss this attractive offer.
Overall
The Xiaomi Pad 6 is a testament to Xiaomi's commitment to excellence. Whether you're a professional seeking productivity, a creative yearning for an artistic outlet, or simply an individual looking to elevate their digital experience, the Xiaomi Pad 6 is for you. Embrace the future of technology and embark on a journey of limitless potential with the Xiaomi Pad 6.