Prepare yourselves for the ultimate shopping extravaganza as we, your favorite online shopping destination, unveil our grandest event of the year – the Daraz 11.11 Sale! From November 11th to November 22nd, gear up for discounts, deals, and delightful surprises. Daraz 11.11 isn't just any sale; it's THE sale. It's where dreams of owning that perfect smartphone, fashionable wardrobe, or top-of-the-line gadgets can finally come true.
Mega Deals Beyond Imagination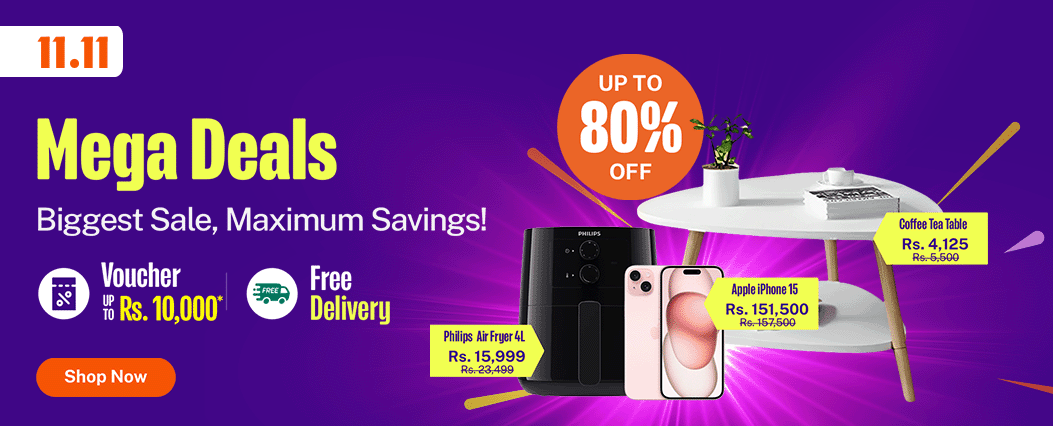 Daraz Nepal is pulling out all the stops to bring you Mega Deals that will leave you utterly astonished with discounts of up to 80% off! Yes, you read that correctly. From trendy apparel to the latest gadgets and everything in between, these deals are not to be missed.
Free Nationwide Delivery
What's better than scoring incredible deals? Getting them delivered to your doorstep for free! Daraz Nepal believes in spreading joy far and wide, which is why we're offering free nationwide delivery on all your Daraz 11.11 purchases.
7 Crore Discounts on Lakhs of Products
With a jaw-dropping 7 crore in discounts spread across lakhs of products, your choices are practically limitless. From smartphones that redefine innovation to beauty products that enhance your glow, every category is packed with unbeatable discounts.
Mega Vouchers for Mega Savings
Maximize your savings with our Mega Vouchers, ranging up to an impressive Rs. 10,000! These vouchers are your gateway to even more significant savings. Don't forget to collect them as the clock strikes midnight on the big day!
Exclusive Prepayment Discounts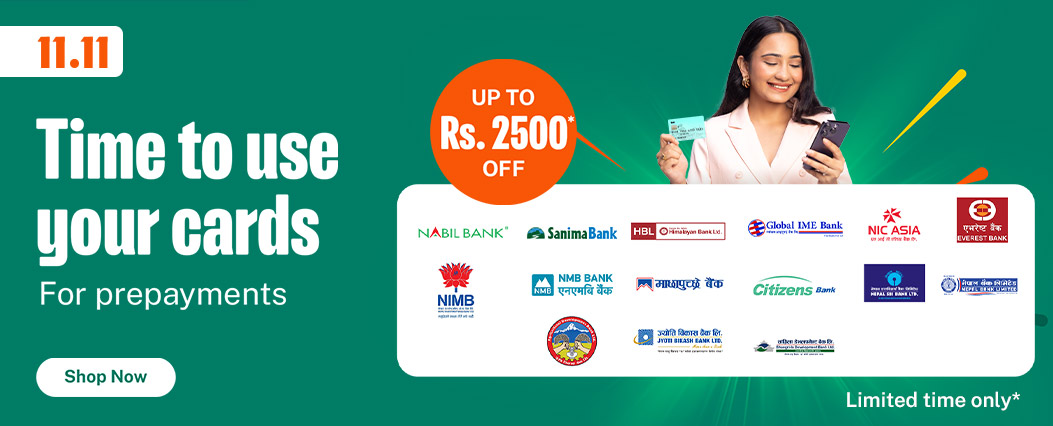 For the smart shoppers who plan ahead, we have exclusive prepayment discounts with our bank and wallet partners. Use your debit card to enjoy an impressive 15% discount, up to Rs. 2000 or credit card for an even bigger discount of 20% up to Rs. 2500. Likewise, if you prepay with your IME Pay wallet, you can get discounts at various times on November 11. Enjoy 15% off up to Rs. 500 between 12 AM and 12:30 AM and 15% off up to Rs. 250 between 8 AM and 8:30 AM and 6 PM and 6:30 PM. The power to save is in your hands.
Bank Partners
Nabil Bank Limited
Sanima Bank Limited
Himalayan Bank Limited
Global IME Bank Limited
NIC Asia Bank Limited
Everest Bank Limited
Nepal Investment Mega Bank Limited
NMB Bank Limited
Machhapuchchhre Bank Limited
Citizens Bank Limited
Nepal SBI Bank Limited
Nepal Bank Limited
Agricultural Development Bank Limited
Jyoti Bikash Bank Limited
Shangri-la Development Bank Limited
CG Brand Washing Machine Mega Giveaway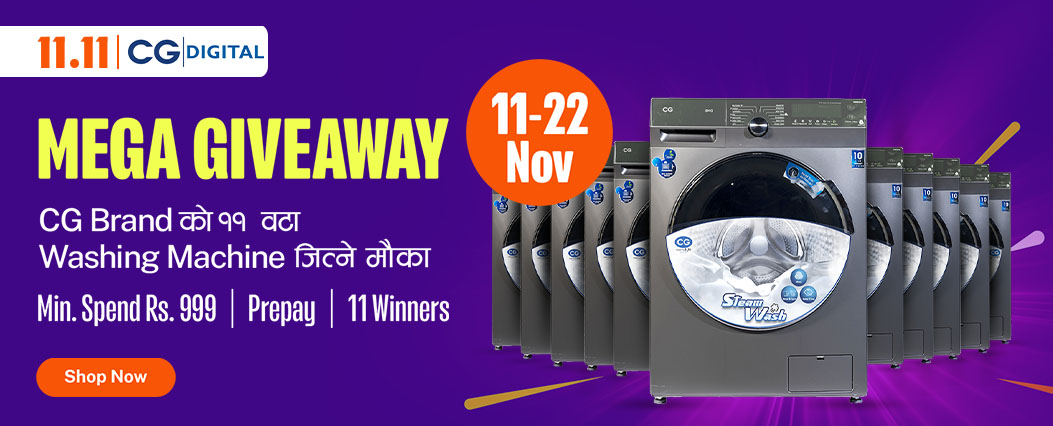 Ever dreamed of winning a brand-new washing machine that can handle your large laundry load? Well, this Daraz 11.11, your dreams can come true. Eleven lucky shoppers stand a chance to win our CG Brand Washing Machine Mega Giveaway. Shoppers who buy at least Rs. 999 worth of products and pay for their order via digital prepayment on the platform will have the chance to be one of these eleven lucky winners whose dirty laundry worries will soon be over.
Diamond and Gold Brand Partners
Diamond Brand Partners
Gold Brand Partners
Exclusive Daraz 11.11 Midnight Show Hosted by Subani Moktan
The excitement doesn't stop with shopping – we're bringing you an exclusive Daraz 11.11 Midnight Show hosted by the one and only Subani Moktan! Tune in from 10 PM onwards on November 10th to catch exciting games, amazing performances, and a giveaway of 11 products at just Rs. 11 every 11 minutes.
So, clear your schedules, charge your devices, and get ready to experience the thrill of the most anticipated Biggest Sale of the Year. With Daraz 11.11, your dream purchases are just a click away. Happy shopping and happy saving!