As the skies clear up and the air is filled with the excitement of Dashain, it's time for family gatherings, celebrations, and, of course, shopping for new clothes, electronics, and household items. This year, Daraz is all set to make your Dashain celebrations even more special with our annual "Dashain Dhamaka" campaign. Get ready for an online shopping extravaganza like no other, with discounts of up to 70% off, vouchers worth up to Rs. 7000, prepayment discounts on debit and credit card transactions, and a chance to win shopping vouchers worth Rs. 1 lakh!
What is a better way to celebrate this cheerful, festive season than with a fresh wardrobe and updated household items? We want to ensure that your celebrations are filled with joy and savings. So, let's dive into the exciting details of the "Dashain Dhamaka" campaign:
Mega Deals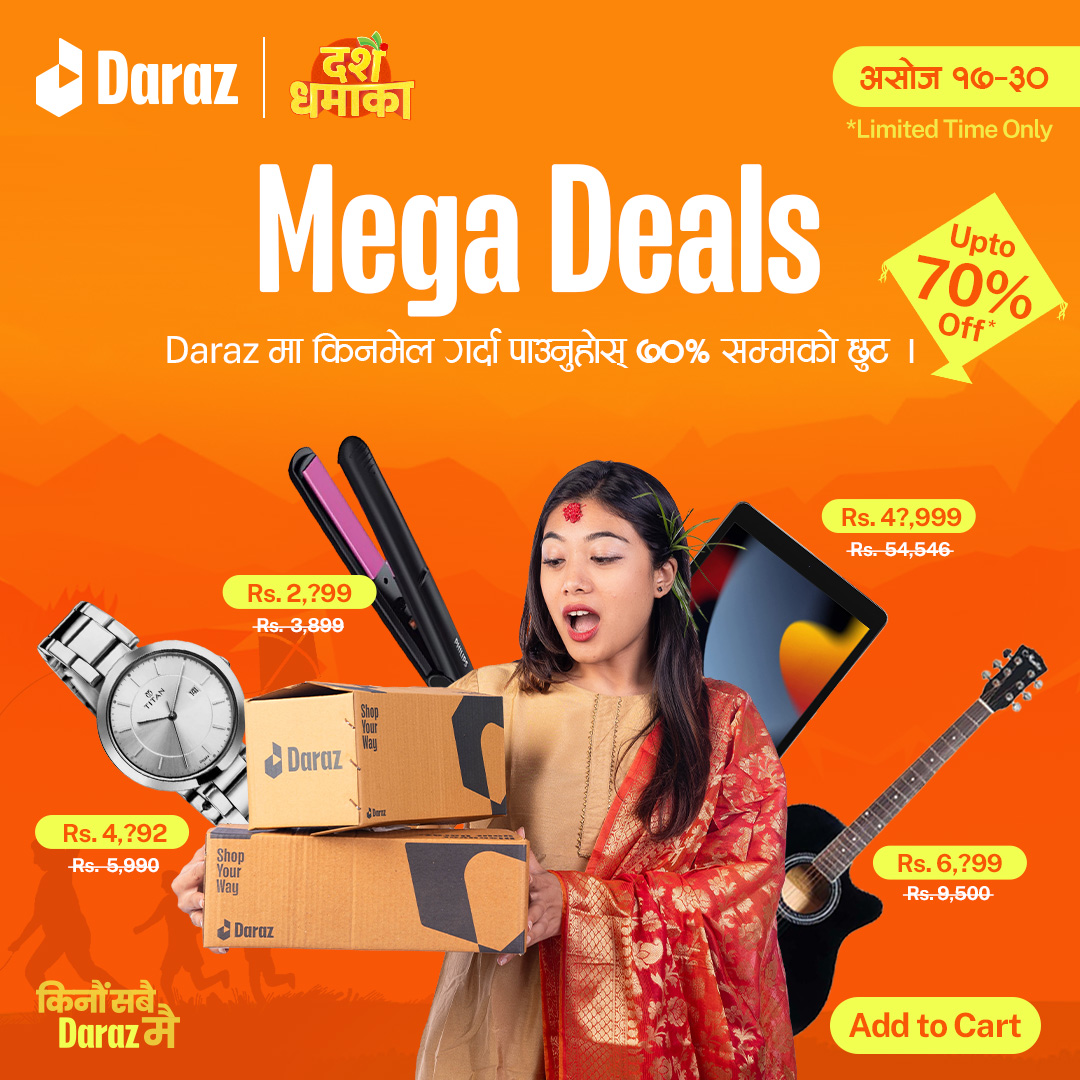 This Dashain, Daraz is bringing massive Mega Deals with discounts of up to 70% off on a wide range of products. Whether you're looking for trendy fashion pieces to wear during Dashain gatherings or the latest electronics, we've got you covered. Feel the thrill of shopping for your favorite items at such incredible prices!
Dashain is also a time for giving, so why not take advantage of these discounts to find the perfect gifts for your loved ones? On Daraz, you can find something for everyone on your list without breaking the bank.
Mega Vouchers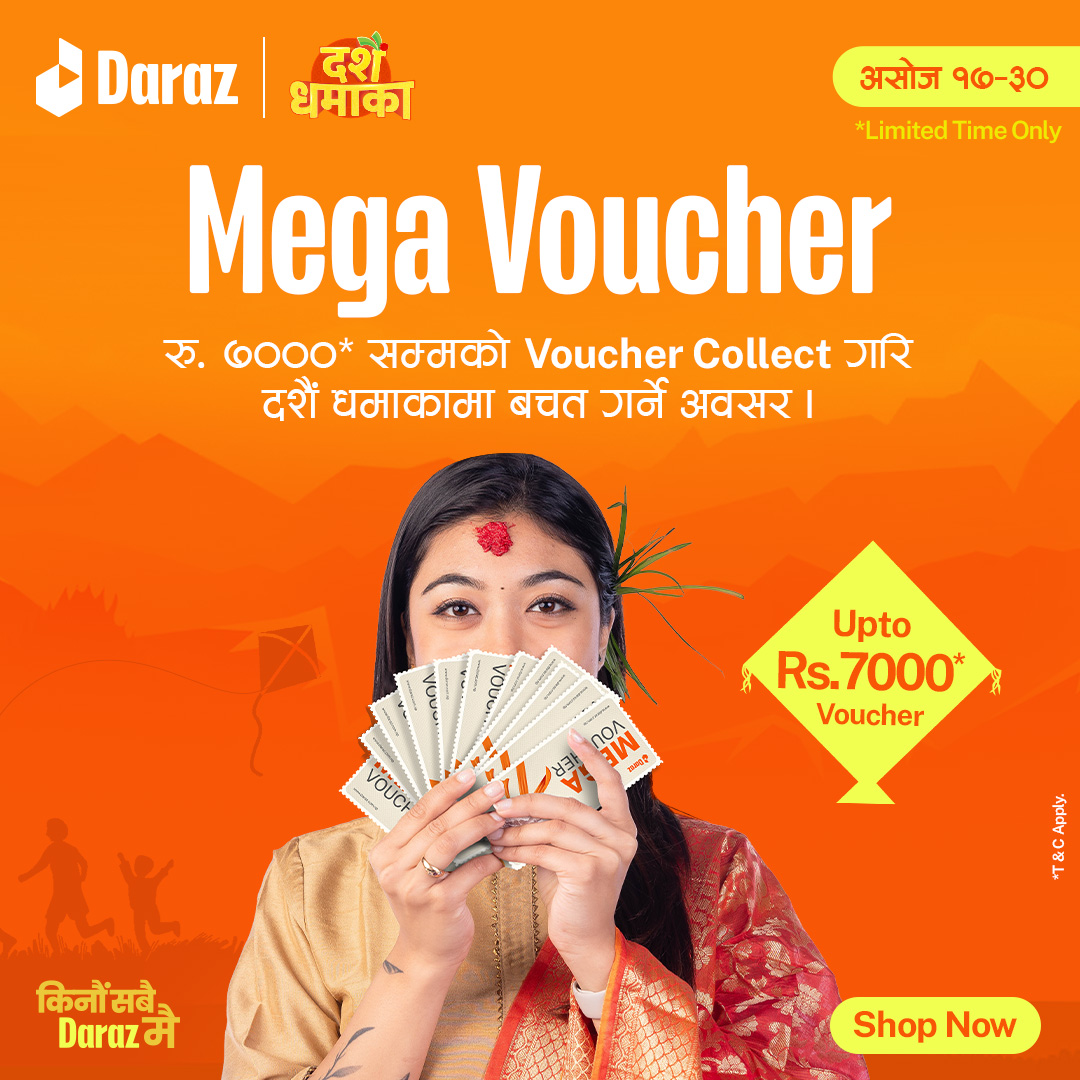 Dashain Dhamaka isn't stopping at discounts alone. We also have irresistible Mega Vouchers worth up to Rs. 7000! These vouchers can be applied to your purchases, allowing you to enjoy even more savings on top of the already discounted prices. Whether you plan to splurge on something special or stick to a budget, these vouchers will allow you to shop according to your preferences. It's the best time to treat yourself to that item you've had your eye on for a while!
Prepayment Discounts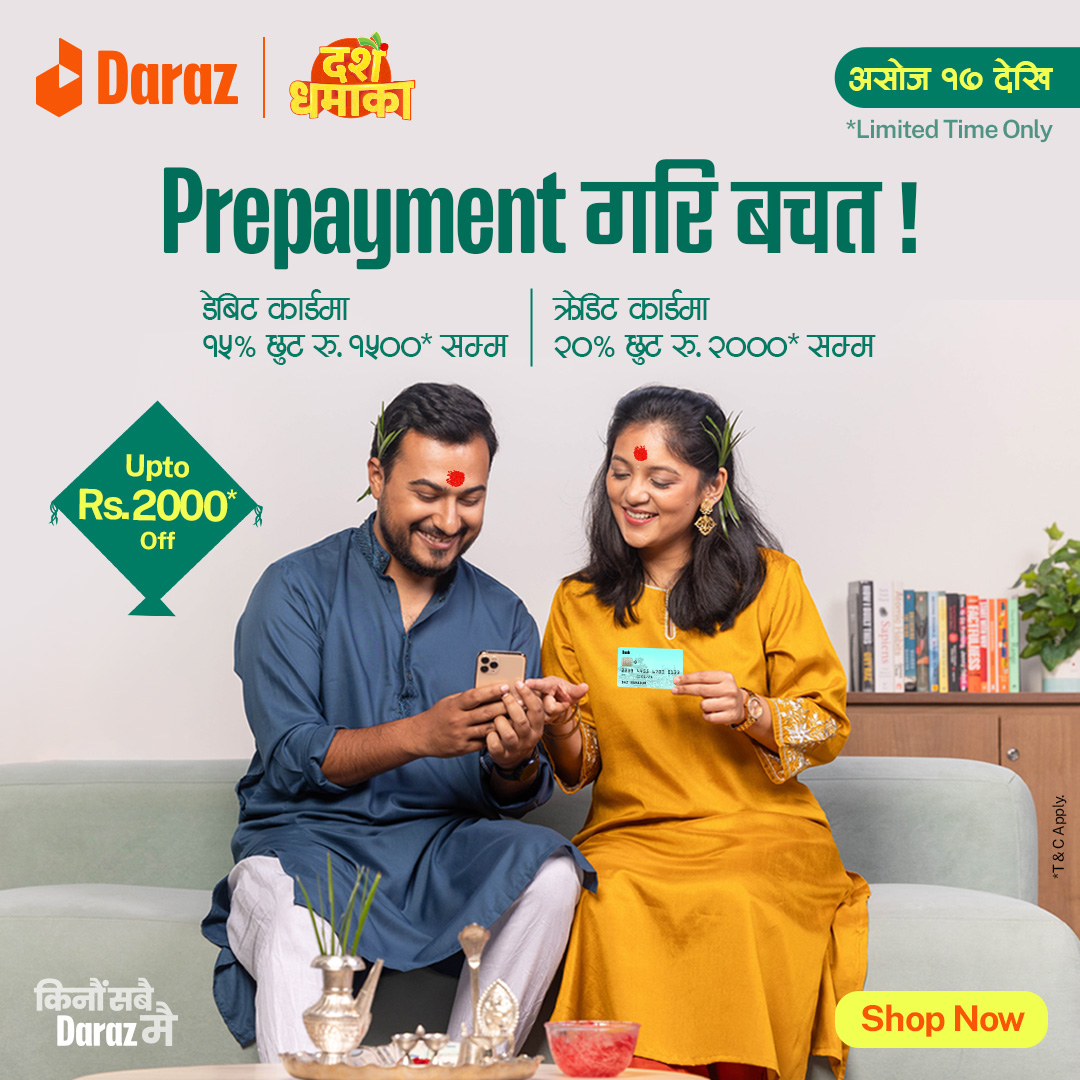 For those who prefer the convenience of safe and secure online payments, Daraz has something extra special in store. Customers making prepayments through debit cards can enjoy 15% off up to Rs. 1500, while those using credit cards can get 20% off up to Rs. 2000. This means that not only do you get your desired products at a lower price, but you also get rewarded for using online payment methods.
Prepayment is not only convenient but also secure. With the added incentive of these discounts, there's no reason not to go cashless and enjoy the benefits of shopping online. These are the following banks that are partnering up with Daraz during Dashain Dhamaka to bring you these amazing discounts:
Nabil Bank Limited
Sanima Bank Limited
Himalayan Bank Limited
Everest Bank Limited
Nepal Investment Mega Bank Limited
Citizens Bank Limited
Nepal SBI Bank Limited
Nepal Bank Limited
Agricultural Development Bank Limited
Jyoti Bikash Bank Limited
Shangri-La Development Bank Limited
आम्मै! १ लाखको Shopping झ्याम्मै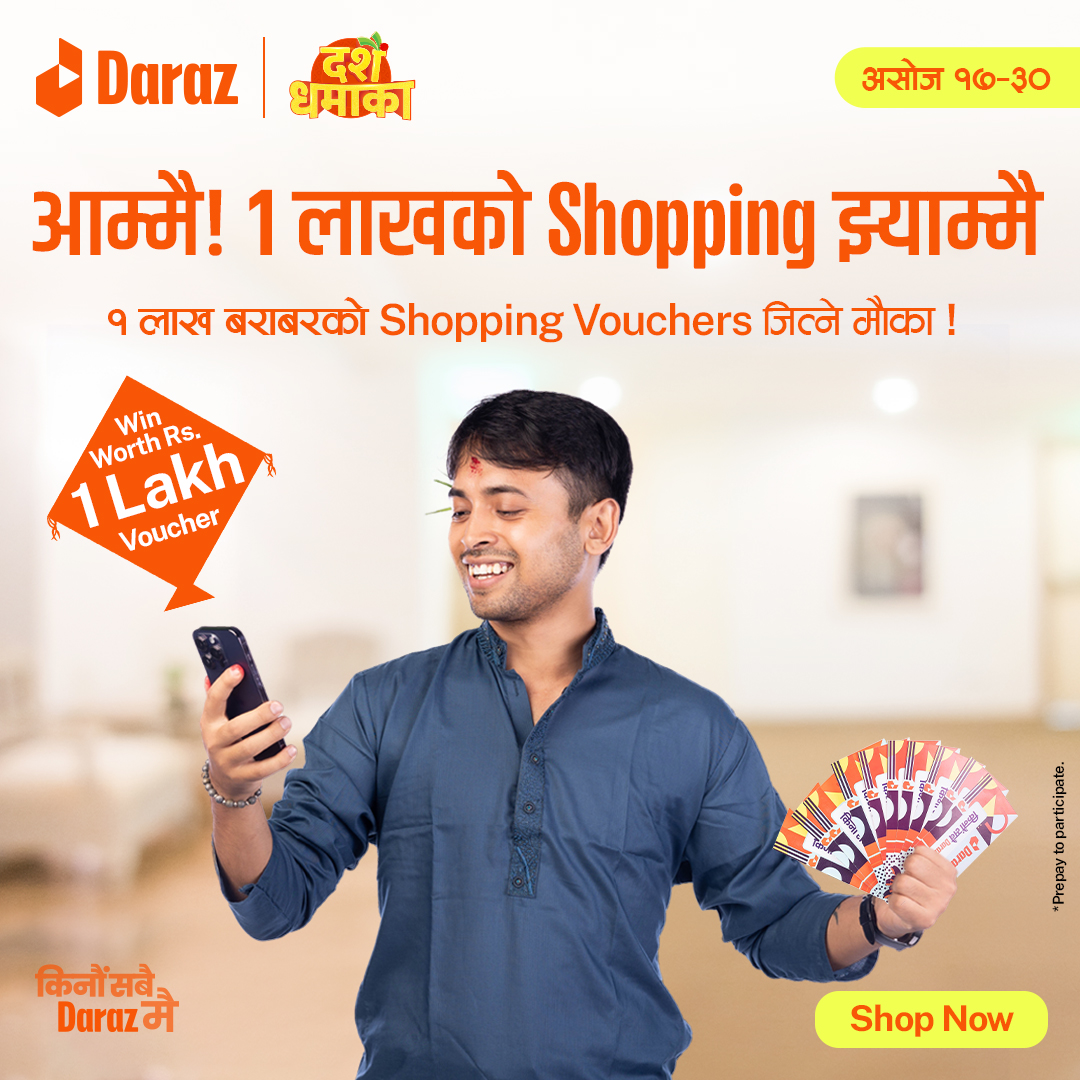 As if all these discounts and vouchers weren't exciting enough, Daraz is adding an extra layer of excitement for our customers. Prepay for your order of at least Rs. 3500 for a chance to win shopping vouchers worth Rs. 1 LAKH. Yes, you read that right – One Lakh!
Dashain is a time for celebration, and Daraz is here to make your celebrations grander. Dashain Dhamaka will run from October 4, 2023, to October 17, 2023, giving you time to shop, save, and possibly even win big. Whether you're buying new outfits for the entire family, upgrading your gadgets, or simply indulging in some self-care, Daraz Nepal's Dashain Dhamaka is the perfect opportunity to do it all without breaking the bank. Plus, with convenient payment options and reliable delivery services, your shopping experience couldn't be smoother.
So, mark your calendars and get ready for a Dashain like no other. The festivities are about to begin, and we're here to help you make it a joyous and budget-friendly celebration. Happy Dashain!