In an era of ever-changing technology, staying up-to-date with the latest gadgets can burden our bank accounts. Recognizing the need for affordable yet reliable options, Daraz Nepal is proud to unveil its latest vertical – Daraz Like New (DLN). This exciting addition to Daraz offers customers the opportunity to purchase gently used phones that meet strict quality standards. With its official launch scheduled for August 30th, Daraz Like New aims to redefine how people shop for used phones.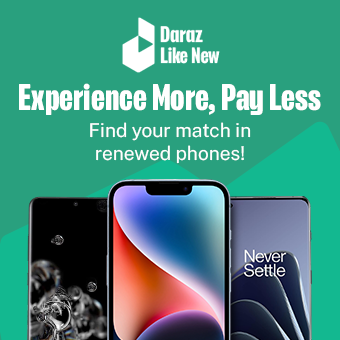 Trust and Quality
Daraz Like New has an unwavering commitment to delivering trustworthy and quality phones. With over 60 quality checkpoints meticulously examined by experts, customers can rest assured that every phone meets the highest standards before it reaches their hands. The phones are categorized into Grade A+ (featuring no visible scratches) and Grade A (showcasing minimal scratches), catering to varying preferences and needs.

Peace of Mind
Each phone purchased through Daraz Like New comes with a VAT bill, ensuring transparency in every transaction. Customers are also provided with a warranty on their phone for 3 to 6 months to guarantee a sense of security and assurance that their purchase is protected. DLN understands that the packaging matters, too. That's why every phone comes with carefully customized packaging to deliver a premium experience.
Sustainability and Value
Daraz Like New helps save not only your pocket but also the environment. By giving pre-owned phones a new lease on life, DLN embraces sustainability and contributes to reducing electronic waste, making it an eco-friendly choice that aligns with responsible consumption. This vertical opens doors to premium devices at a fraction of the cost, making high-quality technology accessible to a wider audience.
The launch of Daraz Like New marks a movement towards offering more choices, greater affordability, and sustainable options to the tech-savvy community. DLN ensures that every purchase is worth it by curating a range of gently used phones and performing rigorous quality checks. As DLN officially debuts on August 30th, get ready to embark on a journey where quality, trust, and affordability meet. Embrace the future of smart shopping with Daraz Like New – your gateway to quality phones.