Daraz is thrilled to unveil its latest addition: the Electronics Bazaar channel. This new channel is a haven for all tech enthusiasts, offering a wider selection of electronics from trusted brands with assured warranties. Packed with the best deals, exclusive launches, trending products, and top-rated items, the Electronics Bazaar is set to revolutionize your online electronics shopping experience. As a special treat, Daraz is celebrating the launch with 14 days of exciting giveaways from July 1st to July 14th. Get ready to embark on a thrilling journey through the world of electronics while snagging fantastic deals and the chance to win amazing prizes!
A Plethora of Electronics Options

The Electronics Bazaar channel on Daraz boasts an extensive range of electronics to cater to all your needs. Whether you're searching for the latest smartphones, cutting-edge laptops, home appliances, gaming consoles, audio equipment, or smart devices, this channel has you covered. With a diverse collection of products, you can explore popular brands, discover trending gadgets, and access top-rated items recommended by fellow tech enthusiasts. Get ready to score incredible deals on the Electronics Bazaar channel. You'll find unbeatable prices on various products with irresistible discounts and amazing offers.
Trusted Brands and Assured Warranty

Daraz understands the importance of quality and reliability when it comes to electronics. That's why the Electronics Bazaar channel exclusively features products from trusted brands renowned for their superior performance and durability. Rest assured, each purchase comes with an assured warranty, giving you peace of mind and the confidence to shop for your favorite electronics hassle-free.
Upcoming and Exclusive Launches
Stay updated on exclusive product launches and be among the first to get your hands on the latest gadgets. Whether it's a highly anticipated smartphone, a cutting-edge device, or an innovative home appliance, the Electronics Bazaar channel ensures you don't miss out on the most exciting releases. Stay tuned for upcoming launches and stay ahead of the curve by being among the first to experience the latest tech innovations hitting the market.
Frequently Asked Questions

Daraz's Electronics Bazaar channel goes the extra mile to provide a seamless shopping experience. Explore the frequently asked questions section, where you'll find answers to common queries and gain valuable insights about returns and refunds, warranties, brand details, EMI, and more.
14 Days of Giveaways
To make the launch of the Electronics Bazaar even more special, Daraz is hosting 14 days of exciting giveaways from July 1st to July 14th. Every day, lucky winners will have the opportunity to win incredible prizes, ranging from gadgets and accessories to trusty home appliances. Here's what you can win just by shopping from the Electronics Bazaar channel on Daraz: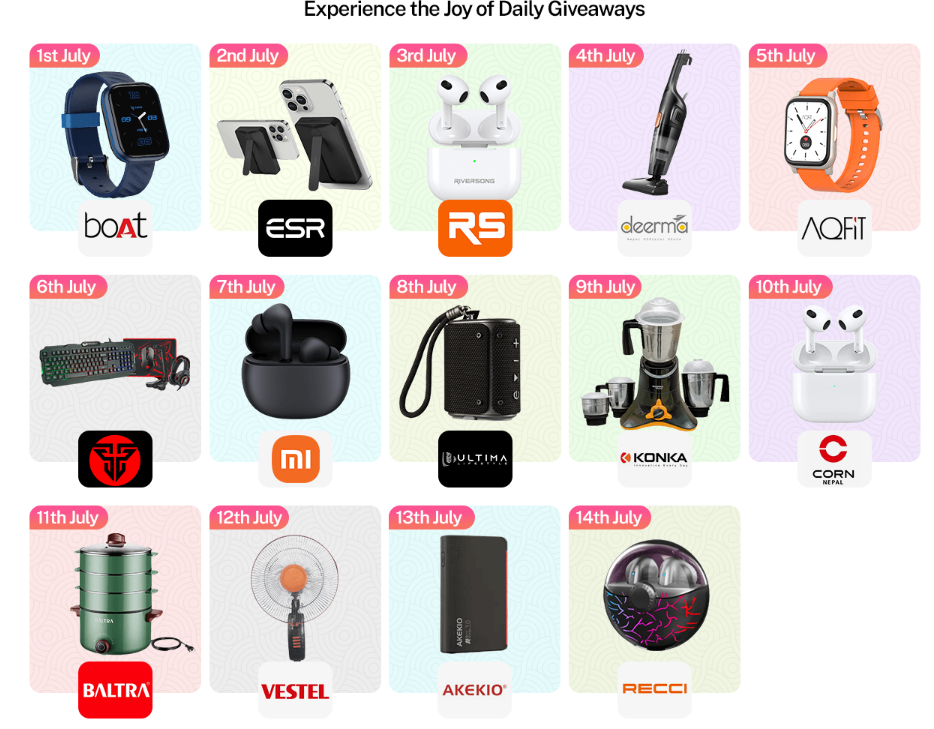 One giveaway winner shall be selected every day from July 1, 2023, to July 14, 2023. The giveaway winner will be announced on July 25, 2023, via Daraz Live, so don't forget to tune in to the live stream. Don't miss your chance to participate in this exciting event and elevate your electronics shopping experience with Daraz.
Daraz's Electronics Bazaar channel is a game-changer for tech enthusiasts, providing a comprehensive platform for all your electronics needs. Enjoy a wider selection of trusted brands, assured warranties, unbeatable deals, and exclusive launches. Celebrate the launch with 14 days of exciting giveaways, where you can win amazing prizes. Elevate your electronics shopping experience and embrace the world of cutting-edge technology with Daraz's Electronics Bazaar.