If your skin is lacking its natural radiance and appears dull and lifeless, worry not! You can easily create a revitalizing and all-natural facemask right at home to restore that youthful glow.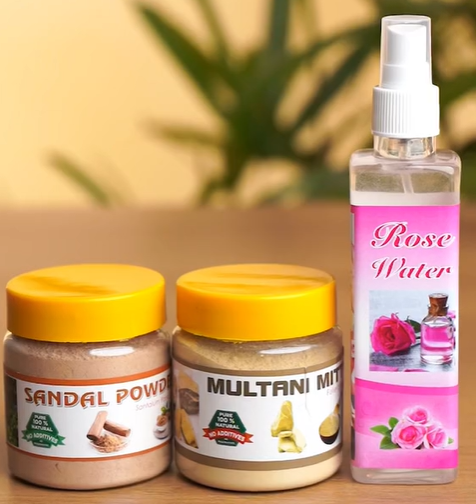 How to Make the Facemask
To begin, combine 1 teaspoon of Multani Powder with 1/2 teaspoon of Sandal Powder in a mixing bowl. Gradually add enough Rose Water to the dry ingredients, stirring gently, until a smooth paste forms.
Using a brush, generously apply the facemask all over your face, ensuring an even layer. Now, sit back and relax for 15-20 minutes, allowing the mask to completely dry.
Once the time is up, rinse your face thoroughly with water, gently removing the mask. Pat your face dry with a soft towel and embrace the refreshing feeling by applying a touch of Rose Water.
Before you complete your skincare routine, make sure to moisturize your face to lock in the nourishment and follow up with a layer of sunscreen to protect your skin from harmful UV rays.
Embrace the revitalized and glowing skin, all thanks to this easy and natural facemask. So, let nature's goodness pamper your skin, and enjoy the radiant transformation!