In 2022, Daraz launched the "Proudly Nepali" channel with a clear mission to uplift the Nepali entrepreneurial community and provide them with a platform to thrive in the e-commerce space. Intending to inspire local entrepreneurs and foster a positive entrepreneurial mindset, Proudly Nepali has become a launchpad for success stories. In t his blog, we will delve into the purpose, objectives, and achievements of this empowering initiative, with a particular focus on Bisesh Creation—an inspiring success story that exemplifies the channel's impact.
Proudly Nepali was established with the aim of revolutionizing the Nepali market by promoting modern forms of e-commerce and empowering local sellers. By bringing forward local businesses and providing them with exclusive visibility, the channel strives to shine a light on the products and services of Nepali entrepreneurs while also inspiring others to embark on their own journeys. Regardless of a company's size, revenue, or legacy, Proudly Nepali welcomes all businesses engaged in manufacturing, sourcing raw materials, and branding locally. The channel celebrates the diversity and ingenuity of Nepali entrepreneurs, including those in service industries such as local travel agencies and wellness companies.
The Proudly Nepali channel is committed to showcasing local sellers and their products, giving them a platform within Daraz's expansive marketplace. With over 600 sellers from all seven provinces and various different sectors already on board, Proudly Nepali focuses on providing complete visibility for local businesses. Whether it's in FMCG, fashion, electronics, or lifestyle goods, the channel highlights products that are proudly made in Nepal and by Nepali people. By supporting local businesses, Proudly Nepali aims to strengthen the country's economy, generate employment opportunities, and contribute to a positive balance of payments through exports.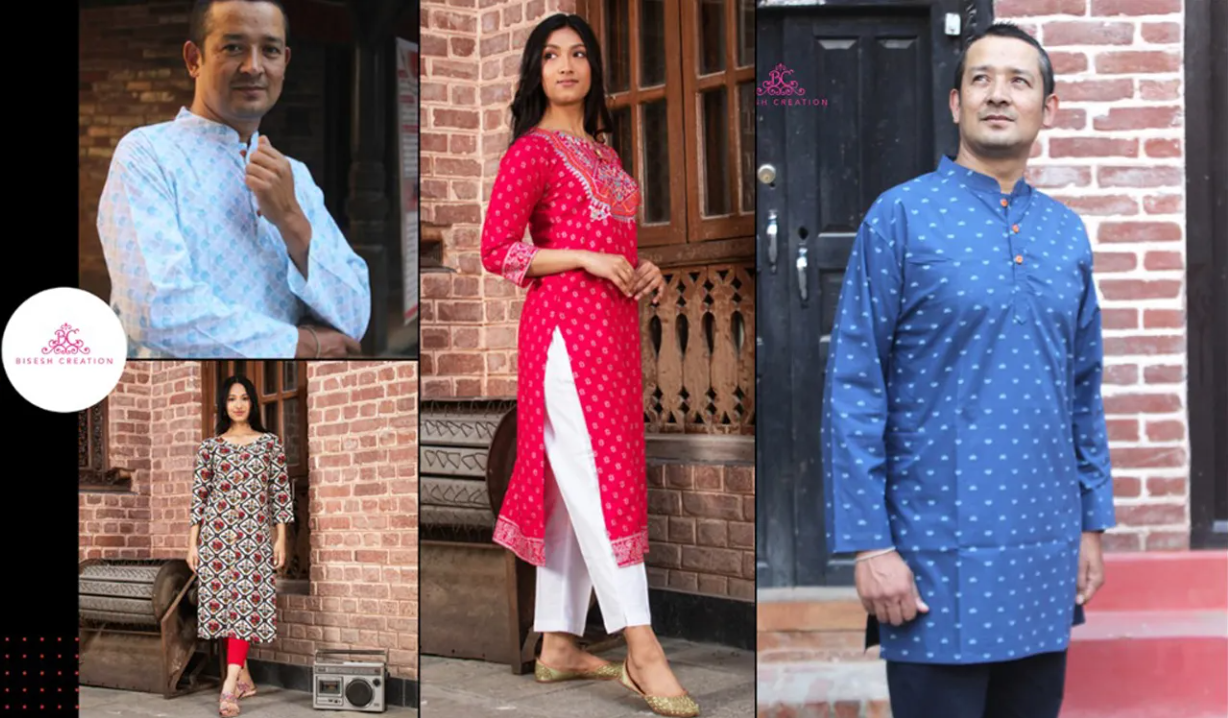 One inspiring success story that exemplifies the impact of Proudly Nepali is that of Bijesh Joshi, the owner, and founder of Bisesh Creation—a leading women's ethnic wear brand. Starting as a small retail and tailoring store, Bisesh Creation became a lifeline for many families. After the devastating earthquake in 2015, Bijesh Joshi witnessed the struggles of skilled but unemployed women in Nepal. Recognizing their talent and potential, he founded Bisesh Creation as a Nepali brand made by Nepali women.
Joining Daraz proved to be a crucial decision for Mr. Joshi. His sales grew exponentially, and he was able to expand his brand across the nation. Through Daraz, Bisesh Creation experienced a 60% increase in order volume, providing stability and income for all associated with the brand. Mr. Joshi credits his success to the constant support from the Daraz team, finding their tools and seller-friendly environment invaluable. He envisions bringing more innovative designs and products through Daraz in the future.
Proudly Nepali has also been collaborating with local agencies and organizations, working to empower entrepreneurs. Past collaborations with SAWDAF aimed to uplift women entrepreneurs in the tech sector, providing sustainable income opportunities through e-commerce. Looking ahead, Proudly Nepali envisions expanding its reach to every Nepali household by welcoming more sellers and brands. Through digital sales and e-commerce, the channel aims to uplift businesses and communities, becoming a key contributor to Nepal's economic growth.
Proudly Nepali on Daraz is a game-changer for local entrepreneurs and Nepali brands, enabling them to thrive in the e-commerce space. By focusing on empowering and celebrating local businesses, the channel has played a huge role in success stories like Bisesh Creation. By promoting local sellers and their products, Proudly Nepali drives economic growth, creates employment opportunities, and fosters a vibrant entrepreneurial ecosystem. As Proudly Nepali continues to grow, it aspires to uplift businesses and communities, solidifying its position as a catalyst for change in Nepal's digital sales and e-commerce landscape.