Looking to sell online? Want to become a Daraz seller? But don't know how? Worry not! This article will be your detailed guide on how you can become a Daraz Seller in Nepal.
With more than 10,000+ active sellers, Daraz is the perfect place for you to grow your business. So take your time to go through this article to find out how you can become a verified Daraz seller.
Before we talk about the steps, I would like to give you a quick idea about the types of shops that you can open on Daraz. It's important you know the types before knowing the steps. They are:
DarazMall Seller: For Brand Owners or Authorized Distributors/Sellers
Local Seller: For Local Sellers Selling All Sorts of Products
Global Seller: For Sellers based out of Nepal
Digital Seller: For Sellers selling digital goods such as vouchers, tickets and more.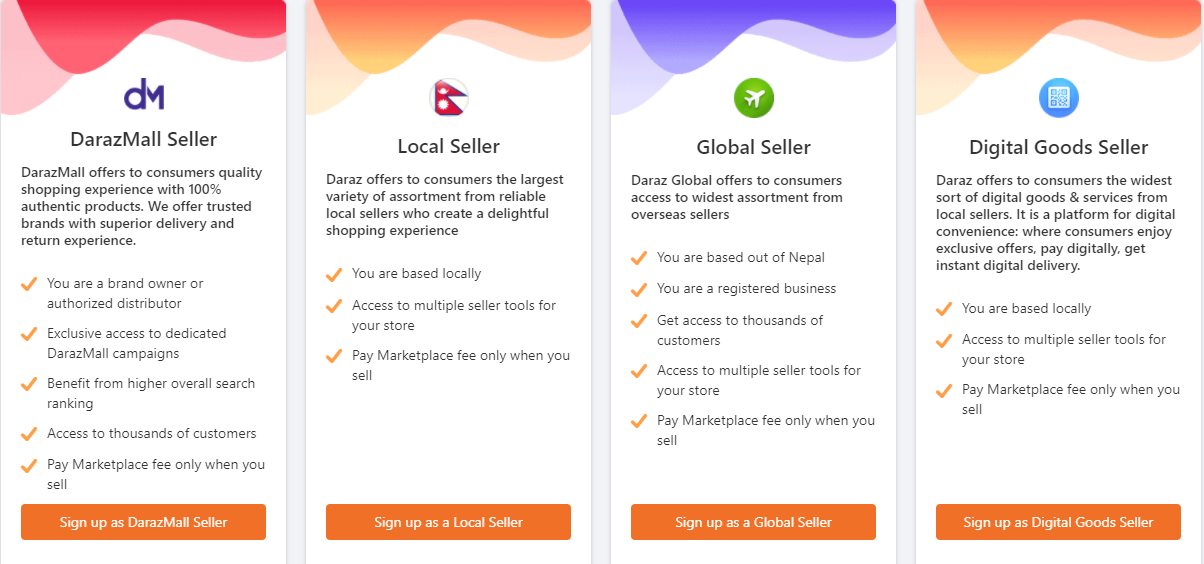 Signing up to sell on Daraz is extremely easy, all you'll need is:
PAN or VAT registration number of your business
Bank account
Access to Internet
If you have all the above-mentioned prerequisites, just follow the steps as given below:
1. Register and Set up Your Store
To start your journey to become a Daraz Seller, follow the steps below:
Open the Daraz website.
Click on "SELL ON DARAZ"
Then click on "START SELLING"
Chose your shop type and click on Sign Up.
You'll be redirected to the Seller Registration Form
2. Fill The Seller Registration Form
The seller registration form will request you to fill in the following informations:
Select your Account Type – You need to be PAN or VAT registered seller in order to sell on Daraz
Shop Based In – Based either in Nepal or Outside Nepal
Mobile Number – The same mobile number cannot be used for two different accounts.
Slide the Bar to receive a One Time Password (OTP)
You will receive the password as an SMS.
Enter The Password
Enter Your Email Address
Enter The Name of Your Shop
If you have a promo code that's applicable, you can enter it (This is optional)
Accept the Terms & Conditions to move forward.
3. Complete To Do List
Once you submit the registration form, you'll need to fill out the "To Do List" which includes the following:
Address Book
ID Information
Bank Information
Order Packaging Information
Step 3 (A): Update Address Book
You'll need to fill in the following addresses:
Warehouse address
Business Address
Return address
Note: All three addresses can be the same as well as different. You must mention complete addresses.
Step 3 (B): Verify your corporate file.
To verify your corporate file, click on verify corporate file after you submit your address from the dashboard. Here you will need to fill in the following information:
Legal Name – Business Owner Name – Fill in the registered name of the business
Business Registration Number (PAN/VAT) – Enter your PAN/VAT number.
Upload Business Document – Upload your PAN/VAT document.
Step 3 (C): Fill in your bank details such as:
Account title
Account number
Bank name
Branch name
Upload a clear cheque picture.
Once you have filled in all the information at each step, click on submit.
You have now registered to become a local seller on Daraz.
The Daraz team will then check all the details that you have submitted. Your shop will be verified or rejected following the check.
Step 4: Order Packaging Materials
Once you become a registered Daraz seller, our Onboarding Team will start the process of onboarding you on Daraz which includes verification of your provided Address, Business Information & Bank Information. Our team will also ask you to attend our seller onboarding training session.
Once verified and you attend our training session, our team will send you your first packaging materials on your behalf. As from their onwards, you can order more packaging materials and begin selling!
Why become a Daraz Seller?
"Daraz have helped us to extend our boundaries. We are now able to interact with broad customer base and sale outside the Kathmandu valley. Also, promotional campaigns from Daraz has also helped in increasing my sales." – Robin Shrestha, Bhanda Pasal
Online shopping is steadily growing in Nepal. And as the leading online marketplace here in Nepal, Daraz is currently home to more that 10,000+active sellers from all across the country. Backed up by years of experience, advanced Alibaba technology, strong infrastructure, and bountiful resources, Daraz is the perfect place for you to take that next step and succeed as an online seller in Nepal.

"Market trend is changing. People are buying online more then ever before. We're are glad to be a part of the Daraz online community. Because of Daraz, we have a established online platform to do business online." – Sobit B.K, ALLOF's E-Store
And what's more is the fact that with Daraz you will have access to the latest, highly advanced systems that were co-developed with Alibaba. The Chinese e-commerce giant acquired Daraz in May 2018.
"We believe that the best person to, sell a product or a service is the seller himself – not Daraz. That's why we want to give the sellers all the tools to do this independently. Our job is to build the tools and the control systems to ensure that the consumer is always 100% protected in every single transaction." – Daraz Global CEO, Bjarke Mikkelsen
So there you go, it's that easy to become a Daraz Seller. If you want more information on how to become a Daraz Seller, just head to: university.daraz.com.np
Or you can contact Daraz Seller Support at this number: +977-1-5970111