Daraz Haat Bazaar starts from 23rd of February, 2021. Here are the offers:
Daraz Sathi & New User Offer

If you are new to daraz, there is a FREE Rs. 200 Daraz Voucher.
However, if you are not new to daraz, you get a chance to win upto Rs. 500 as Daraz Voucher.
Simply share a daraz app link with your friend who has never used daraz
Once your friend downloads and creates a daraz account, your friend gets a Rs. 200 Daraz Voucher, and for 10 installs you get a Rs. 500 Daraz Voucher. That means when you get 10 friends to install the app, you earn Rs. 500
The vouchers will have minimum spend amount, like the Rs. 200 voucher can be used to purchase things worth Rs. 2000 and more. Contact Daraz via live chat to know more.
One Rupee Game or खेल एक रुपैयाँको
Win products like these at just Re.1.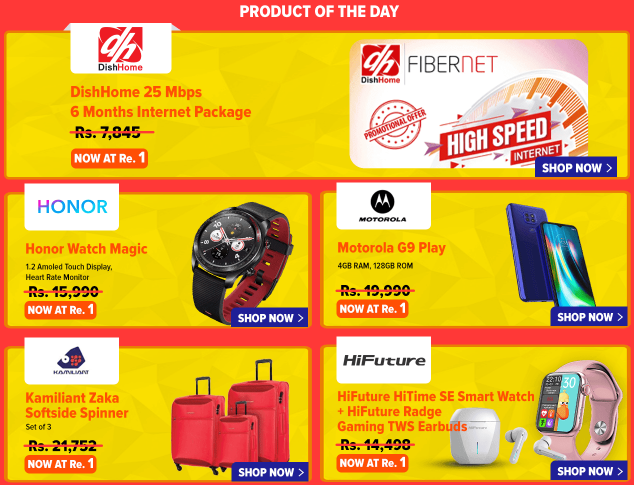 Follow the steps below to participate.
STEPS:
Open Daraz Website or Daraz app.
Click on the Daraz Haat Bazaar banner.
Then select One Rupee Game.
Pick your product from "PRODUCT OF THE DAY".
Place an order with Re. 1 with Debit/Credit card.
*Valid on Card Payment Only*
Your money will be refunded incase you do not win.
EMI Service
To make shopping on daraz more convenient for all its users, daraz has partnered with 4 leading banks to launch EMI service. They are:
NIC Asia Bank
Machhapuchchhre Bank
Sunrise Bank
Citizens Bank

There are no hidden charges, no down-payment, and no interest amount.
Credit card holders of the mentioned banks can now purchase items and pay a fixed amount every month.
Click the link below to learn more about the new EMI service.
BANK DAYS OFFER

Daraz Haat Bazaar also features bank days discounts of 15% (upto Rs. 500) on select bank cards.
Different banks provide on different days of the week:
Sunday: upto 15% off(Max Rs.500) from Siddhartha Bank
Monday: 10% off(Max Rs 500) from Sanima Bank
Wednesday: 10% off(Max Rs 500) from NIC Asia Bank
Friday: 10% off(Max Rs 500) from Nabil Bank
Saturday: 10% off(Max Rs 500) from Standard Chartered Bank.
Free Vouchers or महा कुपनहरु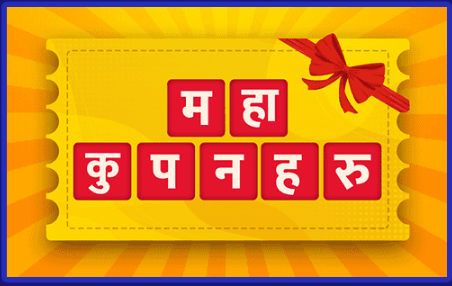 This is a surprise but like every Daraz sale campaign, you will get free vouchers from daraz and sellers. To find out what vouchers are available come visit the Daraz app on Tuesday!
These vouchers are limited and they can run out very quick due to huge demand, so be there tomorrow on the Daraz app or even better at 12 am tonight!
If you don't know about Daraz vouchers or coupons, this blog post will help you.
Add to Cart and Win or कार्टमा राख्नुहोस र जित्नुहोस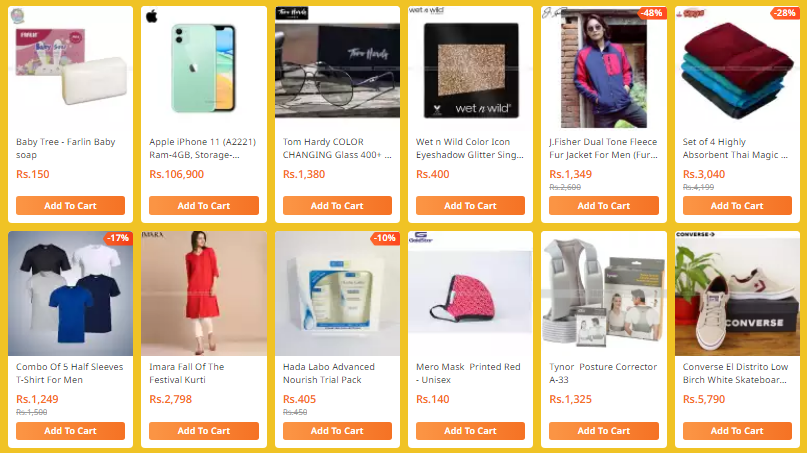 You should go the the page given below to select and add items to cart. You can check if you won by visiting this page or check your email.

TAKE ME TO ADD TO CART AND WIN PAGE
Free Delivery, Brand Utsav, Haat Bazaar Special, & Fatafat Deals
Brand Utsav or ब्रान्ड उत्सव will feature special deals from a popular brand everyday.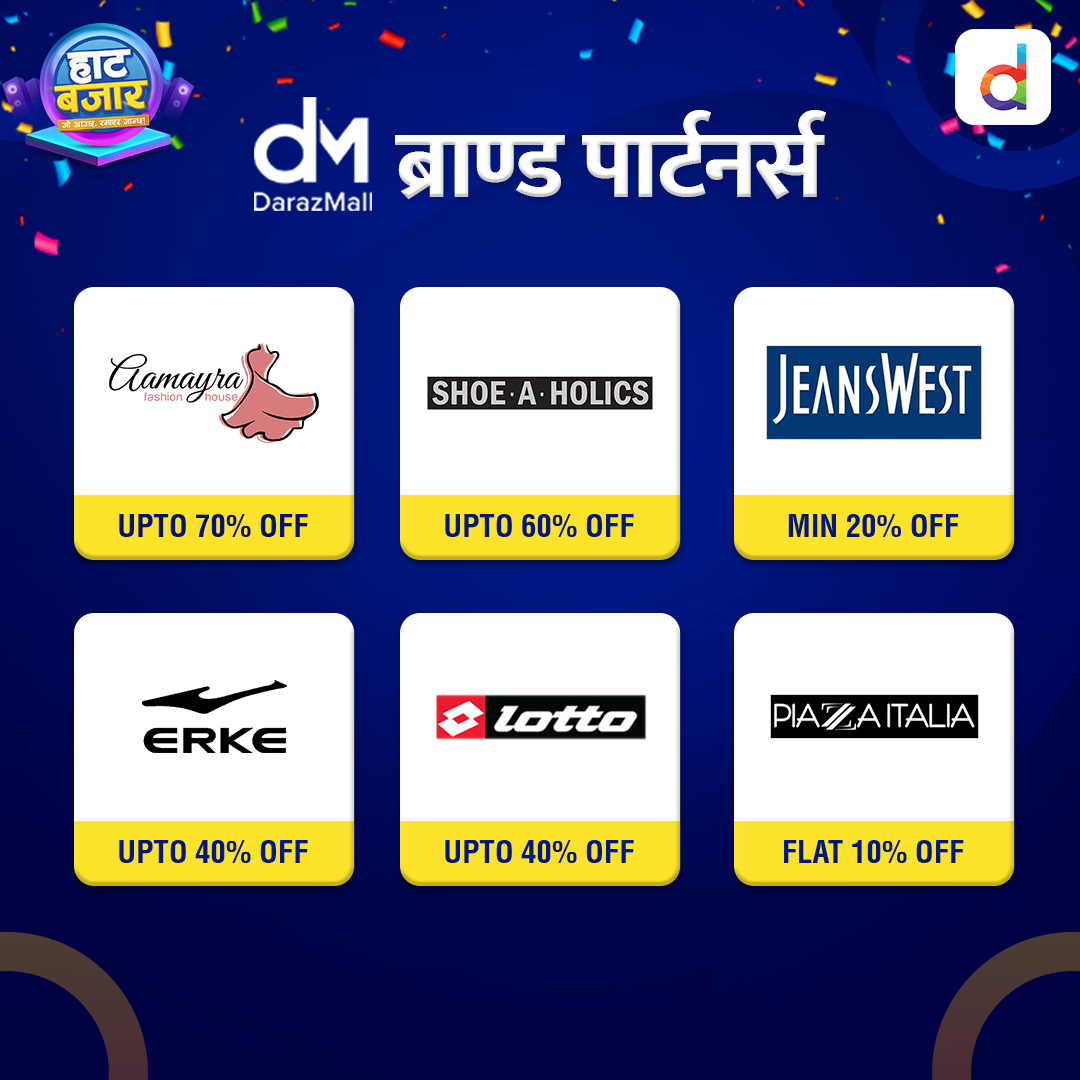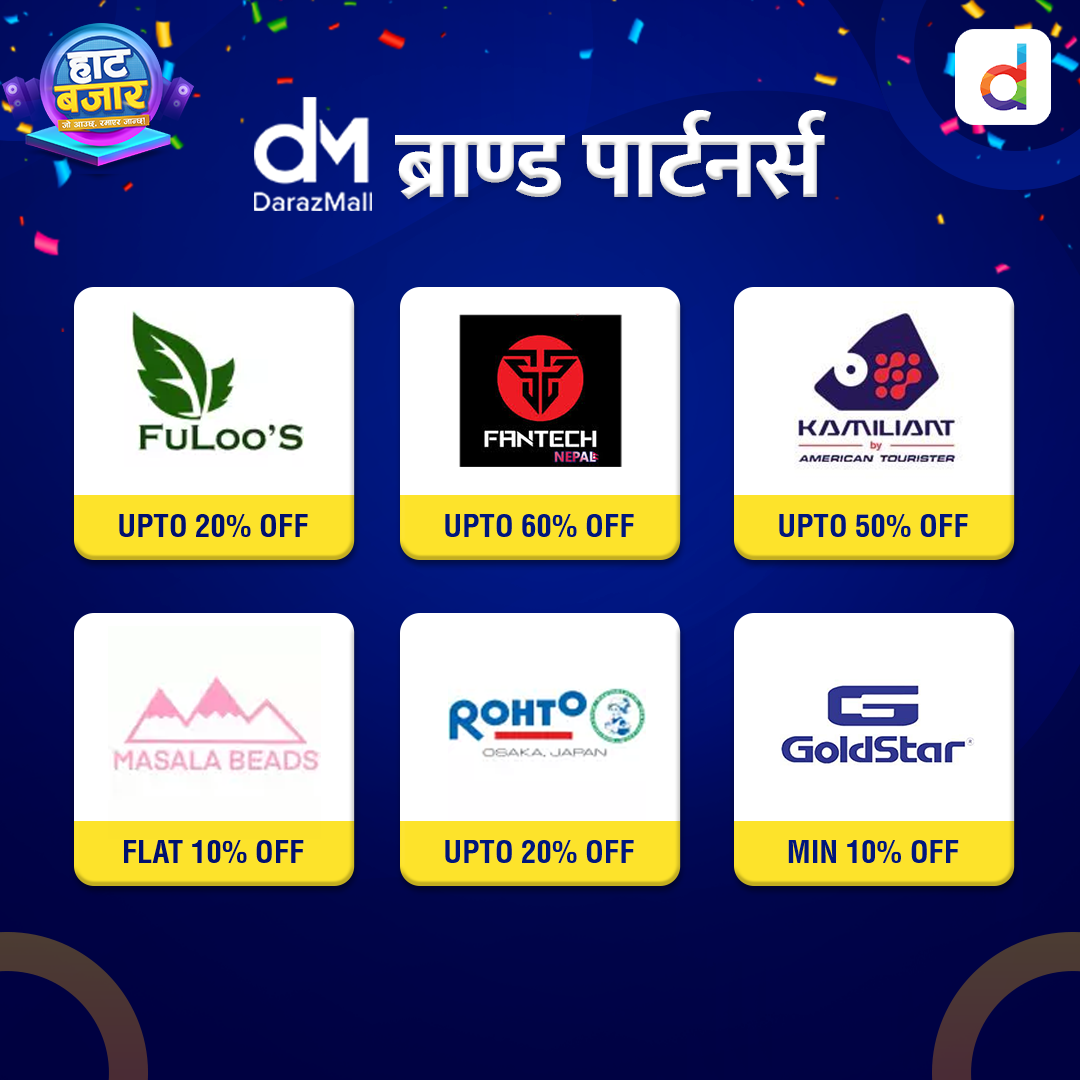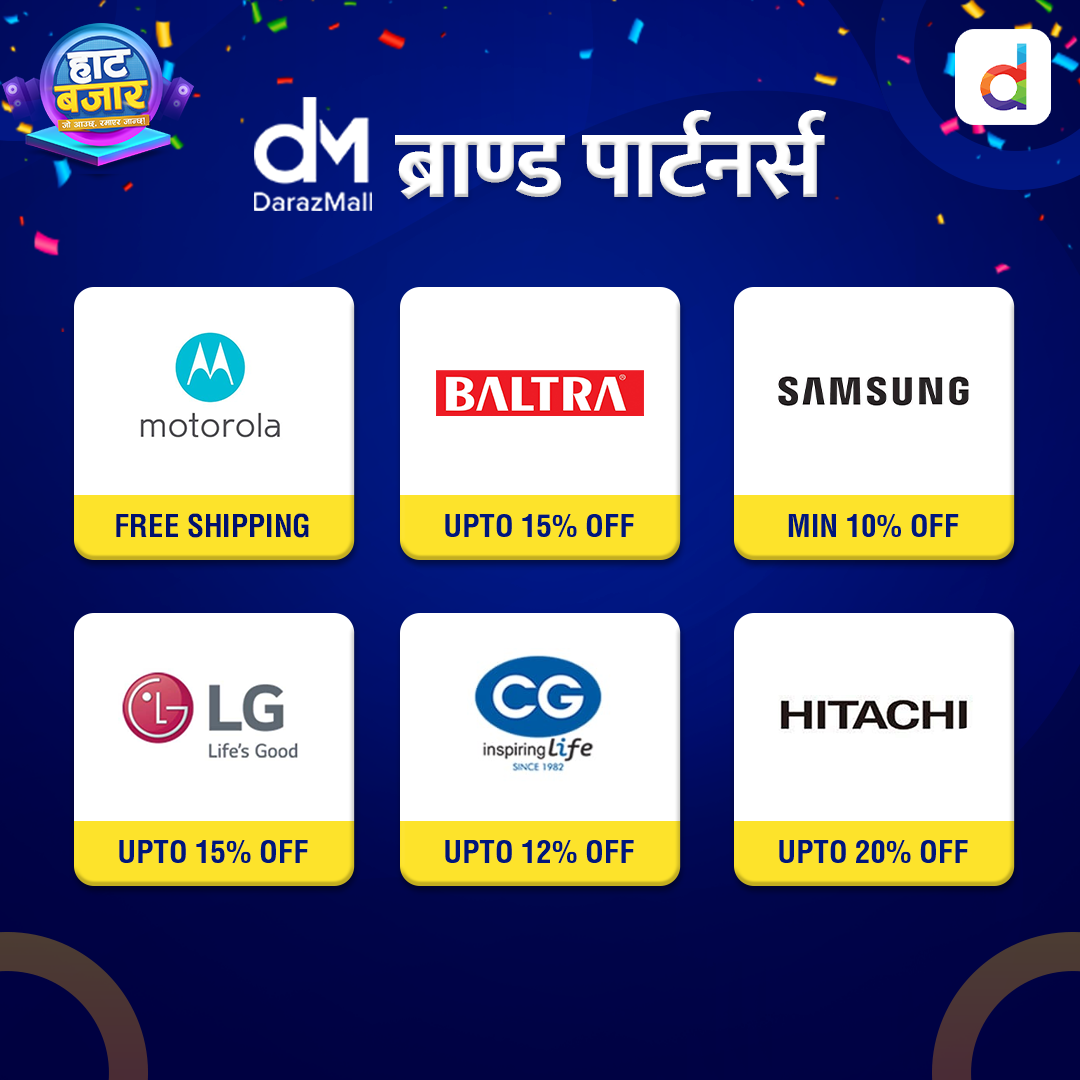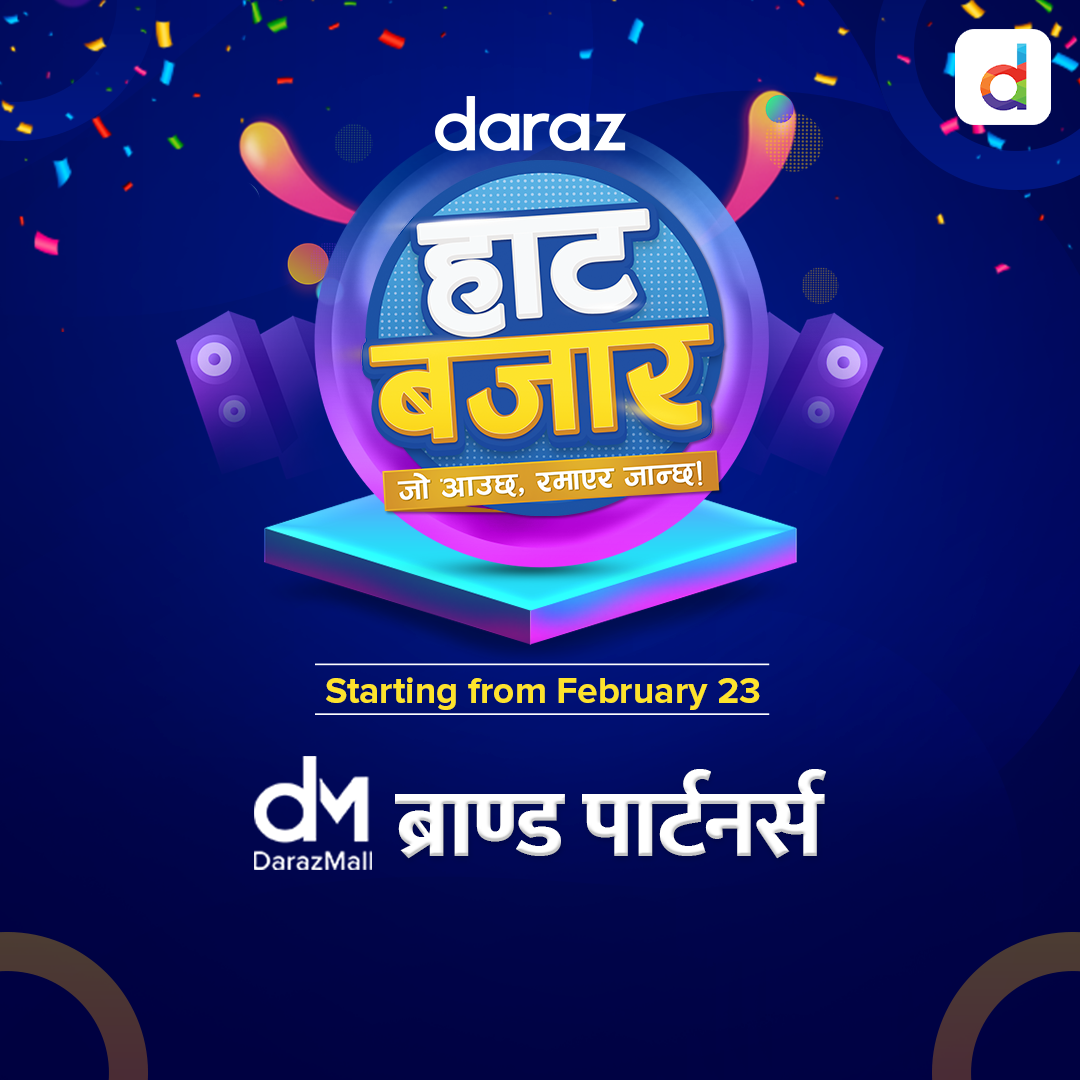 Likewise, there will be free shipping, and offers like Fatafat Deals or फटाफट डीलहरु.
In this products will be available in low prices for limited time, those who get the make the fastest purchase get the best deal.
Free Shipping and so much more coming soon.
As usual there will be Free Shipping, Hot Picks, and Maha Deals, that cannot be missed. There will also be Fatafat Deals.
Show me what items have free shipping now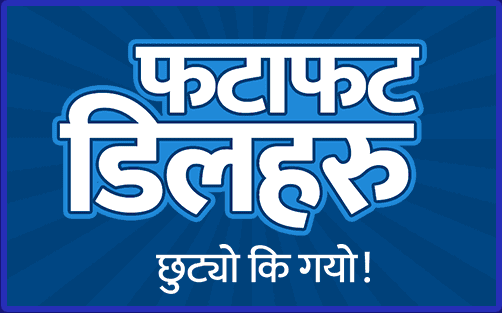 Fatafat deals will have limited products at low prices for limited time, so if you miss, the offers will run out quick!
Hot picks and Maha Deals will feature items with the best discounts.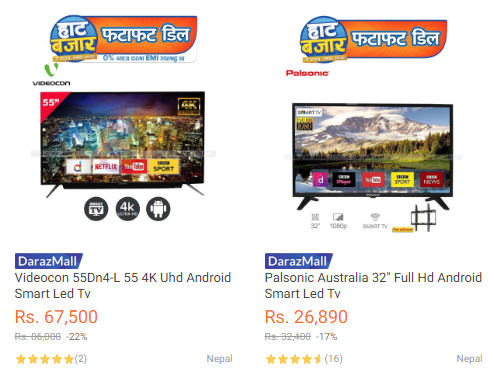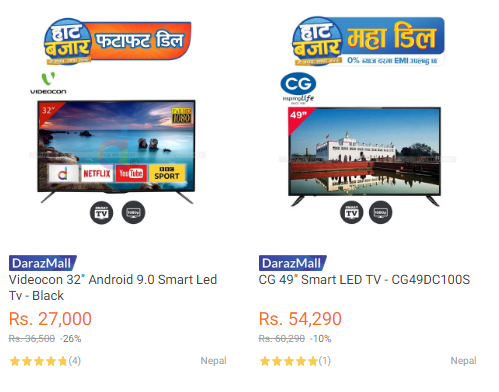 ---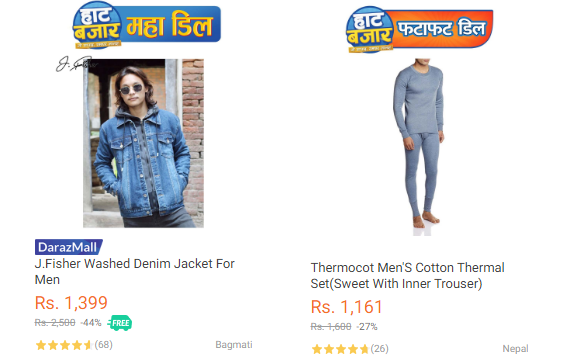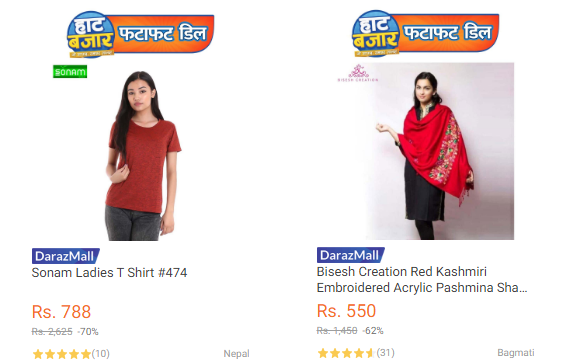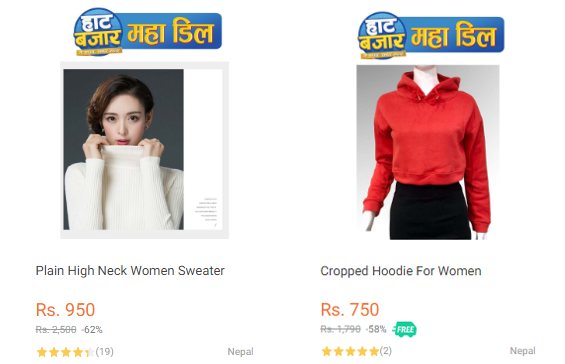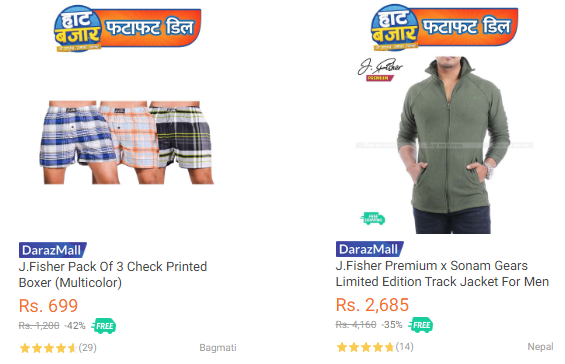 From men to women, show me fashion deals
---
The list of offers is a lot, but you can always keep track by following this blog, and Daraz's other Social Media Pages. Also, visit the Daraz app to keep updated about the offers.
Daraz Haat Bazaar Live Video
Tune in for Daraz Haat Bazaar Live Video on Daraz's Facebook page to win free gifts.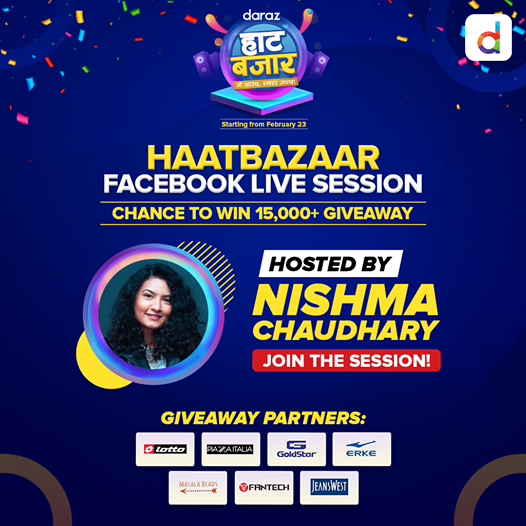 New Delivery Locations
Due to high demand, daraz has expanded its delivery service to more than 20 cities outside the valley. So, this campaign will be a great start for new users to discover the benefits of safe and easy online shopping.
Haat Bazaar is the perfect occasion to shop! We hope you enjoy all the deals, offers, games and more.
HAPPY SHOPPING!