Nepal's biggest online marketplace, Daraz has officially launched the Daraz Affiliate Marketing Program – a great chance for you to earn money online in Nepal. Through the Affiliate Program, content creators, publishers, and bloggers etc. will now be able to monetize their online traffic.

If you have ever had questions like HOW DO I START AFFILIATE MARKETING IN NEPAL? or HOW DO I BECOME AN AFFILIATE MARKETER?
The Daraz Affiliate Program is your answer.
In this article, you will find everything you will need to know about the Daraz Affiliate Program and how you can be a part.
What is Affiliate Marketing?
Affiliate marketing is the process through which an affiliate – content creator, bloggers, publishers etc. receive service fee for marketing another person's or a company's products on their respective platforms.
The affiliate will earn a piece of the profit from each sale they make. Each sale is tracked via affiliate links from one website to another.
And the Daraz Affiliate Marketing Program is no different.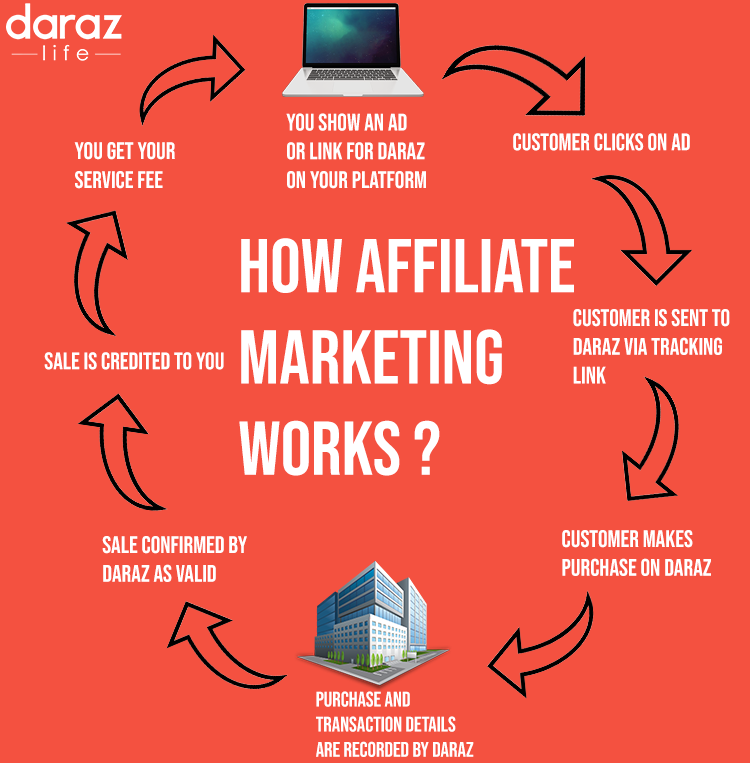 HOW CAN I BECOME A DARAZ AFFILIATE?
If you're keen on being part of the Daraz Affiliate Marketing Program, simply sign up for the program on the Daraz Website or the Daraz app. You'll need to fill in an online form via Daraz. From there on, if you meet the qualifying criteria, we will create an affiliate partner account for you. This account will allow you to access the ad stream platform.
The ad stream platform will contain a categorized list of campaigns/ categories/ brands or products which you can chose to advertise on your platform. Once you've selected the campaigns/ categories/ brands or products of your choice , you'll need to generate an affiliate URL.
This specific URL is what you will be promoting on your platform. It's also how we will be able to track any or all traffic that takes place.
If a customer makes purchase on Daraz through your platform, you will be rewarded a certain percent service fee. You may receive upto 10% service fee depending on the sale you make.

BUT WHY WORK WITH DARAZ?
Daraz affiliates will obtain great benefits from our global network of high quality brands and attractive promotions. You'll have amazing content for your platform which in turn will help you in increasing your online traffic.
And the service fee? Well you definitely won't be disappointed. We're here to make sure you get what you deserve.

Well these are the basics you'll need to know. Now, let's look at some of the FREQUENTLY ASKED QUESTIONS!
How do I qualify for the Daraz Affiliate Marketing program?
Bloggers, publishers, content creators, & influencers with a qualifying website/blog, at least 10K Followers on Social Media Accounts (FB, Instagram, etc.), able to issue VAT/PAN invoice are qualified for the program.
How do I earn in this program?
You earn from qualifying purchases you drive to Daraz which will differ based on product category. You can earn up to $10 on each purchase which happens through you.
How do I sign up to the program?
Sign up to the Daraz Affiliate program from the website. We will review your application and approve it if you meet the qualifying criteria.
Do I need to pay any fees to be part of the affiliate program?
No, you don't need to pay any fees to be part of the affiliate program.
Are there any charges or taxes on the service fee paid out?
Yes, taxes are governed by and construed in accordance with the laws of Nepal.
Well, there you have it. Hope this article was able to clear out any confusions you might have had. If you want to learn more or sign up to the Daraz Affiliate Marketing Program, click the link below!