As the monsoon season waves goodbye to the Nepalese people, a big celebration awaits every Hindu family. Yes, it's the time of Dashain where the clouds go away and nothing but blue skies to improve our moods. While Dashain is all about visiting relatives and eating tons of meat, traveling can be a good option for people who like to experience something new.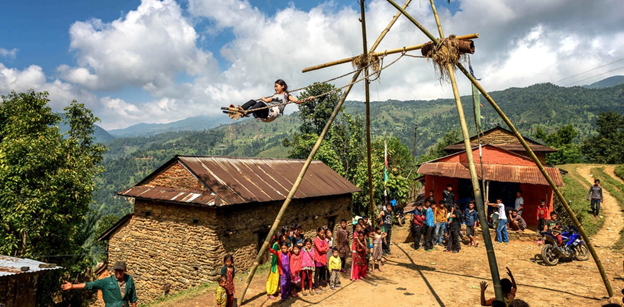 Dashain holds a unique cultural value in our country. It's the celebration of Lord Ram's victory over evil or Demon lord Raavana. So, we would like to start our suggestions with some holy places or temples. Since Nepal has thousands of temples for millions of gods and goddesses, we will try to narrow down some of the best picks for your temple visit:
Chamunda Bhagwati Sanctuary: This temple is in Shankhamul at the heart of Kathmandu valley. People generally worship the immortal Chamunda Bhagwati on the primary day of the Dashain festival.
Shova Bhagwati Temple: Located in the Shova Bhagwati, the temple is the resting place of Goddess Lutidevi. People worship Goddess Lutidevi on the second day of Dashain.
Gokarneshwor Bhagwati Temple: As the name suggests, the temple sits in the Gokarna region of Kathmandu. Following the Shova Bhagwati worshipping day, people offer prayers to the Gokarneshwor Bhagwati on the third day of Bada Dashain.
Janleshwat Bhagwati Sanctuary: Well, we wouldn't want to break the temple streak, would we? On the fourth day, people seek blessings from the Janaleshwar Bhagwati deity. The puja occurs on the Chaturthi day of Bada Dashain.
Manamaijudevi Bhagwati Temple: To physically visit the premises of Manamaijudevi Bhagwati, you need to get to the Pachali region of Kathmandu. People generally worship the Goddess on the Panchami tithi of the Dashain festival.
Okay, you are not among the ones that visit temples. While the older generation holds temple visits and religious offerings on a mandatory pedestal, the new generation has its own rules. We cannot blame the youths if they do not understand the gravity of their religion because we only feel the value of things we experience or our parents teach us.
So, what to do if you want a getaway? The "Best places to visit during Dashain" list will not reach quality standards until it has some eye-pleasing options. Nepal is a beautiful country, so that you will have hundreds of options. To conserve your energy and time expenditure which would otherwise get spent on searching Google search results.
Kathmandu Valley: Since we are searching for the best destinations as a getaway from the typical Dashain celebration, why not start with the Kathmandu valley? It's something about the weather of valleys that attracts a lot of tourists and civilization. Kathmandu has a lot of cultural places for someone who likes to explore the old Newari culture and the legacy of former kings. Kathmandu city, the heart of Nepal, holds several artificial luxuries especially designed to attract tourists. Helping the town sustain its visitors is the blessing of Mother Nature and its wonders. Old sanctuaries, clamoring slender roads, medieval squares, you name it; Kathmandu has everything to offer. You could plan your trekking trips and head out for a week of natural bliss. Kathmandu is a mixture of cultural and natural beauty.
Pokhara: A list of best places to visit in Nepal would not move forward with the best set of tourism wheels; Pokhara. Pokhara, like Kathmandu, is a valley and also hosts a pleasant climate during the Dashain season. Pokhara is famous for its lakes and lakeside happenings. Surrounded by the Himalayas from all sides, Pokhara is the number one choice for people searching for a place away from the daily Kathmandu clamor and wanting to bond with nature.
Chitwan: Chitwan holds a UNESCO World Heritage Site, which adds to its tourism value. The place will offer you some extra experience different from the typical Kathmandu strolls and the natural beauty of Pokhara. You are just one jungle Safari away from a new adventure. The joy of watching wild animals in their natural habitat is far better than watching lions behind bars in a typical zoo. Some special treats during the safari are rhinos, elephants, crocodiles, and the dwarf shrew.
Trekking, All Day, Every Day: Trekking cleans urban stress and hectic daily routines. Be it a few hundred meters or a few thousand meters, trekking always refreshes the mind and helps people bond with the natural side of life. There are several Himalayan ranges in Nepal, and each route can offer multiple trekking routes. Just choose one, research some tips and ways, and head-on.
Dashain is a festival and a month full of happiness and sharing. If you would like to elevate your Dashain experience this year, we recommend you get more physical. Go on vacations, hike some trails, find new trekking routes or offer prayers to a faraway temple. Whatever your mission, try to mix things up and explore some new places. A monotonous lifestyle can be boring sometimes, so changing some things here and there can provide you a new angle on the same routine.
P.S. traveling aside, what about shopping? After all, Dashain is a time to get new things, isn't it? And what better a time to shop than Daraz Dashain Dhamaka! Yes, the biggest festive sale of the year, Daraz Dashain Dhamaka is offering mega deals, discounts up to 70%, vouchers discounts, prizes, and a TVS Torq 125 as the mega giveaway. Now wouldn't you call that amazing? If you want to learn more about the campaign, check out this blog!
ABOUT THE AUTHOR
Prabesh Niruola is a writer who has been venturing the realms of content writing for 5+ years. While he does not bind himself to a particular niche, his extensive research on the subject at hand and skillful ways to present the context help him shine in this profession. Apart from professional writing, he also expands his horizons through poems. If you love expressing or reading poems, do follow him on his Commaful profile. The link is given below.
https://commaful.com/play/perfectslice/

Prabesh is also a heavy metal fan and indulges in the constant pursuit of guitar mastery.