We all wear it. We all need it. Underwear is perhaps the most important article of clothing in all of our wardrobes. However, there is still a stigma around the entire concept of undergarments. Washing, wearing, changing, removing – all are seen as acts that must be kept a secret even though most people do them every day. This makes the entire process of purchasing bras, panties, and whatever else you wear under your clothes a social nightmare.
Luckily, that's where we come in. Daraz is Nepal's biggest online shopping platform and you can bet we have a wide selection of undergarments for you to look through in the comfort of your own home. Don't worry about the aunty down the street seeing you purchase a thong. Toss aside your fears of running into your friends while browsing through briefs. Online shopping for underwear on Daraz is the way to do it. But, before you dive deep into the world of online undergarments, here are a few things you should know.
Your Measurements
It's virtually impossible to find yourself a nice, snug pair of undergarments online if you don't know your size. Here's how you can take measurements for both panties and bras.
Panties
Step One: Waist Measurements. Find your natural waistline above your hip bones and underneath your rib cage. Measure along your waist in a straight line, forming a circle or loop with your measuring tape. Make sure you aren't holding your breath for an accurate measurement.
Step Two: Hip Measurements. Measure the fullest part of your hips and booty. Hold your measuring tape on your left hip and wrap it around your rear, over your right hips, making a full circle
Bra
Step One: Band Size. Measure around your torso directly under your bust, where a bra band would sit. Keep the measuring tape level and tight. If the number is even, add four inches. If it's odd, add five.
Step Two: Bust Measurement. Wrap the measuring tape slightly loosely around the fullest part of your chest at nipple level.
Step 3: Cup Size. Subtract your calculated band size from your bust measurement. Find the final total of your calculations in the cup size chart below. Your bra size is your band size with your cup size.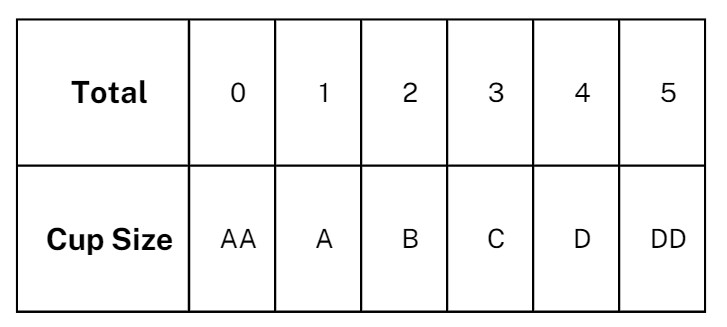 Best Fit for Your Body Type
Apple Shaped: High waisted underwear with an underwire bra is the best choice for these curvy ladies.
Pear Shaped: Go with low-rise underwear and a push-up bra to accentuate your natural curves while giving your smaller bust a lift.
Hourglass Figure: The ideal body type, hourglass gals look best wearing bikini style undies with a sexy plunged bra.
Rectangular: A good choice if you've got this figure is the classic hipster style underwear paired with a slightly padded bra.
Remember, this is just a general overview. Stay tuned for a more in-depth look into the types of underwear and the best clothes to pair them with.
Did You Make the Right Choice?
This is pretty straightforward when it comes to panties, briefs, and boxers. If they fit snugly around your hips and buttocks without any *ahem* assets uncomfortably hanging out, you're good to go. Bras, on the other hand, are a whole other story. Here's how you can tell if your purchase was worth it.
Bend forward and slip on the bra, ensuring your breasts are fully in the cups. Then, hook the bra on the outermost hook. Adjust the band and make sure the back and front of the bra are on the same level and shorten the straps if necessary. After that, you should be able to:
Slide no more than one finger underneath the band.
Avoid awkward bulging over the cups
Observe your breasts sitting somewhat between your shoulders and elbows
If you feel that your bra doesn't fit, you might need to go down a cup size and go up one band size, or vice versa.
There are numerous benefits of buying underwear online. Aside from the obvious privacy and comfort reasons we mentioned before, shopping online also allows you to browse through multiple options, colors, sets, and more. You won't have to deal with stock shortages or waiting awkwardly as the seller searches through their store for that one last piece. Plus, it's a total timesaver with the ease in which you can go through choices plus the time you'll be saving by not having to leave your house and physically walk from store to store.
Additionally, you'll be able to check reviews from other people who have already purchased the products you might be eyeing. Their opinions and feedback can play a huge role in helping you come to a speedy decision. Overall, shopping for undergarments on Daraz is a good idea.