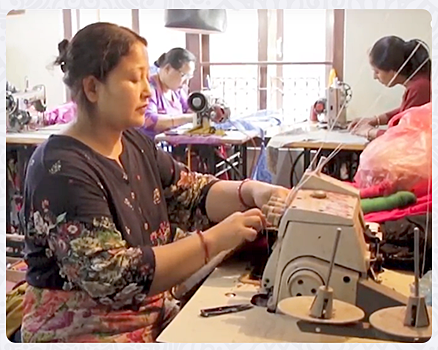 Bisesh Creation – A Nepali brand made by Nepalese women
Meet Bijesh Joshi, the owner and founder of the leading women's ethnic wear brand Bisesh Creation. Mr Joshi's beautiful designs have hit a mark with the customers online and offline. Read how, once a small retail and tailoring store, Bisesh Creation has become the life source for many families.
The Beginning
April, 2015, a devastating earthquake hits Nepal. The earthquake marked the beginning of one of the toughest periods for Nepal. The earthquake was followed by a 10 month long blockade which further worsened the situation. However, time and time again we Nepalese have proven to be a resilient group of people. Even in the face of such adversity, the common Nepali stood up and took it all in stride. Such one Nepali is Mr. Bijesh Joshi.
The Creation
During this period of turmoil Mr. Joshi came across many skilled but unemployed women. The tragedies had left them struggling to find decent income. Mr. Joshi, going through his own struggles, saw the talent and the potential in them. He wanted to bring out his visions to the real world with talented hands that could match his imaginations. Eventually, he found those artistic hands in those strong women.  And so, Bisesh Creation came to be as Nepali brand made by Nepalese women.
Success
Mr. Joshi decided to join Daraz seeing the prospects in the online industry. He recalls joining Daraz being one of the wisest decisions he took; his sales grew exponentially and he was also able to take the brand to many parts of the nation. He says,
"Once we started selling in Daraz, our order volume increased by 60 percent. And it looks to further increase in the future. Today, joining Daraz has been a very wise decision for us. Not only the sales have increased, but also I have been able to fulfill my own personal responsibilities. Through Bisesh Creation I've been able provide a stable source of income for all linked with this brand."
Mr. Joshi, apart from his designs, says his journey in Daraz has been very successful because of the constant support from the Daraz Team. He finds the tools and freedom Daraz offers its sellers very helpful. Mr. Joshi hopes to bring more innovative designs and products through Daraz in the future.
Brand Day
As a mark of the brand's success, Bisesh Creation along with Daraz is organizing the first Bisesh Creation Brand Day on May 22nd.  For one day only, customers can buy any product of Bisesh Creation all under Rs. 999. Customers can also win coupon vouchers worth Rs. 500 using the code BISESH500 on minimum purchase of Rs. 3500. Plus, customers can also enjoy collectible vouchers worth Rs. 500 on minimum purchase of Rs. 3500.  The offer is only available for a day, starting exactly at 00:00 AM and ending at 23:59 PM of May 22, 2019.  This offer can be availed only at Bisesh Creation's official store at Daraz.  
Follow the store here: http://bit.ly/BiseshCreation
In addition, customers can also win sure shot collectible vouchers worth 5% on minimum purchase of Rs. 2000 just by following the Bisesh Creation Store on the Daraz app.  Moreover, by following the store on the Daraz app, four lucky customers stand a chance to win collectible vouchers worth Rs. 500 with no purchase limit. Moreover, there will also be flash sales between 10:00 AM – 2:00 PM and 7 PM – 11 PM. During which, customers can buy select products priced under just Rs. 499 and Rs. 799.
Hear the story of Bisesh Creation, in the words of Mr. Joshi himself:
[embedyt] https://www.youtube.com/watch?v=WGrJVr4UKnI[/embedyt]
Check out some of their products here: Many Ways To Style Your Kurti