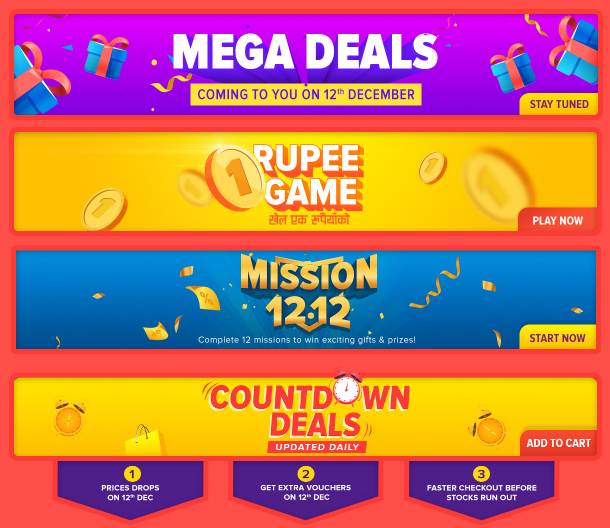 Daraz 12.12. is the biggest end of the year sale with some exciting deals. We want to make sure you make the best out of it. Thus, we have prepared this list!
Here's how you can make the best out of Daraz 12.12.
1. Use Daraz app instead of the website
When there more than 3 lakh items it can be hard to navigate. However, using the Daraz App instead of the website makes the process more simple and easy. Plus, you get to take part in cool games like Mission 12.12.
2. Take part in Daraz in-app games and challenges
To make 12.12. even more exciting, Daraz has many cool games in store for you like the Mission 12.12., 1 Rupee Game, and so on.
Mission 12.12 is a set of challenges that you need to fulfill in order to win exciting gifts. Click here to play!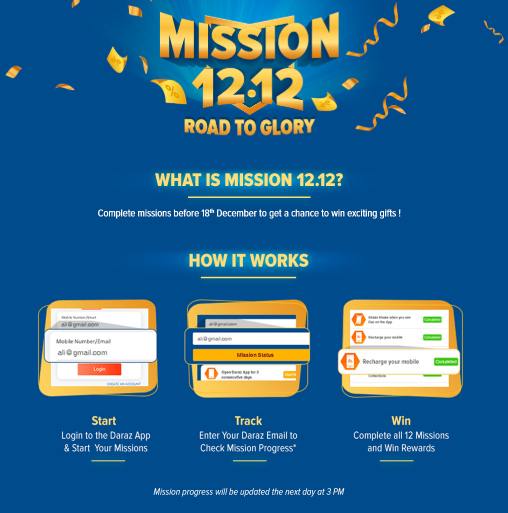 How to play mission 12.12?
Just open the Daraz app, log in, and click on the banner saying Mission 12.12. There you will have to enter your email address in order to check your progress. You will be given a mission every day, complete that mission and wait for another the next day. Fulfill the missions and there is a big surprise waiting for you.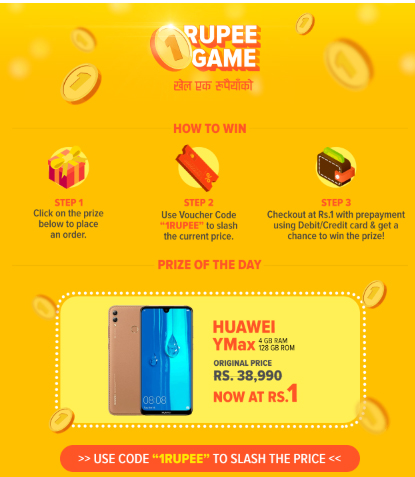 This is a very simple game which can help you win an item at just Re.1! Just place an order for the given item, next use the code 1RUPEE to slash the price to Re. 1 Next, checkout using your credit/debit card and get a chance to win the prize. There will be a new prize every day.
Now let's move on to other ways to make the best out of Daraz 12.12.
2. Switch on notifications on the phone to not miss out on any deal
To not let the best deals go away simply turn on Daraz notifications on your phone and you will be updated about everything.
3. Save products you like to your wish list or to your cart
They key to win big is to be prepared early. Browse and search the items you want in the cart before Daraz 12.12. This will save your time, save you from losing the product, get the best vouchers, and get notified about your products.
Read this to know more on why you should add your products in the cart before 12.12.
4. Activate your bank cards for online transactions before 12.12
Shoppers can get additional discounts of 15% off or upto Rs.1500 by making pre-payments with their Bank Cards during 12.12. Missing out on such discounts because you haven't activated your cards is such a bummer. So, get your cards activated today if they aren't.
5. Save your card details for faster checkout.
Items sell fast like hot cakes on such campaigns so avoid wasting time as much as possible. Keep your items in the cart, and save your card before 12.12 so that you can skip the hassle of filling details at the time of checkout.
6. Look for products on Daraz Mall stores for guaranteed authentic products.
Daraz is an online marketplace and there are many sellers with varieties of products at various prices. You might want to order some guaranteed authentic products and best way to get those is through Daraz Mall section in Daraz
Tip: Compare products between sellers, compare the sellers as well, and do check out the ratings and description of the product. Chat with the seller using live chat for complete detail.
7. Check return policy
If the product does not satisfy your need or is defected then you can always claim the warranty or return the product. There are some conditions such as you can return products in 7 days or 14 days and other conditions as well. So do check out the return policy here.
8. Make sure you get your size using Size Chart
Check your size according to the size chart and choose the best fit so you don't have to order – wait – get the wrong size – return – and wait again.
Shopping online and that shopping online smartly helps you save time, energy and money. Hope these tips will be useful to you! Happy Shopping!