Daraz has joined hands with Big Mart to help you order groceries online and get them delivered to your doorstep. Simply download the Daraz app and order groceries online in Nepal! Now, if online grocery shopping is new for you, or you're looking to order something but are stuck somewhere, then don't worry, in this article, I will show you how to shop from Big Mart on Daraz!  
ORDER GROCERY ONLINE IN NEPAL
Step 1
To order grocery online through dmart, first download the Daraz App now and sign up.
Step 2
Type Big Mart on the search box or click on the Big Mart Banner. Now simply browse for the items you want to purchase. Daraz has placed grocery items in different categories and sub-categories like Rice, Oil, Beverages, etc.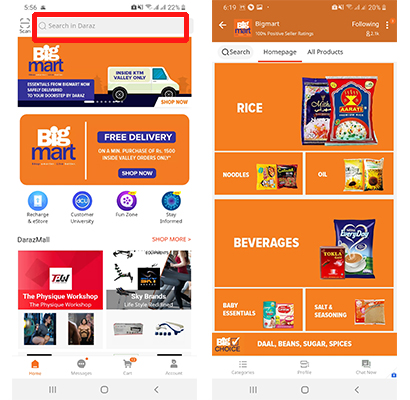 Step 3
Once you found your item, tap on buy, however, if you want buy multiple items at once, just tap on "Add to Cart" and continue browsing.
Step 4
After adding your desired items in the cart, just go to your cart by either tapping on the cart image as highlighted in the picture above. Next, check all the items you want to buy in the cart and tap on "Check Out".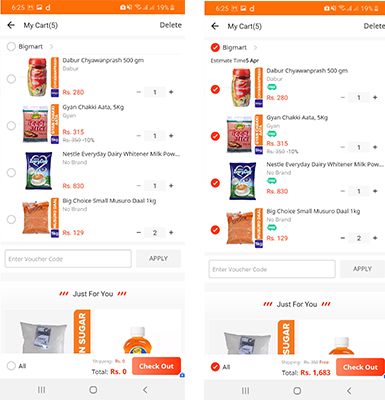 You can even use discount vouchers here if you have one. Daraz offers a welcome voucher of Rs. 250 to new app users.
Step 5
Now you'll see the check out page where you will have to add your delivery address, phone number, and other relevant information. Save the information and continue. Check your contact details, your items and then tap on "Proceed to Pay".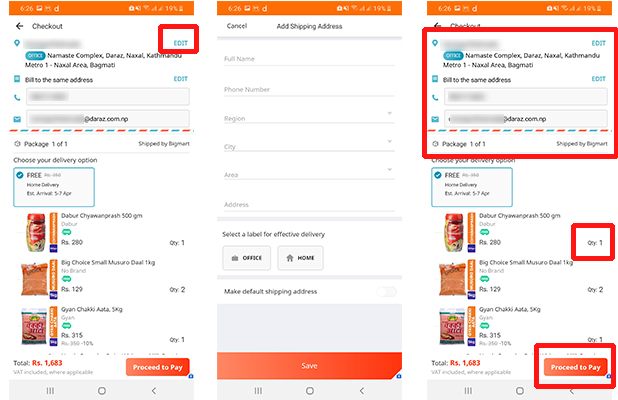 Step 6
Now, choose your preferred payment method. If you choose to pay by card you will have to fill up the required information and save. Daraz App is PCI-compliant which means that it is 100% secure with best-in-class technology. Your information remains completely safe and secure. After choosing your preferred method of payment tap on "Place Order" and then confirm your order if you choose to pay by card, or simply tap on "cash on delivery" and "Confirm Order".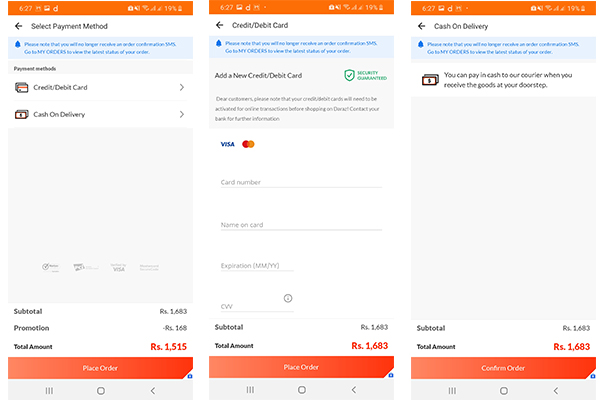 You will soon receive an email and a notification on your app regarding the confirmation of your order. And that's it!
If you need any more help, please go through Daraz Customer University presented by Oshin Situala!
For the best online shopping experience, download the Daraz App today!