So you've finally placed an order on Daraz? And now the time has come for you to receive your package. But before you receive it, your package travels to and from different places before it reaches your doorstep.
BUT WHERE DOES MY PRODUCT GO?
If you're curious and want to find out where your product goes to before you receive it, you have the option to Track Your Product. Yes, a product you ordered can be tracked from the point of order up to the point of delivery. And it's quite easy. If you're new to this concept, this article will help you understand. So the next time you order a product, use these steps!
Step 1
First, open your Daraz app and make sure you're logged in. Now, go to Account where you'll be able to see your most recent orders with the title "Track Package". Select the order that you would like to track.
From their you'll reach the Consolidated Delivery page as shown below,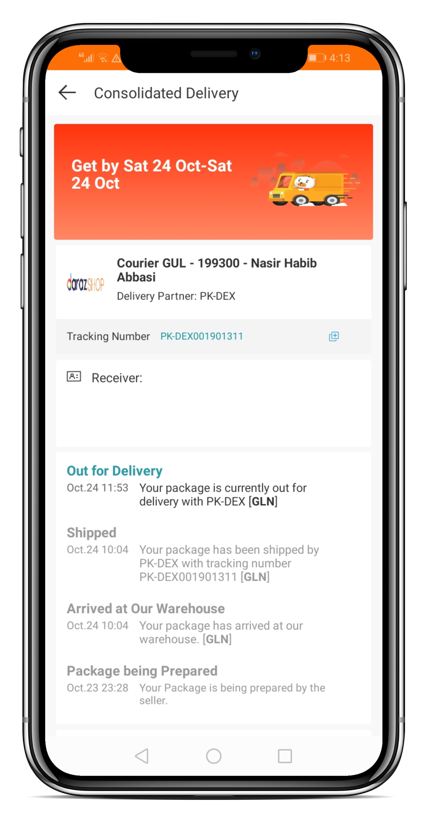 Here you will be able to see the steps your product has gone through before being delivered.
As for the contents within the Consolidated Delivery page, they are as follows:
The big orange box is there to show you an estimation of the date and day you will receive you order.
Just below the Delivery Partner, you can see you Tracking Number.
And below that are the Delivery Tracking details that indicates the current status of your package.
You can also track all your orders LIVE from the point of order up to the point of delivery as shown below. You can see the notifications come up when you enter the Account section. The notification will be based on the current situation of your package.
So there you have it, it's that easy. It just takes a few minutes to track your product. Hope this article was a help.
If you require further information, you can reach our Support Team on Live Chat (between 7am to 9pm from Sunday to Friday and 9am-9pm on Saturday)