As the head of DarazMall, Shreyana Shrestha has been playing an important role in making sure customers have access to the best and genuine brands on Daraz. The leading online marketplace in the country, Daraz currently provides immediate and easy access to 5 lakhs+ products in 100+ categories with over 10,000+ sellers.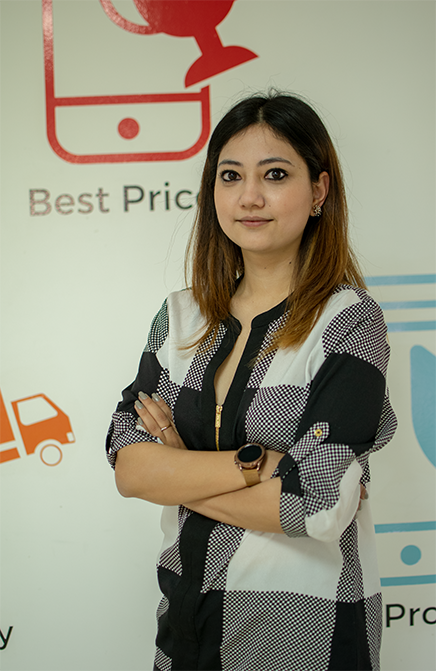 We sat down with Shreyana to talk about all the in's and out of DarazMall as well as what's in store for the upcoming New Year Campaign.
Can you tell us a little about yourself?
I started working at Daraz 3 years ago (February, 2018) as an associate level Project Manager where I oversaw campaigns – mainly for fashion and lifestyle departments. However, I quickly moved on to becoming a Guided Shopping Manager and was mostly responsible for customer engagement on the Daraz app. Currently as the Head of DarazMall, I overlook national and international brands and their growth in Daraz. As of now, we have almost 300 top brands from Nepal with over 25% of business share.
What exactly is DarazMall?
DarazMall is an online Mall launched by Daraz. It has a curated selection of leading international and local brands that offer customers with 100% authentic and genuine products as well as a 14-day return policy.
It's an elevated service for both our customers as well as our sellers where we focus on providing good quality and different choices of international and local brands to our DarazMall customers.
How was the concept for DarazMall launched?
The concept of DarazMall was launched when Daraz relaunched as Daraz, Alibaba Group in 2018. The concept is similar to our sister company Lazada, who also have their own LazMall.
But I feel that the branding of our channel came into formation collectively with the mutual understanding among our teams and sellers to provide only the best service possible.
Since its inception, how has DarazMall grown?
DarazMall has seen a decent growth from the beginning of its time. If we are to look back, we initially started off with only 30 brands. And now we have almost 300. We've also increased our overall GMV share from 10% to 25% in the last 3 years. We have similarly also been heavily focusing on maintaining the stocks and shipping timeline for better customer experience at Daraz. So yes, I would say we've undergone a significant improvement and growth within these years.
Did the COVID pandemic affect any DarazMall sales?
Like every other business, the pandemic did have a negative impact. Around 90% of our sellers were not operational during the lockdown.
But on a positive note, since all the shops were closed offline, customers started shopping online. It helped transition customer behavior that helped in the surge of number of online shoppers. We were also able to provide a platform for shops and sellers to sell their product when strict restrictions were imposed in the country.
How much do you think people are aware about DarazMall?
As much as I like to believe that DarazMall has positioned itself in the e-commerce market, we still need to educate our audience. I want people to understand the difference between buying from a DarazMall store vs non-DarazMall store. We want to build trust from our sellers and customers and increase overall satisfaction when buying and selling.
How do you plan to make DarazMall the "go to place" for brands and customers?
If you care about quality and value for money, DarazMall is your "go to place". All of our sellers within DarazMall are genuine brands that offer customers with 100% authentic products with a 14-day return policy. For us, it's more about providing a great sense of satisfaction to our buyers whenever they make a purchase. With a host of amazing national and international brands, DarazMall has a lot to offer. So, I would definitely recommend customers to shop on DarazMall.
Could you tell us a little about the upcoming Nawa Barsha Campaign?
We have been through a lot. The past year has been absolutely tough. And as the new year begins, Daraz is coming up with the NNY Campaign with the hope of a better tomorrow. We all deserve a little bit of fun and pampering. And for that, Daraz is coming up with the biggest local online campaign with bigger and better deals for all of us.
Any amazing deals from DarazMall brands?
Lots! From your favorite stores like OnePlus, Samsung, Mantra, Phillips, Erke, Masala beads, Lotto, you name it! We have up to 60% off including exclusive deals, offers, vouchers and free shipping on DarazMall stores. So, watch out for Brand Partners and Brand Utsav for exclusive deals and discounts!
What are your visions for DarazMall in the future?
Our vision is to create the most trusted channel that delivers the best service to our customers and sellers.
On a scale of 1-10, how excited are you for the Nawa Barsha Campaign?
I'd say 11! I have been impatiently waiting for all the deals that are about to come, so get ready and start adding your favorite products to your cart!
Happy Shopping! And Happy New Year!