If I was to describe Perfection, it would be in the form of a cheesy, zesty melt-in-your-mouth lasagna! This scrumptious dish stacked with layers of sauce, meat, flat pasta and lots of cheese will leave your stomach full but your tongue will still be yearning for more and more. The perk of making this dish at home is that we can use as much cheese, meat, or sauce as we want, depending on our taste and preferences. I prefer my lasagna to be more saucy and cheesy.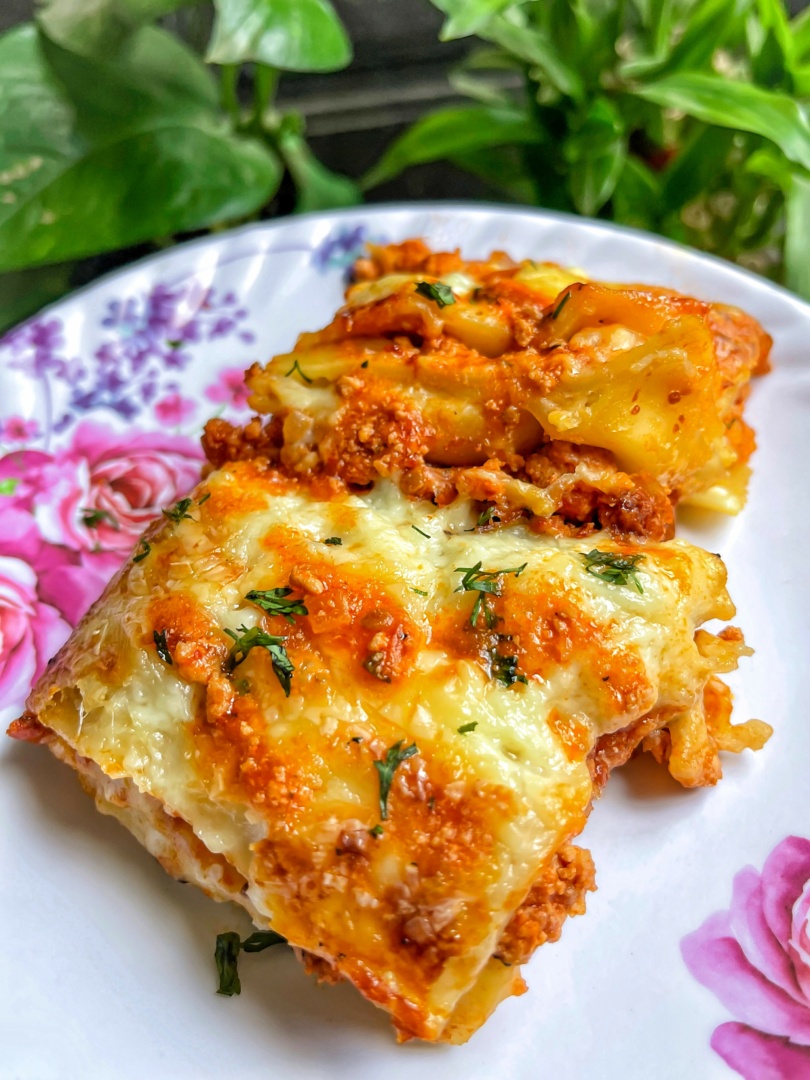 This dish may test your patience while it's basking in the heat of your oven, but it will surely be worth the wait when you dig in through this beauty. While the steps may take some time, the process is really simple. After making this rich, flavorful dish by yourself at home, you would surely be proud to serve it to your closest ones and might just search for an opportunity to cook it again.
Without any delay, let's get started!
Ingredients you'll need
Butter
Maida/Plain flour
Milk
Salt
Black Pepper
Garlic Paste
Cherry Tomato/Tomato Puree Paste
Onion
Oregano
Basil
Lasagna Sheets
Parmesan
Chicken Keema/Minced Chicken
Mozzarella
For the cheese layer
We love anything with cheese, don't we? In this recipe, I have used parmesan and mozzarella. But you can use any cheese available to you, especially parmesan, mozzarella, ricotta, cheddar and local cheese available in a dairy shop to layer your lasagna.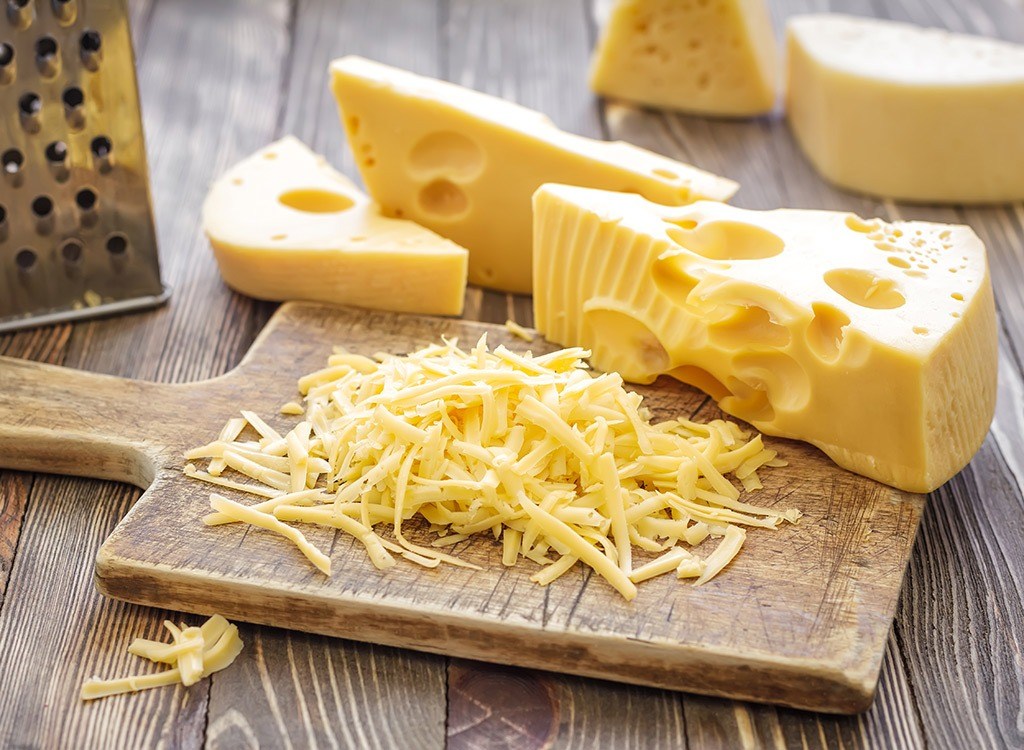 Grate any two cheeses you have then use the grated cheese in your white sauce and for layering your lasagna.
For the white sauce
Put 2-3 spoons of butter in a hot pan
Add 2-3 spoons of 'Maida' to the butter and saute it till it cooks
Pour a half litre of milk into the mixture of butter and maida and stir it continuously to get a smoother and thicker consistency
Add salt, black pepper, garlic paste(optional) according to taste
Add some grated cheese to it
Stir until the cheese melts and the mixture looks creamy
For the keema gravy
In another pan, saute 2 medium-sized finely chopped onion till it softens
Add a spoon of garlic paste and saute it until the smell of the garlic disappears
Put salt, chilli powder, oregano, basil according to taste
(If oregano and basil is unavailable, you can put any masala you have in moderation)
Add half a kg of chicken keema and let it cook
Pour a can of tomato puree and stir it for a while
(You can grind cherry tomatoes in the mixture and use that instead of the puree. I used Puree because it gives better color. Just make sure that the tomato has a sweet and sour tang to it.)
Add a glass of water to the mixture and let everything simmer for 15 minute in medium flame
The gravy should have saucy consistency
For the lasagna sheets
You can purchase the lasagna sheets from your nearby store. I did the same to save some time and effort. The number of lasagna sheets depends on the size of your pan or size of the sheets. If the sheet does not fit into the pan or is too small for your pan, you can cut the sheets and adjust it accordingly.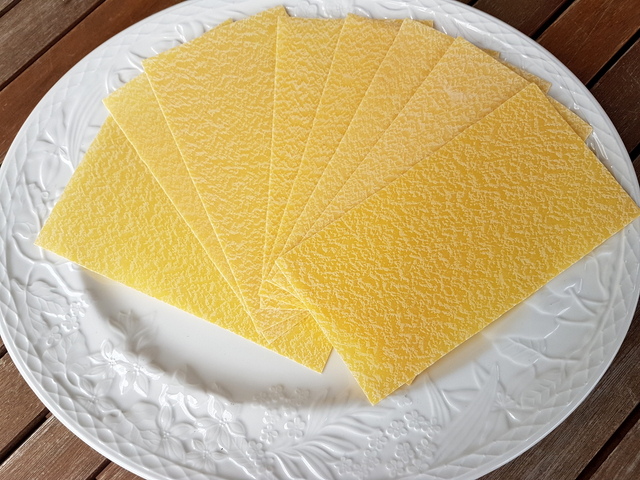 Put these pre-made lasagna sheets in boiling water with a pinch of salt for 5 to 7 minutes, making sure they don't stick together. To avoid watery lasagna, make sure your lasagna sheets have been completely drained before layering.
Let's get started with the layering of our lasagna!
Use an oven safe pan deep enough to accomodate 5-6 layers
Evenly spread the keema gravy in the bottom layer of our pan
Then layer the boiled lasagna sheets over the keema gravy
Now, evenly spread the creamy white sauce over the sheets and top it with generous sprinkling of grated cheese
Over the grated cheese, spread another layer of keema gravy and grated cheese mixture.
After that, we again layer the lasagna sheets
And, repeat the sequence if your pan has enough depth
(For the two layers that we made, we had to use 6 sheets. If your pan is deep enough, you can surely add more layers.)
Finish it up with a generous layer of grated cheese on top
Baking the lasagna
Preheat the oven to 180 degree celsius for 5-10 mins
Put it in the oven for around 30-45 minutes depending on what lasagna sheets you use
Your lasagna is ready when the cheese on the top sizzles, starts to get golden in color and the edges look crisp. Now, carefully take the hot pan out of your oven and let this gorgeous photogenic view of lasagna tease your sensation. Then you can slice it up, sprinkle a little of the leftover keema gravy, top it up with your favorite herbs and serve this right away!
This cheesy, creamy, saucy and meaty indulgence is worth every calorie.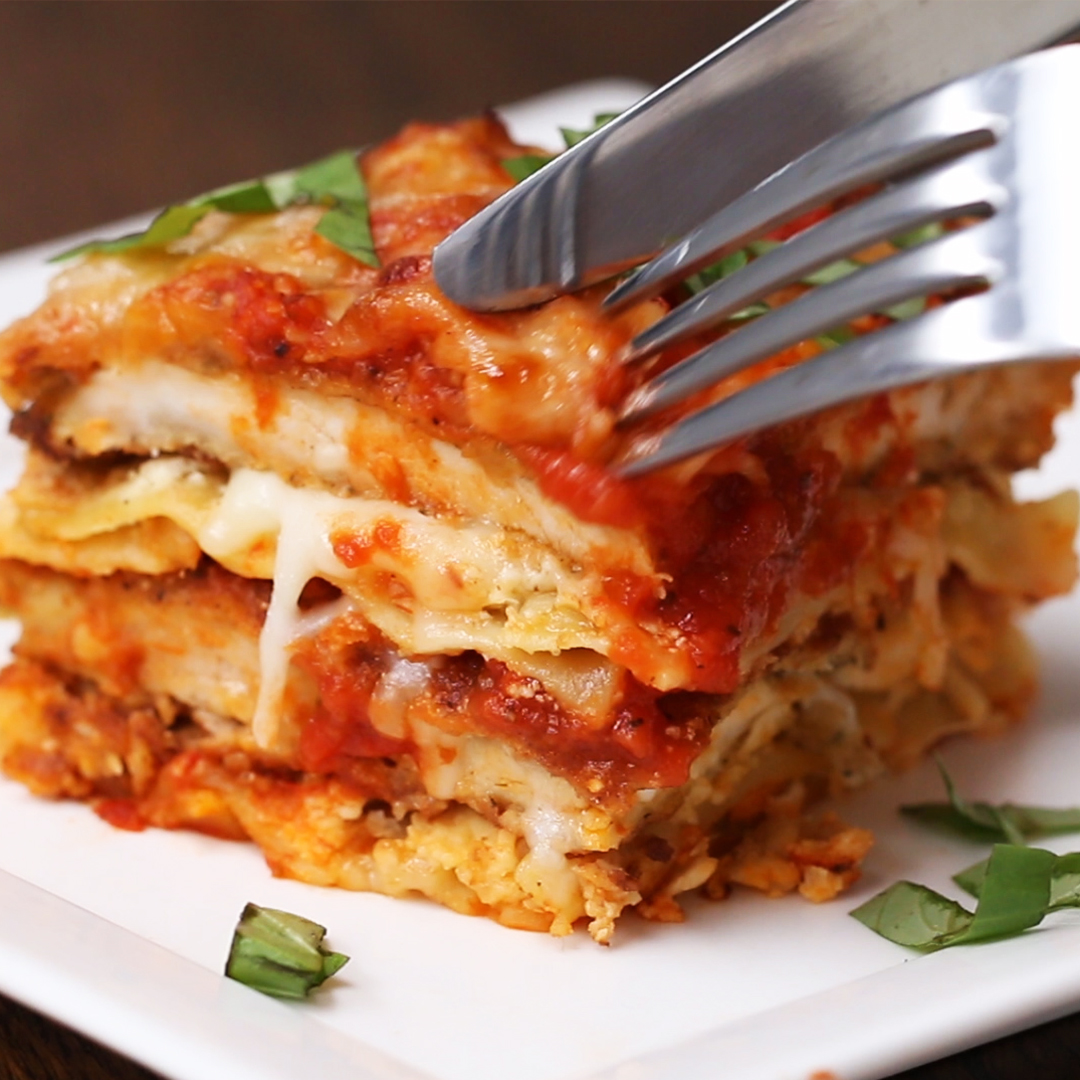 Sometimes, a warm bite of savory lasagna is all it takes to make someone happy. Thus, go give this comforting recipe a try cause I know you'll love it!
Blog post written by Foodnommics.
If you're an avid foodie, we highly recommend checking out their official page on Instagram. The link is given below.