Daraz is the leading online marketplace here in Nepal. With over 6 lakh products and 10,000 sellers, it is the perfect platform for anyone looking to sell their products online. But why should you? Why should you sell online on Daraz? Let me tell you why.
Selling online is probably the best way you're going to scale your business. It's inexpensive, it's easy, saves time and everybody is doing it – so should you.
Let's look at why you should start selling online.
Reach Millions of Customers
One of the best things about being a seller on Daraz is the fact that your product is now visible to millions of customers. Whereas in a more traditional brick and mortar store, your products would have been visible to only those who come across your store.
But with Daraz, your product visibility is massive. Not only will you be able to sell your products to millions, you will also receive instant feedback which can help you improve your business.
Sell Across Nepal
With Daraz you can reach millions of people all over Nepal. You don't need to setup your store all across the country. You can simply signup to become a seller and we will take care of the rest. It's that easy. And i just said, once you sell your products, you receive INSTANT FEEDBACK.
Fast and Easy shipping
Daraz provides all its sellers with the facility of fast, easy and reliable shipping of their products to the customers. All you'll need to do is take the customers order, package the product properly and leave the rest to us. We make sure that your product is delivered to the customer with the utmost care.
Timely Payments
Seller growth is of the utmost importance to us. We want our sellers to accelerate in their growth without having to face any issues. To assist in such growth, we make sure to pay our sellers on time swiftly. Sellers receive their payments within 7 days of the transcation completed.
No Registration Fee
You can register your store online on Daraz without having to pay any registration fee. Simply sign up, get your store registered and you can then start selling your products.
E-commerce Training on Daraz University
Sellers on our platform will receive timely training from our internal team. They will guide you if you have any issues and will also provide you training to help you in different fields like increasing your sales or your visibility on the platform. Anything you need to know, learn, our team will always be there to assist you.
In a similar fashion, sellers can also visit the Daraz University online where they will be able to find out answers for all of their queries plus more. It's the perfect place to begin if you've just registered to become a seller on Daraz.
Check out this article to know how to sell on Daraz Nepal.
Well these are some of the benefits of selling online on Daraz. But, that's not it. There's more.
To aid in seller business growth and to help them, Daraz has been initiating different programs over the past few years. These programs are initiated with the aim to assist in seller growth, help them mitigate any issues that they might faced or have faced or to just provide them with the best possible selling experience on our platform.
Back in 2020, Daraz launched the Sahayatri Program. This program was introduced as a Stimulus Package and invited Small and Medium Enterprises (SME's) to set up their online stores on Daraz. It was aimed at mitigating any problems faced by the SME's due to the COVID pandemic. The program successfully received more than 8000 registrations with 2100 SME's beginning their online operations for the first time.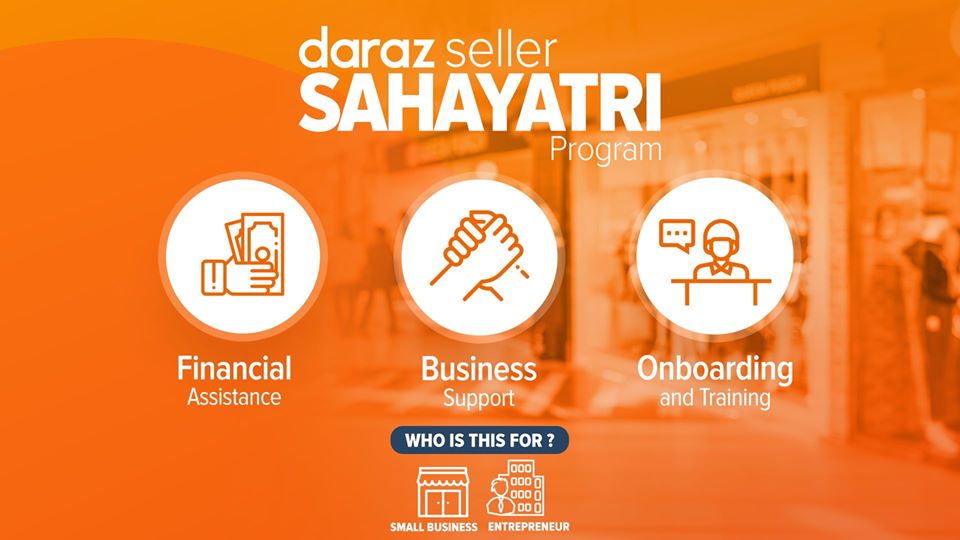 For this program, Daraz invested NPR 55 Lakh and waived marketplace fees for four months giving small and medium sized enterprises (SMEs) access to more than 7 Lakh monthly active Daraz customers across the nation. As per the company, the main objective of the Sahayatri Program was to help SME sellers navigate through the difficulty caused by COVID-19 through financing, marketplace fee waiver, and special trainings.
And yet again, in 2021 Daraz has relaunched the Sahayatri Program with key additional initiative which includes the Seller Promises 2021. Under this, the following key new promises were announced as a commitment to our sellers:
No marketplace fees for SMEs starting to sell online for the first time for next 3 months
Reduced seller payout cycles from 14 days to only 7 days for all sellers
Exclusive SME financing partnership with preferred conditions in collaboration with banking partner Nabil Bank
Accelerated sign-up process enabling new sellers to go online within 24 hours of signup
Seller queries via live chat to be handled within 30 seconds during business hours
Comprehensive e-commerce training and education initiatives via Daraz University
Likewise, Daraz also previously launched another major seller support initiative – Daraz Sarathi Program. Under this program, Daraz partnered with Nabil Bank to provide Small and Medium Enterprises (SME's) with a wide range of preferred credit facilities and benefits to aid in their business growth. With these initiatives, and continued investments to increase the user base and seller support, the company expects to more than double the number of sellers before the end of the year.
Click the link below and start selling online: