Daraz Nawa Barsha 2079 – kicks off from the 11th of April. Find everything you need to know about the campaign!
1. One Rupee Game
As always, the much popular one-rupee game makes its return for the Nawa Barsha Campaign. Here, customers will get a chance to win select products for just Re. 1. To win, customers must select the product of their choice and prepay Re. 1 via their debit/credit card, Esewa, or IME Pay Wallet. After which their order will go through a lucky draw and they will get a chance to win the product at Re. 1. The list of products on offer are as follows:
Samsung A03 Core
Realme Narzo 50
Q&U Queen Bed
Art Materials Package 30 Pieces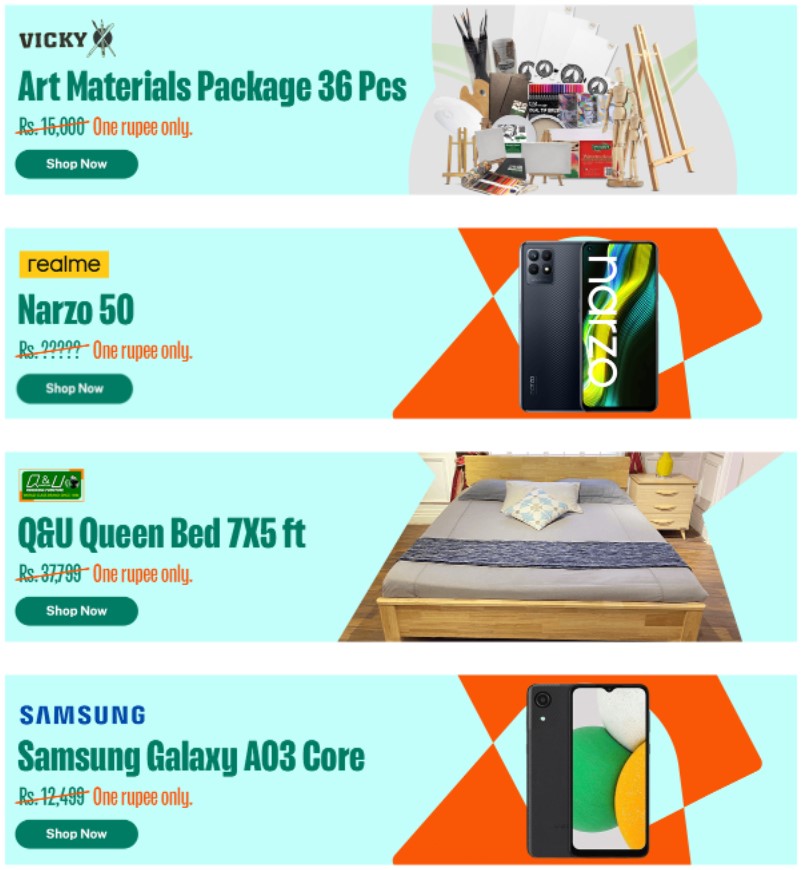 More products will be revealed as the campaign progress.
If you want to learn how to play the One Rupee Game, check out this blog below:
CLICK HERE TO PLAY THE ONE RUPEE GAME
2. Bank Days
For five days a week, customers can get additional discounts on Daraz Bank Days. In order to avail of the discounts, customers must collect the bank-specific voucher for that particular bank day. The bank days are as follows:
Sunday – Up to 10% off (max Rs.350)
Wednesday – Upto 10% (max Rs. 500) on debit card/ Upto 15% (max Rs. 500) on the credit card.
Thursday – Upto 10% (max Rs. 500) on debit card/ Upto 15% (max Rs. 500 on the credit card.
Thursday – Max Rs. 500 off. Applicable on all products.
Friday – Up to 10% off (max Rs. 500). Applicable on all products.
Saturday – Up to 10% off (max Rs. 500). Applicable on all products.
3. Prepayment discounts
All along with bank day discounts, select banks will also provide additional exclusive discounts. The details are as follows.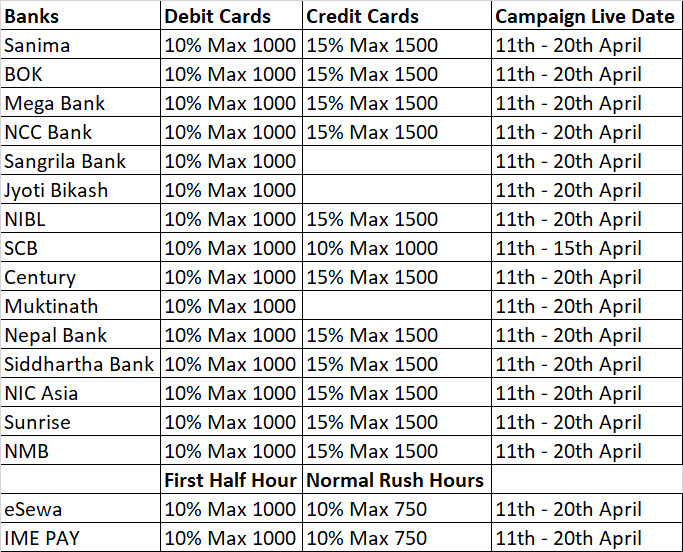 A historic moment, Nepal's first bank Nepal Bank has partnered with Daraz for the Nawa Barsha Campaign. This really is a very special moment because this is the first time a government bank has partnered with an e-commerce platform to provide a digital form of payment option to its customers. So if you're a Nepal Bank cardholder, be sure to make the most of this amazing offer.

Check out this blog for further details on bank partners for Nawa Barsha campaign.
4. Mega Deals
Megadeals are a usual part of all of Daraz's campaigns. And NNY is no exception. Under mega deals, customers will get up to 60% off on more than 13 lakh products. The deals, offers, and discounts are all exclusive so customers are advised to make the most of them all.
5. Mega Vouchers worth Rs. 5,000
Daraz Nawa Barsha 2079 is offering customers a chance to win Mega Vouchers worth up to Rs. 5000. And as you are all aware by now, collecting vouchers basically means getting extra discounts on already discounted prices. So be sure to collect their vouchers before they run out – and they run out very quickly!
6. Brand Partners
Different brand partners of Daraz will be offering discounts and offers throughout the campaign. For this campaign, we have three different tiers of brand partners, all of whom are offering amazing price cuts on their products. Customers can choose from their favorite brands and get their favorite products at a discounted price. The brand partners are shown below: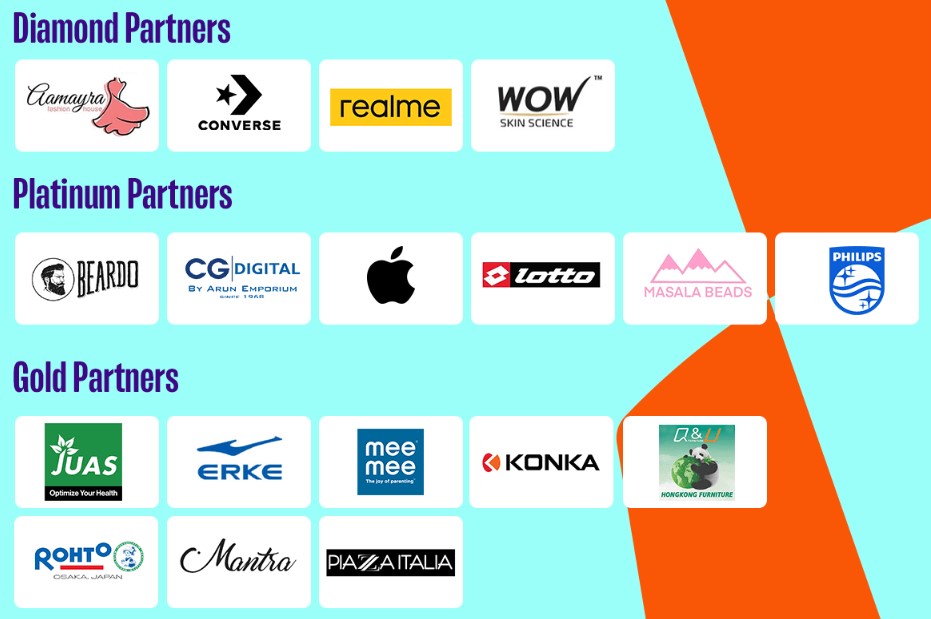 Check out this blog to learn more about the brand partners for the campaign.
7. Add To Cart
Yet again, as always, the much popular add to cart makes its return. Under this, customer can add their favorite products to their cart and get a chance to win Free Vouchers worth Rs.500.
8. Brand of the Day
Each day during the length of the campaign, a select brand will be offering exclusive deals on their products through a section called Brand of the Day. The deals will last for a limited period of time, so customers are requested to make the most of it.
9. Mega Giveaway or Bumper Upahar
Ah the creme de la creme, the mega giveaway also makes its return. For this campaign, customers who shop will get a chance to win Yadea S-Like Scooter as part of the Bumper Upahar.

**The mega giveaway will only be valid for prepayment orders.
SHOP AND WIN THE BUMPER UPAHAR
10. EMI SERVICE
Customers can also shop on Daraz during the campaign and pay via EMI service. Customers of the below-mentioned banks can enjoy the EMI service.
NIC Asia Bank
Machhapuchchhre Bank
Sunrise Bank
Citizens Bank
There are no hidden charges, no-down-payment, and no interest amount.
Credit cardholders of the mentioned banks can now purchase items and pay a fixed amount every month.
11. Deals Under
Under this category, customers will be able to find the best deals and offers under a select range of prices. For this campaign, customers can choose between Rs. 499, Rs. 999, Rs. 1499.

12. Free Delivery
Under this, customers will be able to avail of free delivery on their orders. This depends upon the seller. To be eligible for Free Delivery, the minimum purchase amount set by the seller must be transacted by the customer. Or sometimes, customers might just get Free Delivery regardless of the amount they spend. Either way, it's pretty awesome.
13. Hot Picks
A curated selection of amazing products for Daraz customers which they can get at amazing prices, deals, and offers during the campaign period.
14. New User Voucher
First-time Daraz customers will get Rs. 200 off on their first purchase. Shop and save Rs. 200 during Nawa Barsha 2079 campaign.
15. Tons of Vouchers
During the Nawa Barsha Campaign, Daraz customers have tons and tons of opportunities to slash the price of a particular product. One particular way is to collect vouchers. And this campaign has tons of them.
Customers can collect MEGA VOUCHERS, COLLECTABLE VOUCHERS, and SELLER VOUCHERS all throughout the entirety of this campaign. But since everybody wants them, these vouchers run out pretty quick and I mean pretty QUICK. So hurry up, start collecting them vouchers.
And Many Many MORE
Here are all the rest of the amazing offers lined up for Nawa Barsha Campaign.
Review & Win
Follow & Win
Daily Rewards
Showstopper Brands
Early Bird Vouchers
Budget-Friendly Deals
Rush Hour
One Day Crazy Sale
Storewide Discounts
New Year, New Brands
The Nawa Barsha 2079 campaign starts from 10th at midnight. Visit the Daraz website and download the Daraz app and start adding to your cart.