Daraz is excited to announce the introduction of Daraz Club, a brand-new membership program available on the Daraz App. Join Daraz Club for exclusive benefits, boosted rewards, and irresistible discounts on your orders. In this blog, we will go over what Daraz Club is, how you can join, and what benefits it offers.
What is Daraz Club?
If you're familiar with the Gems redemption system on Daraz, you'll have no problem understanding Daraz Club. The club is a combination of the Gems rewards system and a customer loyalty membership program. By being a member of the program, customers will receive exclusive benefits including higher gem redemption, boosted rewards, and vouchers. With the help of these benefits, customers can get extra discounts on their orders and save more.
Daraz Club is accessible through the Daraz App on both iOS and android devices. Users can find the loyalty program page through their accounts page or the gems icon on the homepage.
How to Join Daraz Club?
If you would like to join Daraz Club, make sure to collect at least 2,500 gems by December 31, 2022. You can collect gems after every Daraz purchase you make. Once you have collected the required number of gems, you will automatically be enlisted as a member of Daraz Club. Then, you can start making the most of your exclusive benefits.
After December 31, the minimum number of gems you have to collect to be eligible to join the club will be increased to 3,500. If you already have gems in your account, you will have to redeem them by December 31, after which only Daraz Club members will be able to use gems to get discounts during checkout.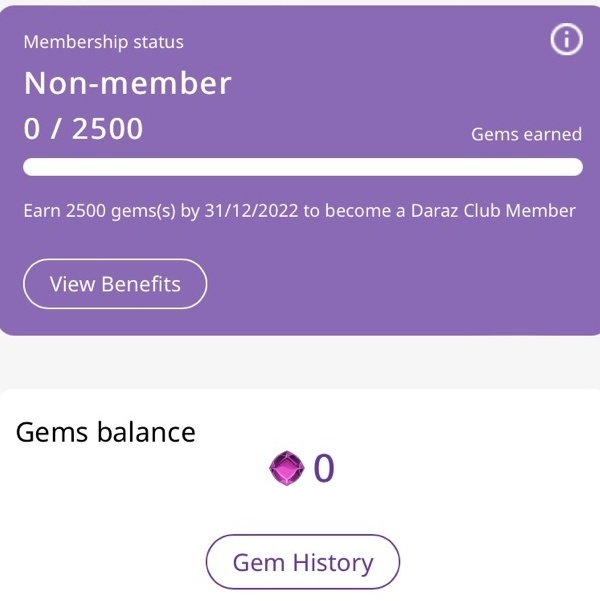 To qualify for Daraz Club, you will need to collect the required number of gems within a particular period, either between January 1 and June 30, or between July 1 and December 31.
How to Check Membership Status?
At the top of the loyalty page, you will be able to see the membership status section. This will show you your tier status as well as how much progress you need to make to become a member or maintain your membership status. It will show you the exact number of gems you need to earn to meet your goal.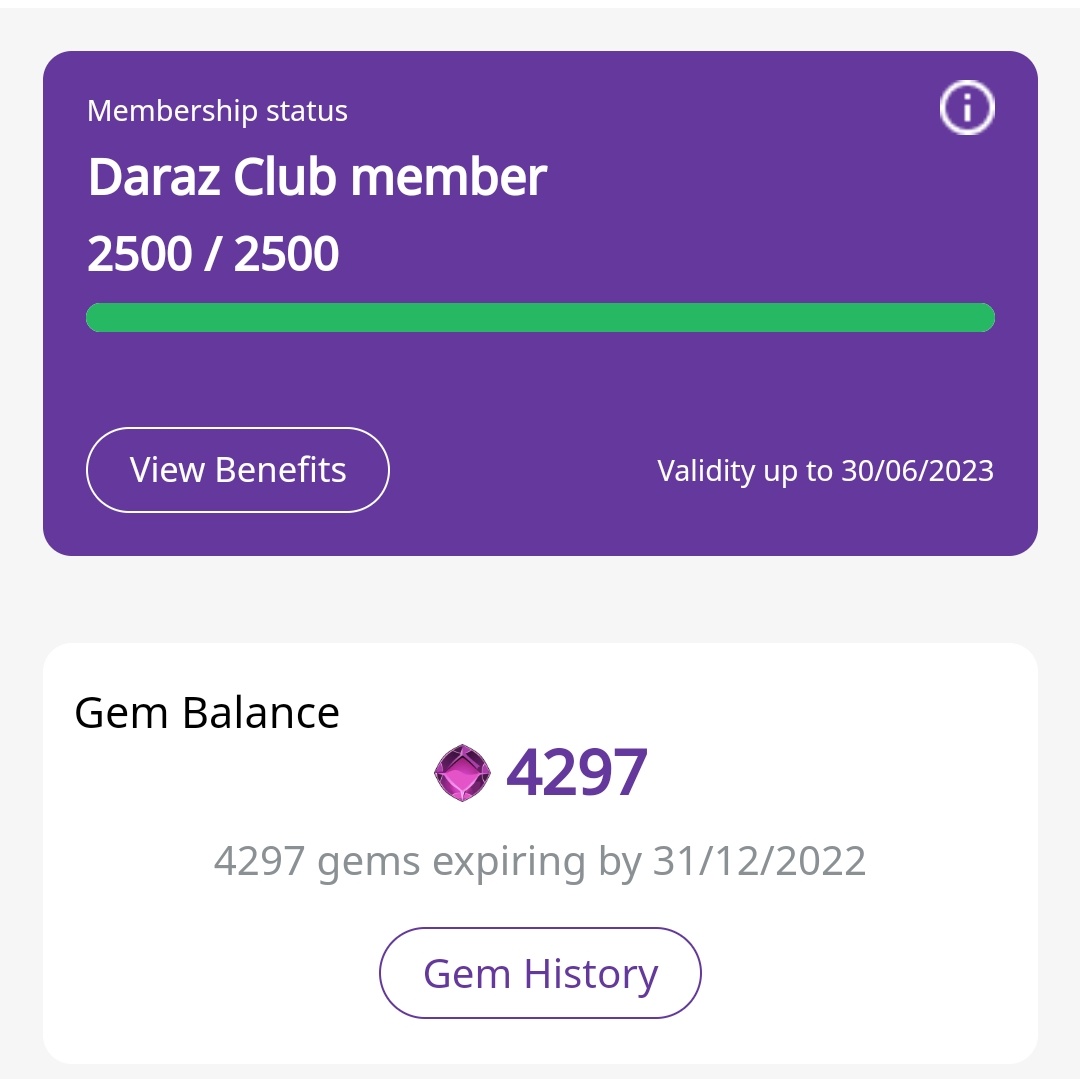 Right next to the earning progress bar, you will also be able to see your membership validity period, which will always be at least 6 months. As soon as you qualify, you will enjoy the benefits of being a Daraz Club member for the current period as well as the next period.
What Benefits Do Daraz Club Members Get?
| | |
| --- | --- |
| Members | Non-members |
| Gems redemption during checkout | Gems redemption during checkout until Dec 31st |
| Accelerated Gems earned on all purchases | Accelerated Gems earned during selected campaigns |
| Extra Gems boost during selected campaigns | – |
| Exclusive member vouchers | – |
Make the most of your online shopping experience on Daraz by joining the club and gaining access to deals, discounts, and rewards. Start earning and collecting Gems now to become a Daraz Club member as soon as you can!