Daraz Celebrate Love campaign has officially begun and we hope you're excited. This is the first campaign of 2022 and is also the first campaign following Daraz's Rebranding. So let's take a look at what is in store for the Celebrate Love campaign?
CLICK HERE & CELEBRATE LOVE WITH DARAZ
WHAT'S IN STORE?
1. One Rupee Game
The much loved and much popular One Rupee Game makes its expected return for the Celebrate Love campaign. By now we're pretty sure how this works. But for the new ones, I'll explain a little bit. t's basically a chance for you to win amazing prizes at just Re.1. You can win any one of the following prizes when you play the One Rupee Game.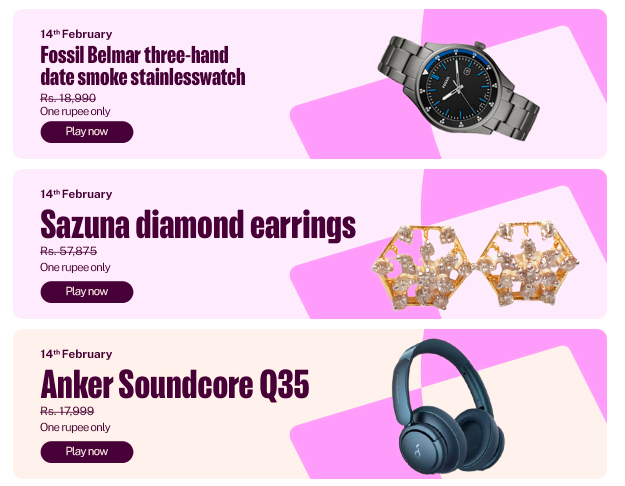 Fossil Belmar Three Hand Date Smoke Stainless Watch
Sazuna Diamond Earrings
Anker Soundcore Q35
Follow these steps to participate in the One Rupee Game
Step 1: Open the Daraz app and click on the Celebrate Love icon or text.
Step 2: Once inside the Celebrate Love page, select One Rupee Game
Step 3: Click on the product of your choice.
Step 4: Add the product to your cart.
Step 5: Click on checkout and then click on Proceed to pay
Step 6: Select your method of payment – either with a Debit/Credit Card, eSewa or via your IME pay account.
Step 7: Enter Your OTP (One Time Password) and click on submit
You have successfully made your payment.
Check out this blog to know how to play the One Rupee Game on Celebrate Love
CLICK HERE TO PLAY THE ONE RUPEE GAME
2. MEGA VOUCHERS worth Rs. 5,000
Celebrate Love is offering customers a chance to win Mega Vouchers worth Rs. 5000. And as you are all aware by now, collecting vouchers basically means getting extra discounts on already discounted prices. So be sure to collect the vouchers before they run out – and they run out very quickly!
3. Love It? Cart It?
Here we have another fan-favorite – add to cart, this time with a new name – Love it? Cart It? through the add to cart & win the game, 25 customers can win Daraz vouchers worth Rs.500 and 300 gems daily by simply adding 5 of their favorite products to their cart. It's that simple.

Follow these steps to take part in the Add To Cart & Win
Step 1: Browse through your favourite products.
Step 2: Add 5 of your picks to your cart
Step 3: You'll enter the lucky draw automatically and get a chance to win Daraz Voucher worth NPR 500/- and 300 Gems daily.
4. Mega Giveaway
As always, Celebrate Love also features a Mega Giveaway. What's a Daraz campaign without one? This time, Daraz is offering the Shree Balaji Diamond Earrings and Ring set worth Rs. 1,22,000 as the Mega giveaway. All you need to do to win is shop on Daraz during the entirety of the campaign. And there are no shopping limits. How great is that! So test your luck and start shopping!

5. Bank Partner Discounts
Yet again, the Celebrate Love campaign features Bank Partner Promotions which offers customers additional opportunities to avail discounts. For Celebrate Love, through the bank partner discounts, customers can get up to 15% (max Rs.750 off) on Debit/Credit Card Prepayment.
. Cardholders of Mega Bank, Sanima Bank, Bank of Kathmandu, NCC Bank, Everest Bank, NMB Bank, and Sunrise Bank can avail 15% (max Rs. 750) via Credit Card and 10% (max Rs. 750) via Debit Card.
But be very wary, these discounts will only be available for a limited period of time. So be sure to avail of these discounts as soon as the campaign starts.
6. Free Delivery
Customers will be able to avail of free delivery on their orders during Celebrate Love. This offer depends upon the seller. To be eligible for Free Delivery, the minimum purchase amount set by the seller must be transacted by the customer.
7. Brand Partner Discounts
Daraz has partnered with some of the best national and international brands for Celebrate Love. And all the brands are offering exclusive discounts of up to 60% on all their products. Exclusive partners for the campaign include Apple, Realme, Rohto, Beardo, ANX, Hammonds Flycatcher, Wildhorn Nepal, Masala Beads, Aamayra Fashion House, New Vicky Stationers, Kadence, X-age, Converse, Piazzaitalia.

8. Hot Picks – Hand Picked Gifts
Given the fact that Valentine's Day is coming up, many of us are probably searching for the perfect gifts. And sometimes it can be a headache. This is why for this campaign, Daraz has come up with Hot Picks which includes a curated selection of products. Customers who are not sure about what gift to pick for their loved ones can go through the hot picks and find the perfect gift for their loved ones.

9. It's Raining Gems
Customers can collect gems by logging in daily on the Daraz app, by playing daily missions, or by shopping on Daraz. The gems feature is only available on the Daraz app.
10. One Day. One Love. One Sale
This is a special flash sale that will only take place on a particular day during the campaign. These are limited-time sale offers so customers are requested to be very quick in decision making.
11. And Many Many More
Here are all the rest of the amazing offers lined up for Celebrate Love

Follow & Win
First Come, First Love
Budget Friendly Gifts
Earn Extra Extra
Showers of Love
Meet Your Match
Love From Daraz
Share Some Love
Catch of the Day
Showstoppers
Launch Pad
Freshly Landed
The Celebrate Love campaign starts from 4th February at midnight and will run till 14th February. Visit the Daraz website and download the Daraz app and start adding to your cart