Want to learn How To Cancel Oder on Daraz np? Well this blog will give you all the information you need.
Shopping online is a liberating feeling. But it can sometimes get out of hand. A shopping spree might just turn into a frenzy and you might end you ordering things you don't even need. And that is quite a bummer. And let's admit it, this has happened to all of us.
But since you're shopping online on Daraz, you have full control over what you want and what you do not want to buy. If you happen to order a product you do not need, you can easily just cancel it without any fuss. It's that easy. Check it out!
HOW TO CANCEL ORDER ON Daraz?
Follow the steps below if you want to cancel your order.
To Cancel Order on Daraz, Open Daraz Mobile App and then select Account
In the My Order section, click on View All
From your order list, tap on the one you want to cancel
Tap the Cancel button and fill in the cancellation form
Select you reason for cancellation
Be sure to read and agree with the cancellation policy
Finally, click submit.
Keep in mind that you will not be able to cancel the order if it is already on its way to you or you have already received it. You can return it but you will not be able to cancel it.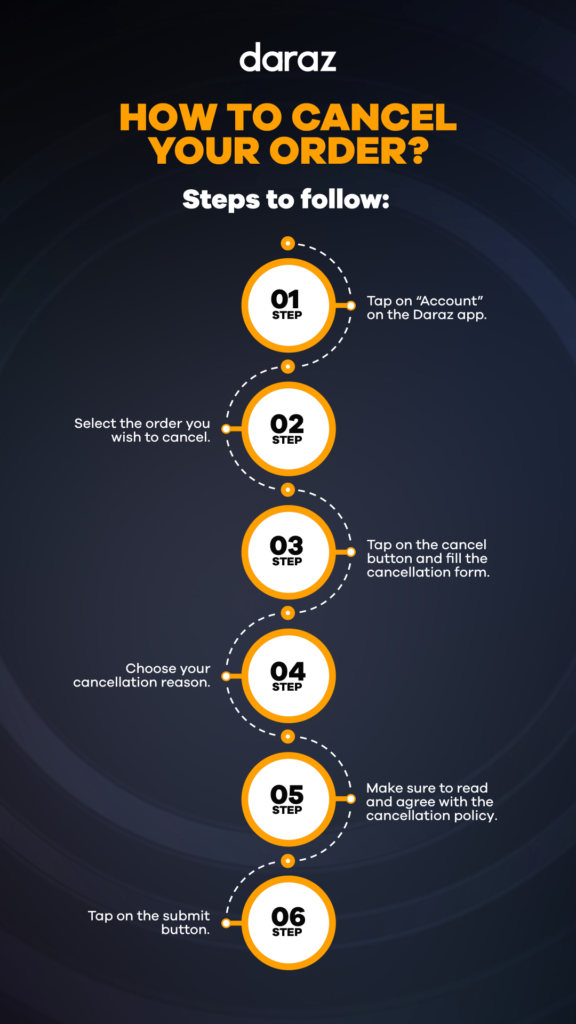 If your order is already on its way to you or not eligible for cancellation from your end, please reach out to our representative via Live Chat for the further cancellation process. However, if you have already received your order, you may not be able to cancel it but you may be able to return as per our guidelines. See our Return Policy for detailed information.