As the second wave of Covid-19 hit Nepal hard, frontline workers, national and international health organizations banded together to provide as much support to those in need. From collecting funds, procuring food supply to arranging hospital beds and oxygen, they continued to support the Nepali people relentlessly.  
And as a socially responsible company, and being the leading online marketplace in Nepal, Daraz Nepal, also extended its support to several of these non-profit organizations to help them in their efforts.
Daraz partners with BHORE – Food Relief Packages Supplied for Distribution
BHORE is a campaign based and research focused philanthropic organization working to contribute in building prosperous Nepal with dignified lives of all Nepali citizens. During the pandemic, BHORE has been working tirelessly to collect and distribute food to different locations in and outside the valley.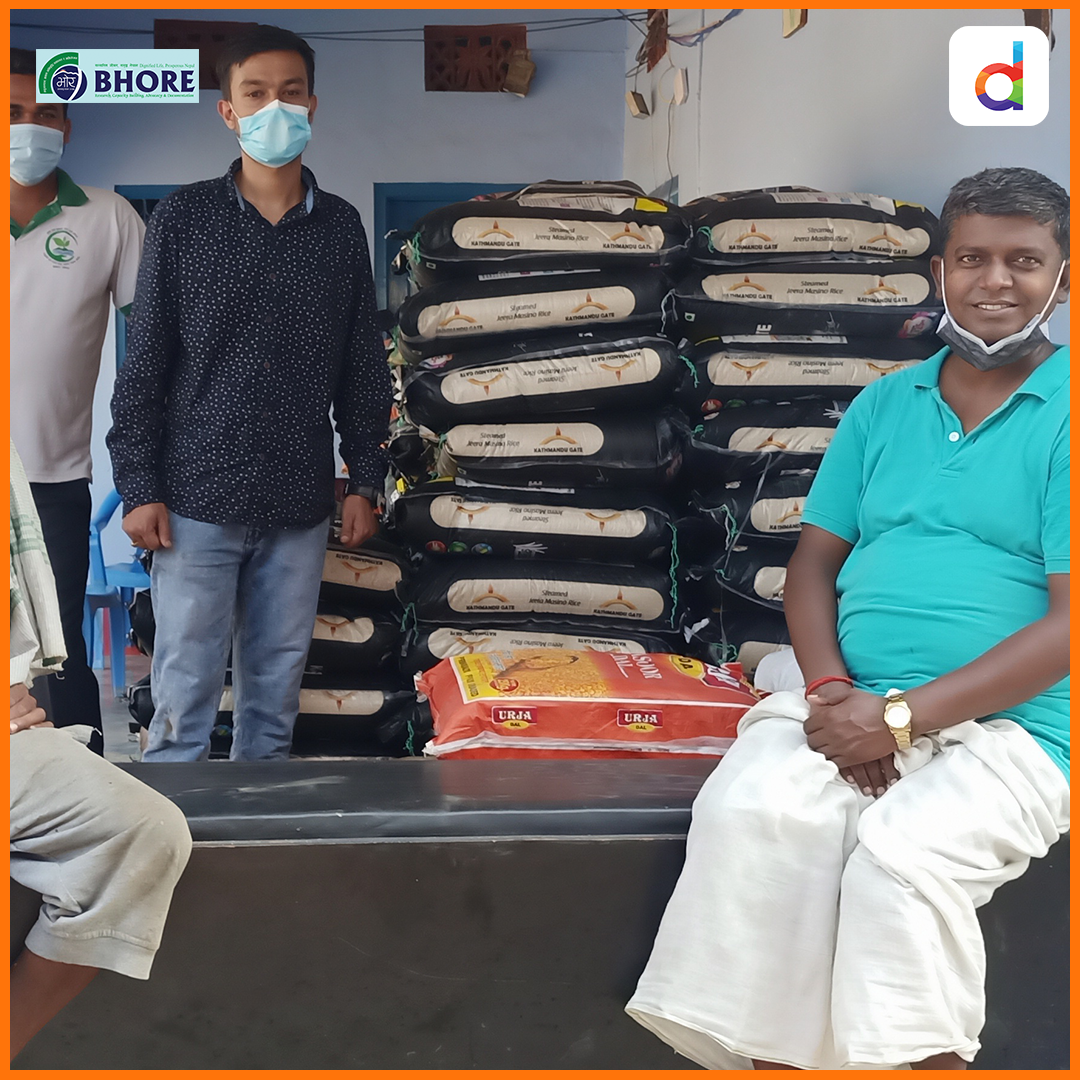 Daraz offered its support to BHORE by providing 100 sacks of 25kg Rice, 100 Kgs Lentils, 100 Kgs of salt and 100 kgs of oil that was to be distributed to over 100 families in Sarlahi – Province 2.
Daraz supports FEED THE HUNGRY – Food Relief Packages Supplied for Distribution
Feed the Hungry Nepal is a Non-Profit Organization founded on June 5, 2020, currently operating on a national level with over 100 active members and volunteers. They are a legally registered Non-Profit Organization, working towards a hunger free Nepal. They distribute rations to those stranded by the pandemic.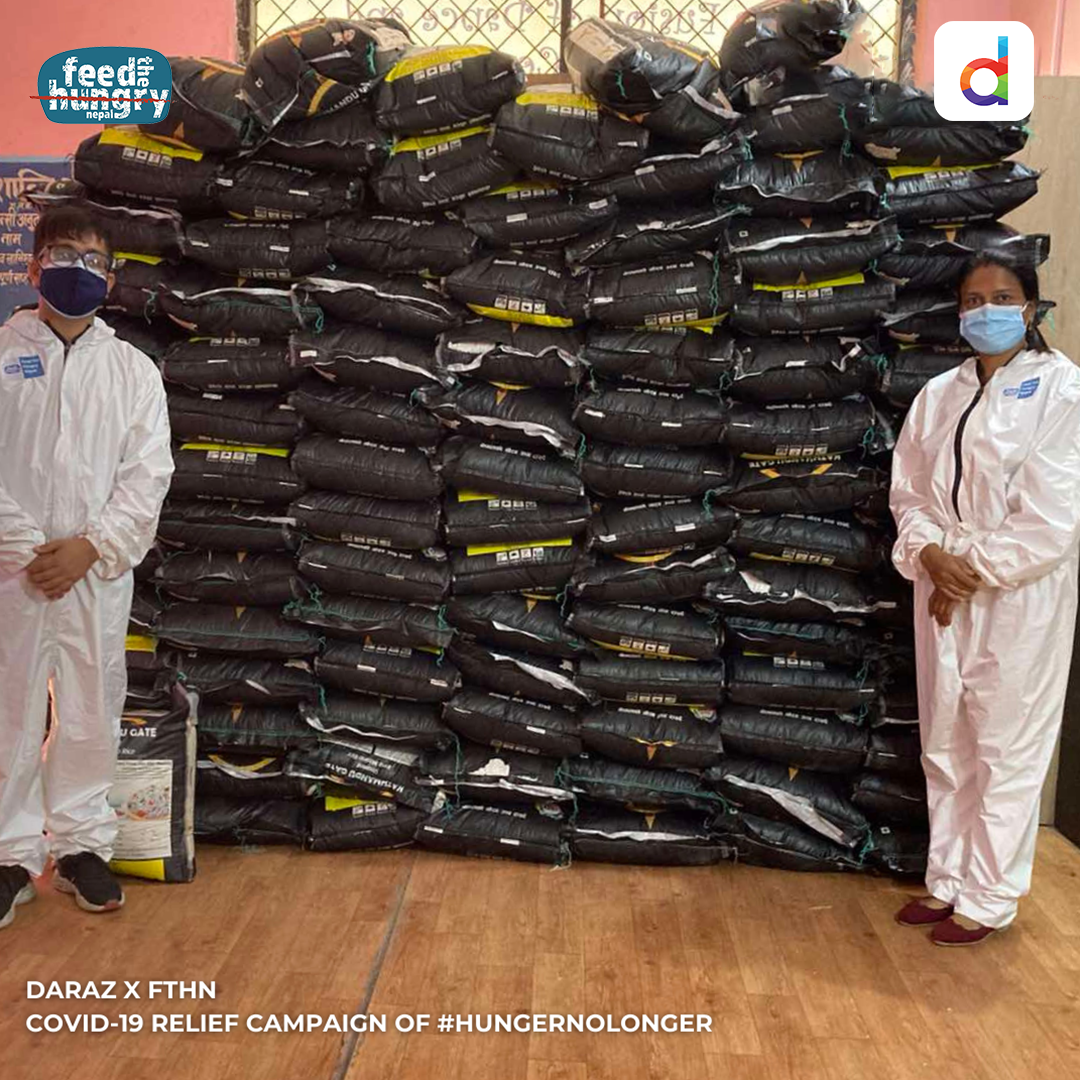 Daraz offered its support to FEED the HUNGRY by providing 100 sacks of 25kgs Rice, 200 Kgs of Lentils, and 200 Kgs of Salt that was to be distributed to over 100 families in Humsekot, a small Village Development Community in Nawalparasi District.
Daraz offers support to Family Planning Association of Nepal (FPAN) – Essential Health Care Supplies Offered for Distribution
Family Planning Association of Nepal (FPAN) is a member association of the International Planned Parenthood Federation (IPPF), and is a major partner of the Government of Nepal's national family planning program, contributing larger number of all family planning services in Nepal annually.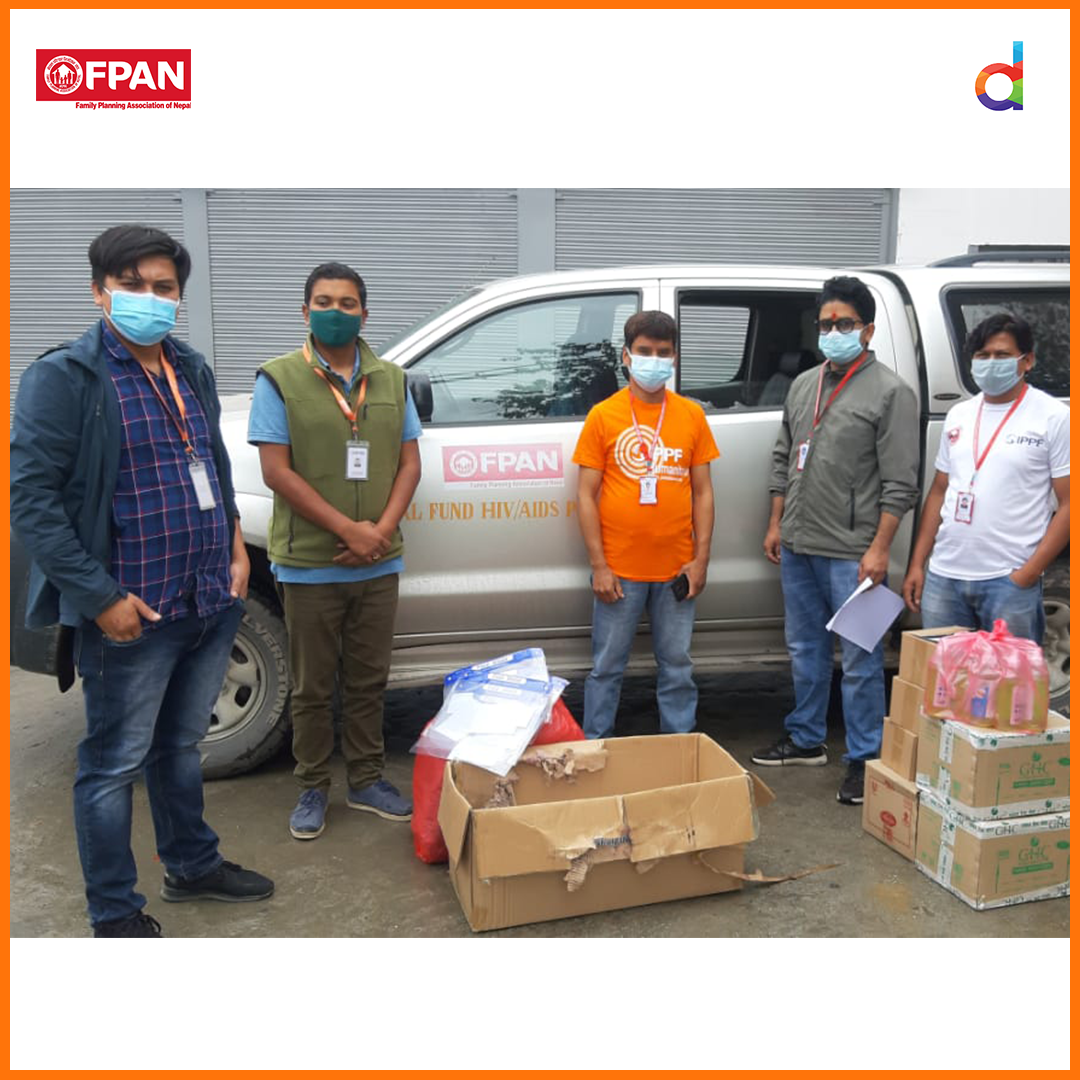 Daraz offered its support to FPAN by providing safety essentials items such as Face Shields, Hand Sanitizers, PPE suits, Hand Wash Soaps, Digital Thermometers, Disposable Gloves, Face Masks, Medicines and Vitamins.
Daraz lends a hand to Nepal Ambulance Service – Surgical Gloves for Medical Response Team
Nepal Ambulance Service (NAS) is a non-profit initiative dedicated to the establishment of an emergency medical response system (EMS) in the greater Kathmandu and Patan municipalities.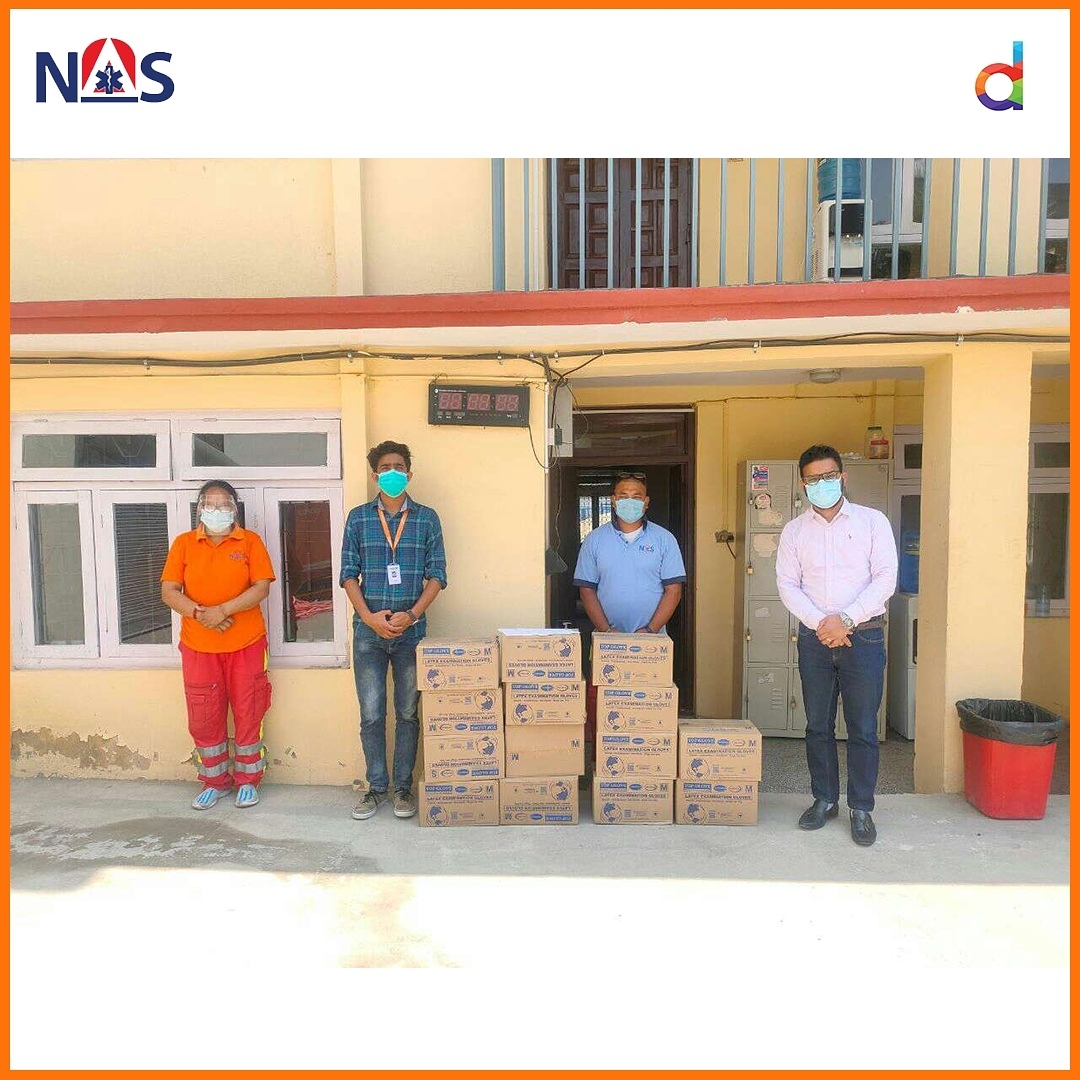 Daraz offered its support to the NAS by providing 140 pieces of surgical gloves that was to be distributed to the medical response teams of NAS.
Daraz and UNICEF Nepal join hands – Transportation Facilities Provided for Distribution of Essentials
Daraz offered its support to UNICEF Nepal by offering transport facilities and supplies that was required to deliver the Water, Sanitation and Hygiene (WASH) supplies to the most vulnerable provinces in Nepal.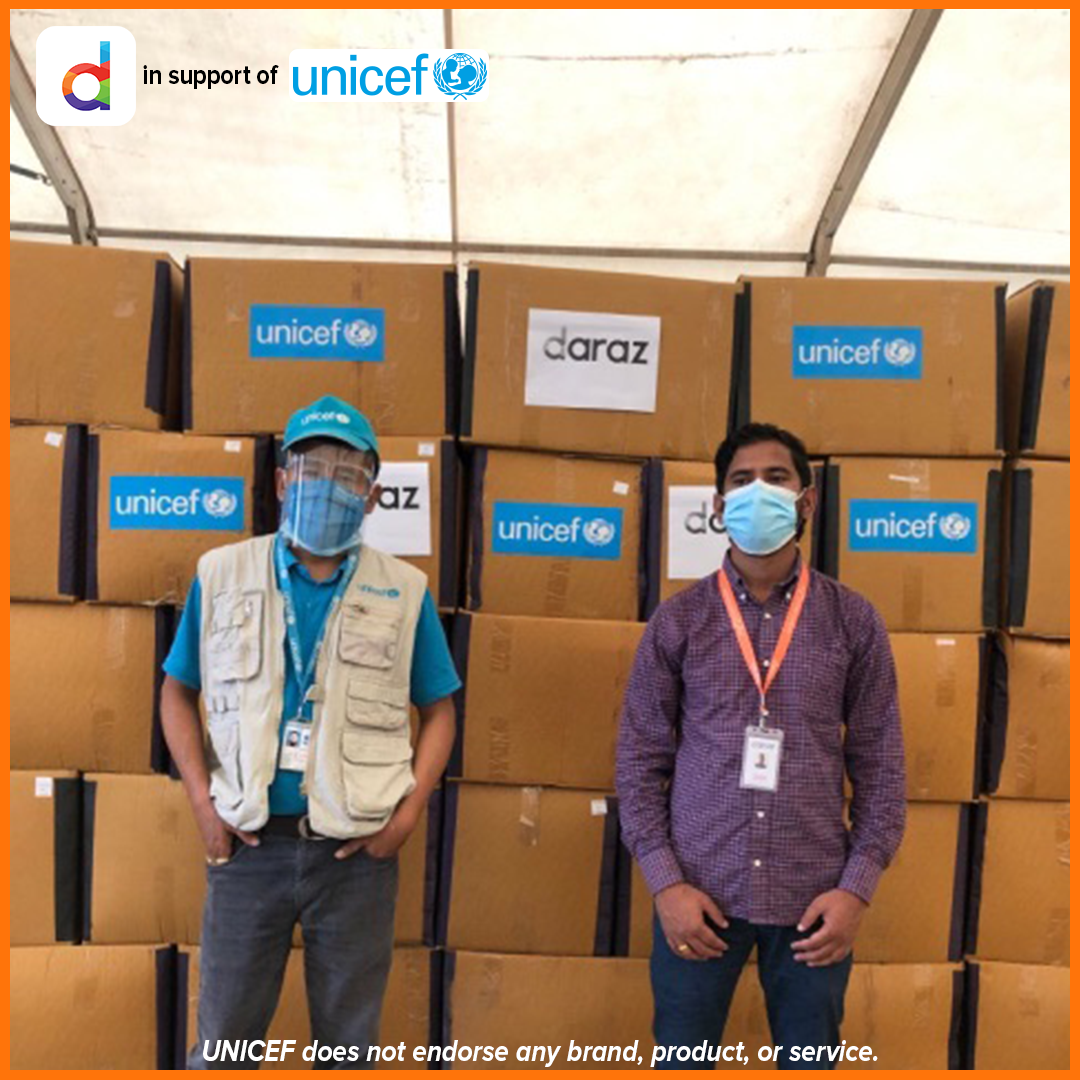 The essentials in regards to the current COVID pandemic and the upcoming monsoon needed to delivered as quickly as possible and Daraz in line with UNICEF made sure it was undertaken effortlessly.
Daraz offers Medical Supplies to Pyuthan District Hospital
As a sign of further support, Daraz offered medical supplies such as Surgical Caps, Disinfectant Sprays, PPEs, Masks, Gloves, Face shields, Disposable Gowns, and Nasal Prongs to Pyuthan District Hospital.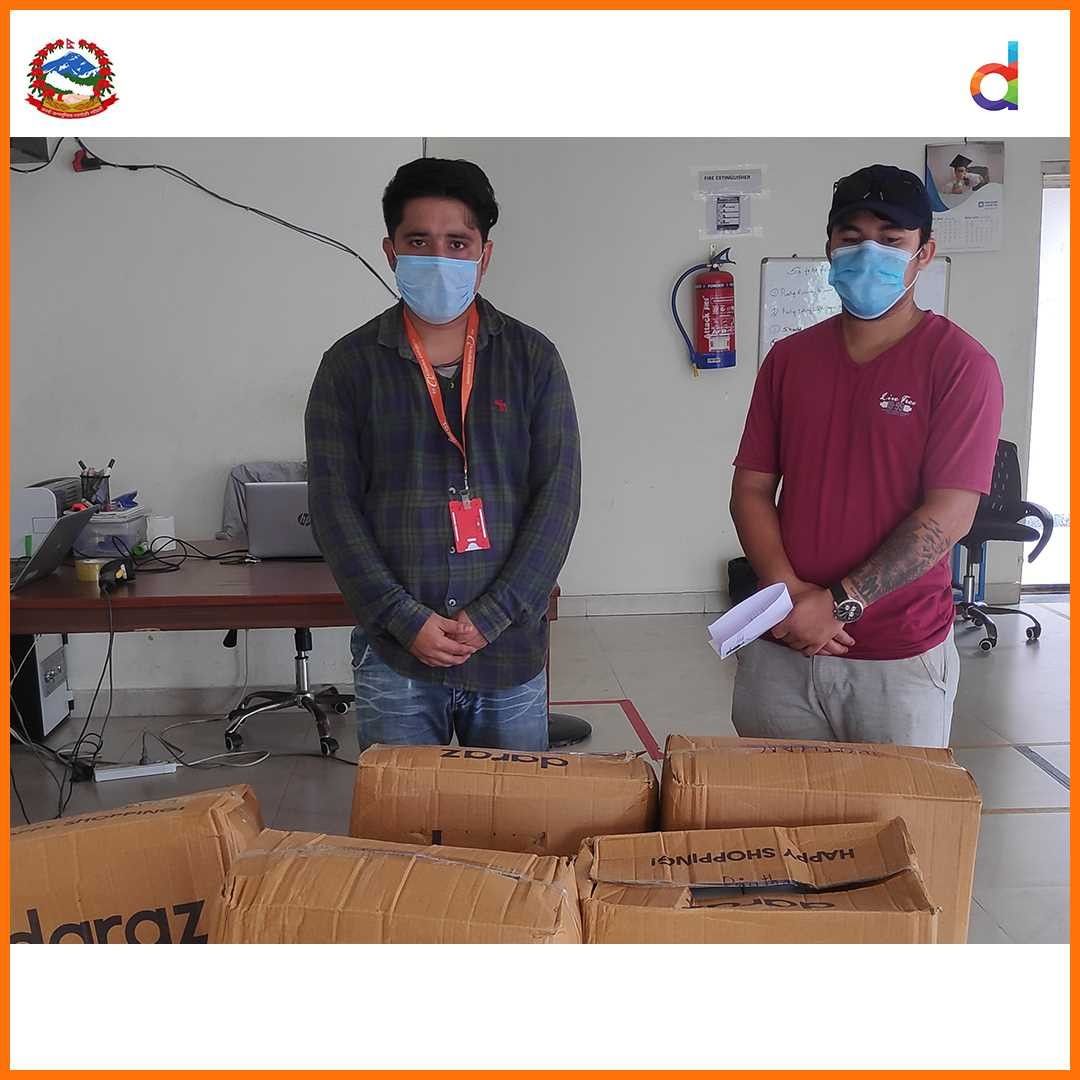 Mental Wellbeing session organized in collaboration with Happy Minds
FOR FONTLINE WORKERS
Frontline health workers are the true heroes of this pandemics. And although their hard work and resilience often gets applauded, the psychological trauma and mental health issues they face aren't nearly addressed enough. And as such, Daraz, in collaboration with Happy Minds, organized a webinar to shed light on the mental health issues and psychological traumas faced by the Covid Frontline Health Workers.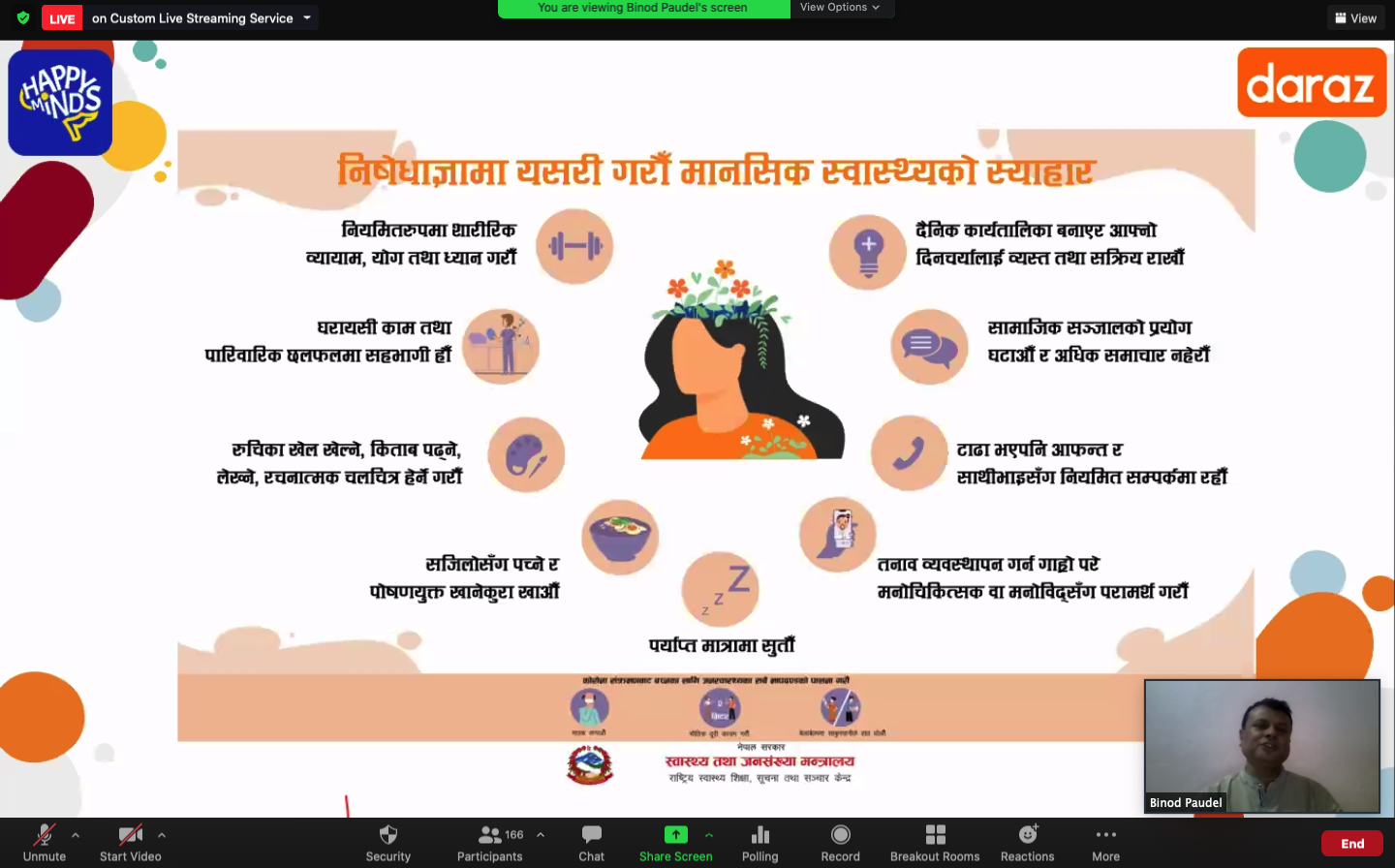 The webinar aimed to not only address the issues faced but also to provide insights and ideas on how such issues can be resolved. Various coping mechanisms, relaxation techniques was addressed via the webinar conducted on 3rd of June.
FOR DARAZ CUSTOMERS
The pandemic has been a stressful situation for everyone. And during such a time, it is crucial to be fully aware about ones' mental state and be prepared for any issues that might arrive. To address such, Daraz organized a webinar for all its customers in collaboration with Happy Minds. The webinar, hosted by clinical psychologist Dr Suraj Shakya was a discussion about Mental Hygiene, Common Health Issues, COVID guidelines, Grounding techniques, and ideas about how to deals with stress, anxiety and the loss of a loved one.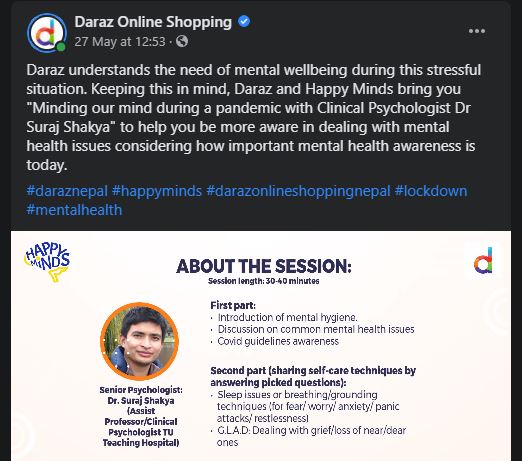 The webinar was conducted on 25th May 2021.
FOR DARAZ EMPLOYEES
Daraz employees are the heart and soul of the company. Their wellbeing is the company's number one priority. And during such a stressful time, it is important to address any mental issues that could hinder the lives of Daraz employees. To address such concerns, Daraz in collaboration with Happy Minds hosted a Stress Management and Coping Strategy Session. The session was a discussion about self-care techniques, Relaxation techniques and Mindful Grounding.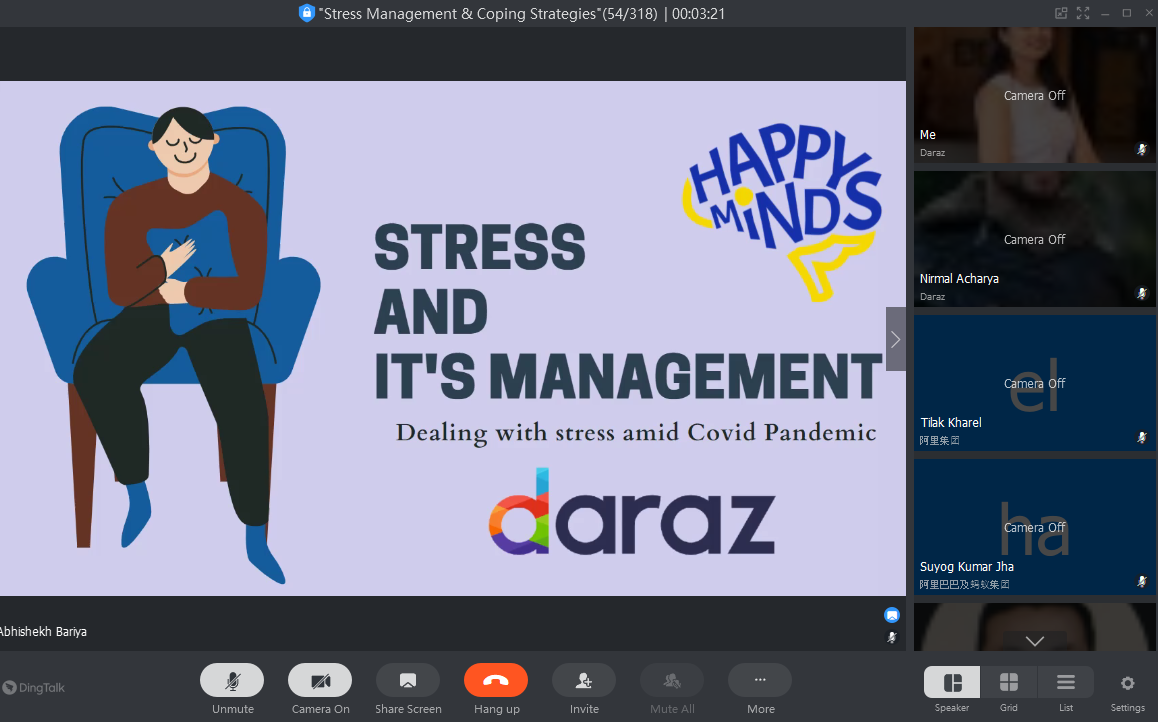 The session was conducted on 21st May 2021.
TOGETHER WE CAN
Daraz has been and will continue to offer its support to all those in need. This is a time to band together and offer as much support as we can. We can only get through this if we unite and work together. We also encourage you to offer your help. Even the tiniest of effort can save somebody's life.