Just a few days after organizing their first-ever mega event, "Daraz Mahotsav," and setting the stage for the upcoming Dashain festival, Nepal's leading online marketplace, Daraz, has announced the date for their annual Dashain Dhamaka Campaign. The campaign is set to begin from 14th September 2022 (Bhadra 29th) and is expected to be bigger and better than last year. As per the company, this year, Dashain Dhamaka is not just about offering deals, discounts but is rather focused on building a deep-rooted idea about delivering happiness to our loved ones.
And so here we are with another campaign blog where we will be looking at just what's in store during the Dashain Dhamaka campaign. Let's not waste any more time and just get on with what we're really here for, shall we?
के छ त?
1. खेल एक रुपैयाँको or One Rupee Game
What would a Daraz campaign be without the One Rupee Game? As always, Dashain Dhamaka features the One Rupee Game, and as always, there are some amazing prizes on the link. You guys have the chance to win any of the following prizes at just Rs. 1.
Amazfit GTS 2 Mini
Soundcore Life Note
Motorola Moto G22
Yeti Airlines One Way Ticket For Couple
Follow these steps to participate in the One Rupee Game
Step 1: Open the Daraz app and click on the Dashain Dhamaka icon or text.
Step 2: Once inside the Dashain Dhamaka page, select One Rupee Game/खेल एक रुपैयाँको
Step 3: Click on the product of your choice.
Step 4: Add the product to your cart.
Step 5: Click on checkout and then click on Proceed to pay
Step 6: Select your method of payment – either with a Debit/Credit Card, eSewa or via your IME pay account.
Step 7: Enter Your OTP (One Time Password) and click on submit
You have successfully made your payment.
Check out this blog to learn how to play the One Rupee Game on Dashain Dhamaka!
2. Mega Giveaway – Bumpar Upahar
The best part of any of Daraz's mega campaigns is usually the Mega Giveaway. It's the icing on the cake. This time, Daraz, in partnership with NIU, is offering NIU NQI electric scooter as the mega giveaway. Customers who shop during the entirety of the campaign will be eligible to win the Mega Giveaway. However, there is a shopping limit though. You must have a minimum purchase of Rs. 2500 to be able to win the giveaway. So start your shopping, start adding to your carts, and maybe, just maybe, you'll drive home a new NIU.

Likewise, this partnership with NIU falls directly under our mission of moving towards more sustainable operations when delivering products to and fro. This is an initiative that we as a company have been looking forward to for a long time, and we're hopeful that this will help us in reducing our carbon emissions. More details about this initiative will be posted shortly in the next few days so be sure to stay constantly updated on Daraz Life.
3. Free Delivery
During the Dashain Dhamaka campaign, customers will also be able to enjoy Free Shipping. Depending on the seller or the product offer, customers will be able to order any product and will not have to incur or pay any shipping fees.
4. IME Pay & eSewa Wallet Discounts
Customers who shop during Daraz Dashain Dhamaka and pay via their IME Pay or eSewa wallet will get discounts of up to 15% off (max Rs. 1000). However, the offer is only valid for a limited time period. The details are as follows:
First Day Of Campaign: 12 a.m. – 12:30 a.m. IME Pay (15% max 1000)
Daily: 6 p.m.- 7 p.m. IME PAY (15% max 1000)
First day of Campaign: 12 a.m. – 12:30 a.m. Esewa (15% max 1000)
Daily: 8 a.m. – 9 a.m. Esewa rush hour (15 % max 1000)
A simple yet effective way to gain additional discounts.
Read the blogs below to know how you can pay via IME PAY or Esewa wallet on Daraz.
5. Bank Partner Promotions
As in the past, the Daraz Dashain Dhamaka Campaign also features Bank Partner Promotions as well as Bank Days which offers customers two new opportunities to gain additional discounts. The Bank Partner Promotions include the following:

Customers of Nabil Bank, Nic Asia Bank, Sanima Bank, NMB Bank, Everest Bank, Nepal SBI Bank, Nepal Bank, NCC Bank, Shangrila Development Bank, and Jyoti Bikash Bank can get up to 15% off (Max Rs.2000) off on Debit Card pre-payment and up to 20% off (Max Rs.2500) off on Credit Card pre-payment. These are limited offers, so we highly recommend you make use of them as quickly as possible. Check out the blog below to learn how you can collect bank vouchers during the Dashain Dhamaka campaign.
Similarly, customers can get discounts from different partner banks of Daraz. For five days a week, different partner banks of Daraz will offer different discounts on Debit/Credit card prepayment. And debit and credit cardholders of those banks can make use of those discounts to further slice the price.
Read the blog below to know more about bank partner discounts.
6. EMI Service
During Dashain Dhamaka, customers can also purchase products of great value with their credit card and pay in small installments at 0% interest and 0 down payment. Customers of the following banks can make use of the EMI service during Dashain Dhamaka.
NIC ASIA BANK
MACHHAPUCHCHHRE BANK
SUNRISE BANK
CITIZENS BANK
SANIMA BANK
NMB BANK
The picture below will give you an idea about the EMI service during Daraz Dashain Dhamaka.

Also, if you want to learn how to shop and pay via EMI during the campaign, check out the video below.
7. New User Voucher
First-time Daraz customers will get Rs. 200 off on their first purchase. Shop and save Rs. 200 during Daraz Dashain Dhamaka.
8. Mega Deals
Daraz Dashain Dhamaka features a wide range of assortments that span over 100 plus categories and at prices unmatched anywhere on the market. This is your chance to shop for your favorite products and get amazing discounts – specifically up to 70%. How great is that?

9. Brand Partner Discounts
The Daraz Dashain Dhamaka campaign will feature exclusive deals and discounts from a host of leading national and international brands. Customers can expect discounts of upto 70% off from their favorite brands. Diamond partners for the campaign include Rohto, Goldstar, MI, and QnU. Platinum partners include WOW, Aamayra Fashion House, CG Digital, Philips, Adidas Factory Outlet, and Kadence Nepal. And finally, Gold Partners include Juas, Mamaearth, Amazfit, Masala Beads, Converse, New Balance, Lotto Sports Nepal, and One plus.
10. TONS OF VOUCHERS
During Dashain Dhamaka, Daraz customers have so many opportunities to slash the price of a particular product. And vouchers, well, these are the best ones you can find. Vouchers give you the chance to cut a price on any product of your choice. Customers can get a chance to avail discount vouchers worth up to Rs. 10,000. Yes, 10,000. I don't know, it sounds like a pretty amazing offering.
Likewise, customers can also avail COLLECTABLE VOUCHERS, SELLER VOUCHERS, EARLY BIRD VOUCHERS, SHAKE SHAKE VOUCHERS all throughout the entirety of the campaign. But be wary, these vouchers run out pretty quick, and I mean pretty QUICK. It's up to you to decide how fast you can act and collect all the vouchers. Visit https://iconpreparation.com
11. AND MANY MORE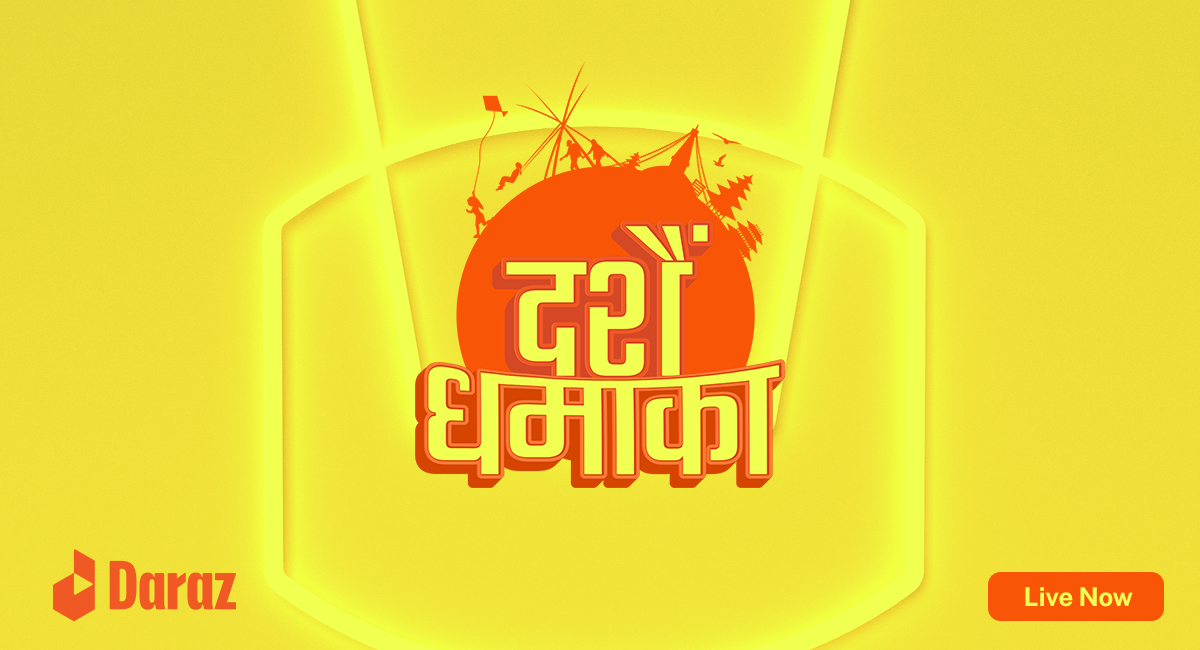 Here are all the rest of the amazing offers lined up for Daraz Dashain Dhamaka.
11 ko Bazaar
Aaja ko Daraz Mall Brand
Kupan nai Kupan
Jo Chito Usle Jityo
Sale ko Jhatka
Storewide Offer
The Dashain Dhamaka campaign starts from the 14th of September. Download the Daraz app today, and HAPPY SHOPPING!