The time is finally nigh. The biggest sale of the year is back again and this time it's bigger and better than last time. I'm pretty sure there's no need for me to go into detail about just how big a campaign Daraz 11.11 really is. So instead, we'll just be looking at all that's available during the biggest sale of the year. Click the link below if you want to skip it all and just head straight over to the app and check it out yourself.
के छ त?
1. ONE RUPEE GAME
The much loved One Rupee Game is yet again back for Daraz 11.11. You get a chance to win amazing prizes at just Re.1. You can win any one of the following prizes when you play the One Rupee Game.

Titan Smart 2
Pokhara Package for 2
Highground Sky Screamer for 2
Highground Zipflyers for 2 Pax
Tranquility Shirodhara Massage
Webor Microwave
Realme 9i 5G
Amazfit GTS 4 Mini
Follow these steps to participate in the One Rupee Game
Step 1: Open the Daraz app and click on the 11.11 icon or text.
Step 2: Once inside the 11.11 page, select One Rupee Game
Step 3: Click on the product of your choice.
Step 4: Add the product to your cart.
Step 5: Click on checkout and then click on Proceed to pay
Step 6: Select your method of payment – either with a Debit/Credit Card, eSewa or via your IME pay account.
Step 7: Enter Your OTP (One Time Password) and click on submit
You have successfully made your payment.
Check out this blog to know how to play the One Rupee Game on 11.11!
2. MEGA VOUCHERS WORTH Rs. 11,111
One of the major highlights of Daraz 11.11 is Mega Vouchers worth up to Rs.11,111. Yes, you read that correctly. You have a chance to avail extra discounts of up to Rs.11,111 on your purchases during the campaign. How great is that? So be sure to collect them vouchers as soon as the sale begins cause they will run out pretty quickly.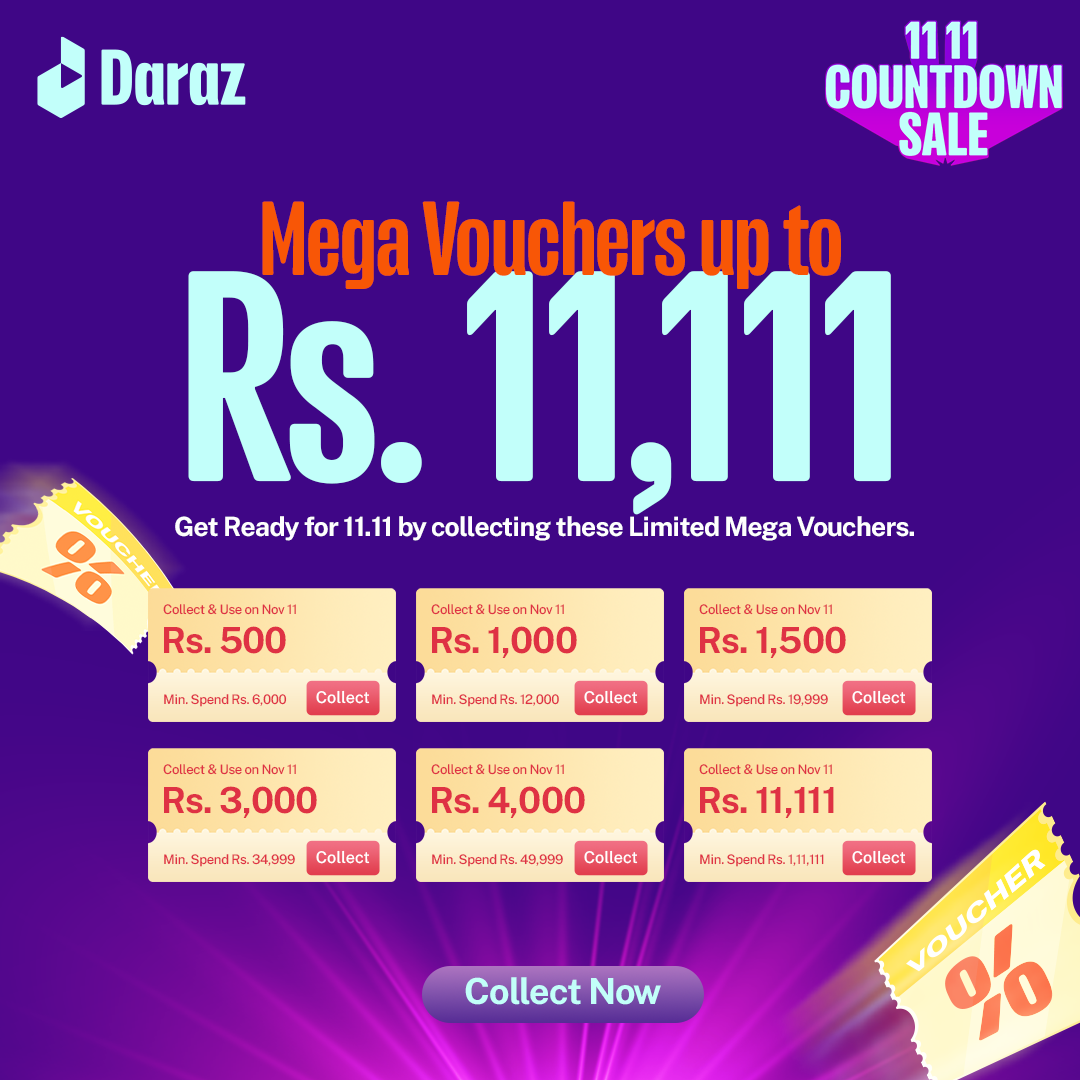 3. ADD TO CART & WIN
Through the add to cart & win game, customers can win Daraz vouchers worth Rs.2222 by simply adding their favorite products to their cart. It's that simple.
Follow these steps to take part in the Add To Cart & Win
Step 1: Browse through your favorite products.
Step 2: Add your picks to your cart
Step 3: You'll enter the lucky draw automatically and get a chance to win Daraz Voucher worth NPR 2222
4. MEGA GIVEAWAY
Oh the Crème de la crème, the MEGA GIVEAWAY. All of Daraz's past major campaigns usually featured just one Mega Giveaway (except last year's 11.11). This year, Daraz is offering not one but ELEVEN 65″ Mi TVs as the Mega Giveaway. This means, 11 Daraz customers have a chance to win a brand new Mi TV just by shopping on Daraz during 11.11. That too just before the WorldCup. AMAZING RIGHT? So start shopping and maybe, just maybe, you'll walk away with a new TV. Good luck!

All you have to do is shop on Daraz during the 11.11 campaign!
5. BANK PARTNER DISCOUNTS/ IME PAY WALLET
As in the past, the 11.11 Campaign features Bank Partner Promotions which offers customers an additional opportunity to get more discounts. Through the bank partner discounts, customers can get up to 20% (max Rs.3000 off) on Debit/Credit Card Prepayment.
Customers who shop during 11.11 will be able to save up to 15% (max Rs. 2500) via Debit Card and 20% (max Rs. 3000) via Credit Card. Customers of Nabil Bank, Siddhartha Bank, Kumari Bank, Global IME Bank, NIC Asia Bank, Sanima Bank, Standard Chartered Bank, Machhapuchchhre Bank Limited, Everest Bank, Himalayan Bank, Sunrise Bank, Mega Bank, NMB Bank, Citizens Bank, Nepal Bank, NCC Bank, Nepal SBI Bank, Century Bank, Jyoti Bikash Bank, Shangrila Bank, and Kamana Sewa Bank can avail the aforementioned discounts.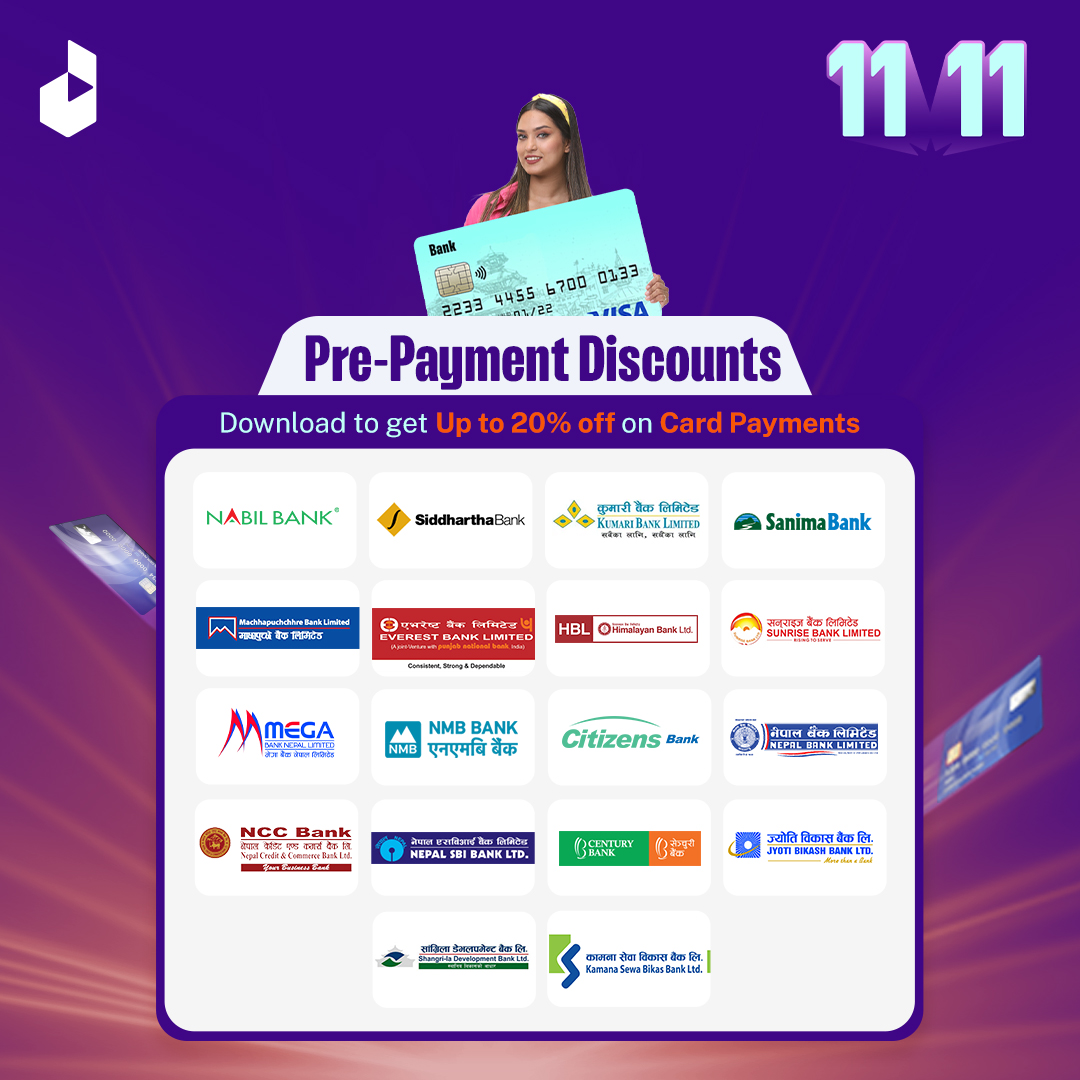 But be wary, these discounts will only be available for a limited period of time. So be sure to avail these discounts as soon as the campaign starts.
Likewise, customers will also get a chance to get discounts of up to 15% max Rs.1,111. If they pay via their IME Pay wallet. Check out the blog below to learn how to pay via IME Pay on Daraz.
6. FREE DELIVERY
Customers will be able to avail of free delivery on their orders during 11.11. This offer depends upon the seller. To be eligible for Free Delivery, the minimum purchase amount set by the seller must be transacted by the customer.
7. EMI SERVICE
For a more convenient shopping, Daraz partnered with leading banks of Nepal and launched the EMI service. Customers can purchase products of great value with their credit card and pay in small installments at 0% interest and 0 down payment. The banks are as follows:
NIC ASIA BANK
MACHHAPUCHCHHRE BANK
SUNRISE BANK
CITIZENS BANK
Shop your favorite products during 11.11 and pay via EMI.
Check out this video on how to shop and pay via EMI on Daraz.
8. BRAND PARTNER DISCOUNTS
The biggest sale of the year 11.11 will feature exclusive deals and discounts from a host of leading national and international brands. Customers can expect mega deals of up to 80% from their favorite brands. Diamond partners for the campaign Baltra, Lotto, WOW, Goldstar, and Basemark. Gold partners include Mamaearth, Jeanswest, Rohto, QNU, and Vianet. Silver Partners include Aamayra Fashion House, Brillare, Astaberry, Naturo Earth, Cetaphil, and Mi
9. NEW USER VOUCHER
First-time Daraz customers will get Rs. 200 off on their first purchase. Shop and save Rs. 200 during 11.11.
10. TONS OF VOUCHERS
During 11.11, Daraz customers have so many opportunities to slash the price of a particular product. And vouchers, well, these are the best ones you can find. Vouchers give you the chance to cut a price on any product of your choice.
Customers can avail COLLECTABLE VOUCHERS, SELLER VOUCHERS, EARLY BIRD VOUCHERS all throughout the entirety of the 11.11 campaign. But be wary, these vouchers run out pretty quick and I mean pretty QUICK. So it's up to you to decide how fast you can act and collect all the vouchers.
11. AND MUCH MORE
Here are all the rest of the amazing offers lined up for 11.11
Hot Picks
Daraz Mall Day
Shake Shake
Brand of the Day
Review and Win
Daraz Gems
Daraz Livestream
The 11.11 campaign starts on 11th November. Visit the Daraz website or download the Daraz app and get ready to shop till you drop.