Nepal's leading online marketplace, Daraz has yet again revolutionized online shopping in a way that is sure to turn a lot of heads. Daraz yesterday, announced the launch of South Asia's first in-app shoppable Livestream – Daraz Live which will now be available on the Daraz mobile application.
So without wasting any more time, let's get to know what is Daraz Live and how we can make the most of this new in-app feature.
WHAT IS DARAZ LIVE?
Daraz Live is Nepal's first in-app shoppable Livestream launched by Daraz as part of its "Shoppertainment" strategy. The main focus here is to create a blend of retail and entertainment to present an innovative and fun experience for the customer where they can have a first-hand adjacent experience of brands, products right through the screens of their devices from the comfort of their home. Unlike the typical social media Livestream, Daraz Live will create a more seamless and interactive "See Now, Buy Now" experience for customers.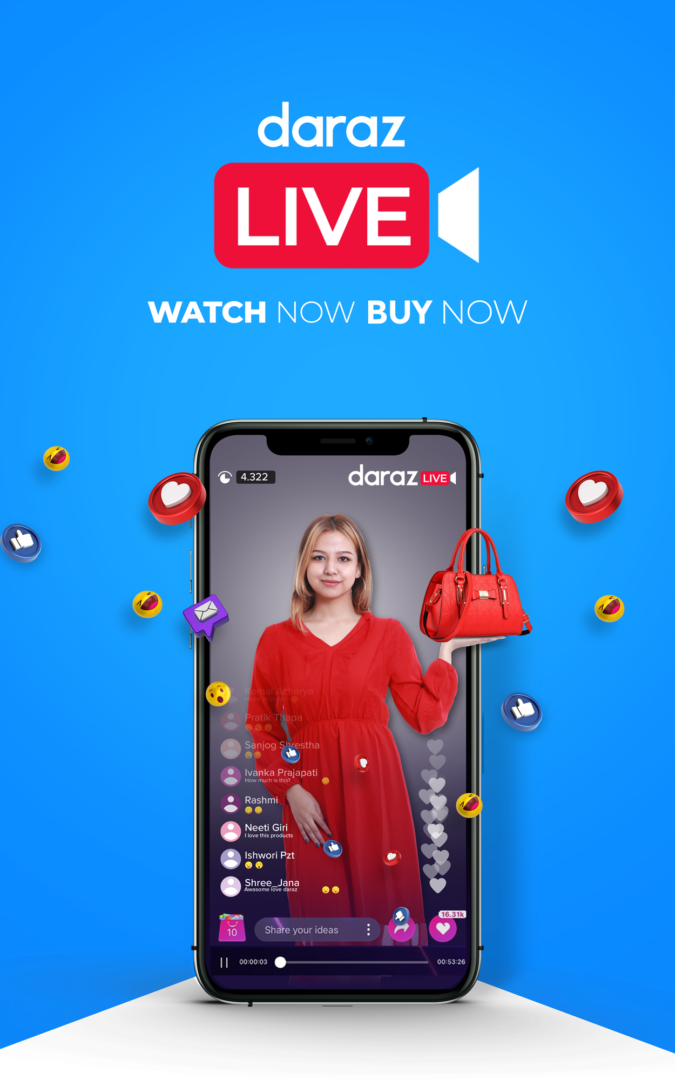 Customers will get the opportunity to get to know a lot about Daraz, its inner workings, and its various subbrands such as DarazMall, DMart, DFashion, and so forth via Daraz Live. Each edition of the Livestream will offer a unique yet informative experience for the customer. And what's more, customers will now be able to obtain in-depth details about their favorite brand.
The Livestream hosts, while presenting any product will talk about all the relevant features in-depth to make sure that customers have all the information they need before making any purchase.
And to keep things more interesting and exciting, Daraz Live will also feature a lot of engaging and entertaining activities. From Q/A's with influencers, to guess the features to giveaways, Daraz Live makes sure customers are entertained to the fullest.
WHAT ABOUT THE SELLERS?
Not only is Daraz Live a great platform for customers, but it is also a great place for sellers to engage with their customers. Let's be straight here, an online seller does not have many opportunities to connect with their customer. The occasional hello hi will not help the seller in creating a bond with the customer. But through the Livestream, sellers will now get a chance to engage with their customers in real-time.
It will host a number of different Daraz sellers who will be able to interact with their customers with ease. In a similar fashion, the live stream is also a great chance to increase the sellers' brand exposure. This will not only benefit the seller in the short run but will also help them in building a strong level of trust and connection with the customers.
Here's what the Managing Director of Daraz Nepal, Lino Ahlering had to say about the launch of Daraz Live
" The introduction of Daraz Live is the next step in creating a more vibrant and inclusive ecosystem here in Nepal. With Daraz Live we hope to achieve that by helping build a greater level of connection between the customer and the seller. We want to build a strong community where everybody has a platform to access any information that they are seeking when it comes to online shopping. We're confident Daraz Live is that platform. And with that, we're hopeful it will play a big part in helping the e-commerce ecosystem grow to new heights."
WANT TO SHOP INTERNATIONAL PRODUCTS STRAIGHT FROM YOUR HOME? CHECK OUT THIS BLOG!
Where Can I Find Daraz Live?
Daraz customers can find Daraz Live on the Daraz mobile application. All you will need to do is update your Daraz app. The app update for Android users is already available whereas IOS users can update their app from 6th September onwards. Follow the steps below once you update your app.
Open the Daraz app
Pull down from the top of the home page to refresh the app
You will see a Daraz Live icon
Click on the icon and you will then be able to view any ongoing live or previous live recordings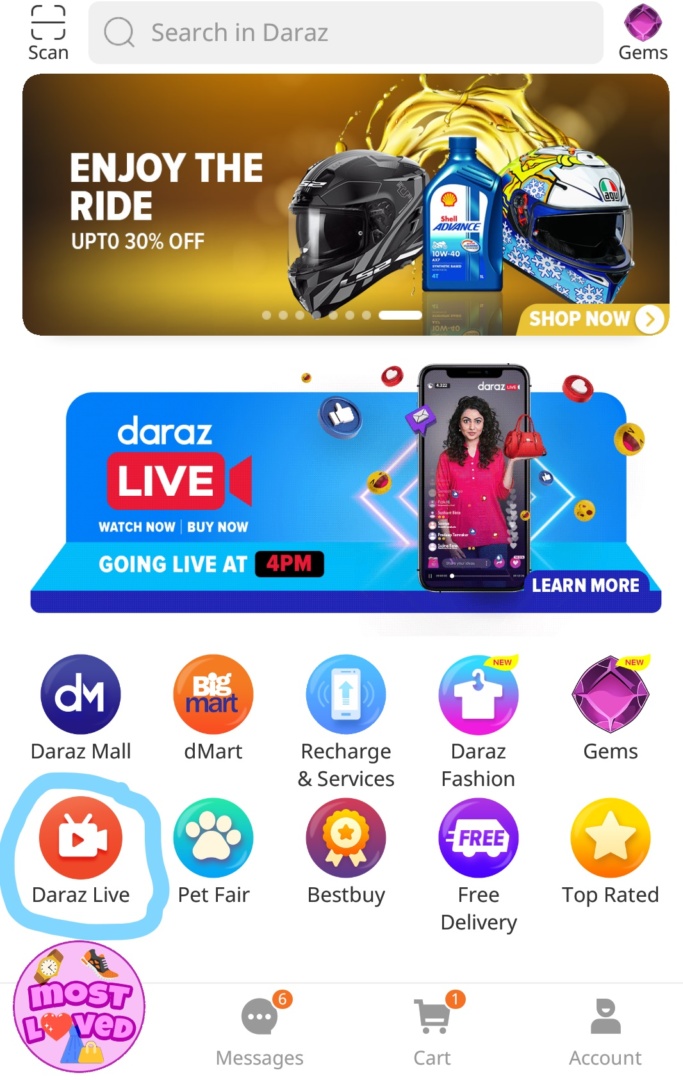 WHEN CAN I WATCH THE DARAZ LIVESTREAM?
You can watch the Daraz Livestream every day from Monday To Friday at three different time periods – 12p.m, 4p.m, and 6p.m, throughout the day. The Livestream will only be available on the Daraz app. So be sure to download the app if you haven't or update your app if you already have it on your device.
And as mentioned above, each edition of the Livestream will be different from the one before and will offer some new information to the customers. So be sure not to miss out. You'll get to learn about exclusive deals, discount offers and will get a chance to win FREE VOUCHERS.
So that's about it. All you need to know about Daraz Live.
HAPPY VIEWING!