Daraz Gems is an exciting reward system on the Daraz App. It allows customers to earn extra discounts on their Daraz purchases through reward points. Customers can collect Gems every day through continued engagement on the Daraz App and redeem discounts while checking out their order. In this blog, we will be discussing the types of daily missions you can complete to earn Gems and how long you can keep your Gems before they expire.
If you'd like to learn more about Daraz Gems, please read the following blog. For further information or if you have any questions regarding Daraz Gems, please contact Customer Service.
Along with your daily check-in, you will be able to find a list of simple tasks that you can complete on the Daraz App to earn Gems. There are seven different types of daily missions that will only take a matter of minutes to complete. We recommend completing as many missions as you can to win the maximum number of Gems and get bigger discounts. These tasks allow you to earn up to 850 Gems every day but they update every 24 hours, so you have to hurry!
Add to Cart
Share Your Favorites
Search any Product
Follow Store
Browse Store/Products
Explore Livestream
Review and Earn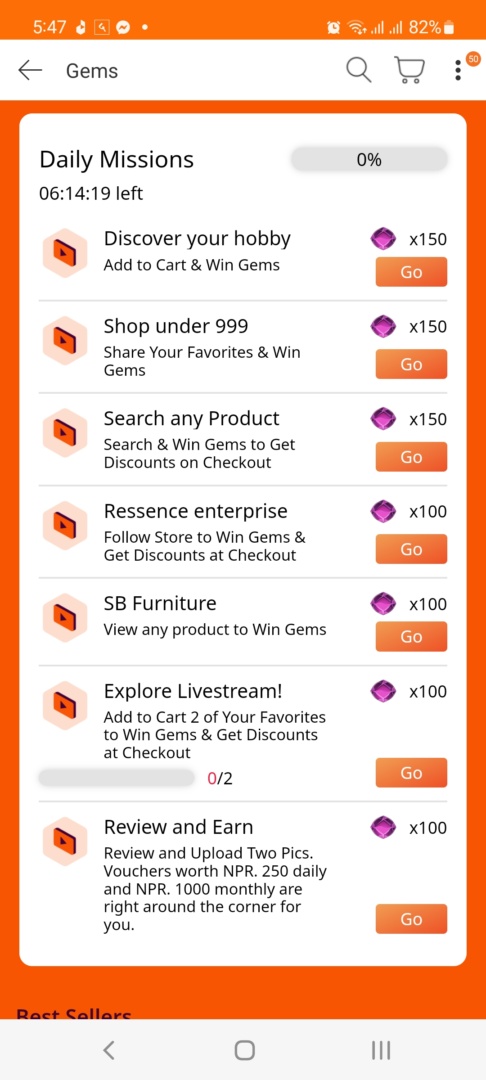 All good things must come to an end. Gems have an expiration date and will become invalid three months after collection. But, between the two of us, as long as you're making regular purchases through the Daraz App, your Gems will rarely expire. Just keep a reminder in the back of your mind to use up all your eligible Gems before they expire!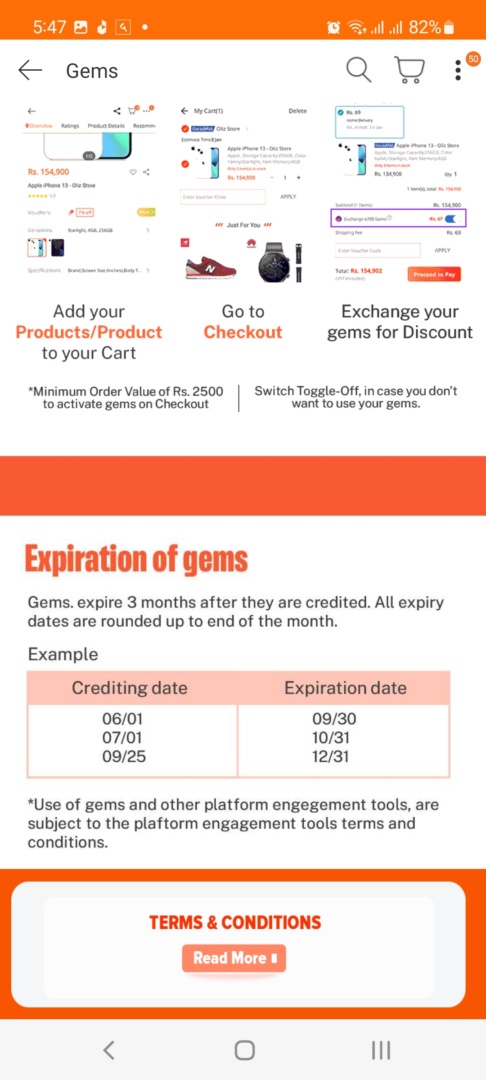 Gems expiration dates are conveniently rounded up to the end of the months. That means that if you collect 100 Gems on January 1st, 250 on January 15th, and 50 on January 31st, all 400 will expire only on April 30th. So, you don't need to start worrying about your Gems expiring until the end of the third month .
Collecting and redeeming Gems is like playing a fun, rewarding game that ends up saving you a lot of extra cash. It doesn't take long to complete daily missions and the Gems are usable for up to 3 whole months. Therefore, Daraz Gems is an all-win no-lose type of game.